How to Transfer DVD Movies to Android Tablet in Clicks?
You could find a way to copy or burn the DVD onto your home computer or laptop. If it is unprotected, it is very easy to copy the video onto your computer. And, there are many free tools available online that can allow you to copy even a digitally protected DVD onto your Mac or PC, the most popular one being "MakeMKV". From this point, all you need to do is converting this movie into a compressed format that makes it possible to transfer this data onto another device, using a free conversion third party software like "Handbrake" (please remember, piracy is illegal) So you have a digital copy of your DVD.
Read Also:
Transfer Data between iPhone and Samsung
Transfer Music between iTunes and Android
But is there a way for you to transfer your copied DVD onto your laptop? You could buy some third-party transfer software or find a way to burn the data directly onto your tablet, but these methods are most likely going to cost you extra money. If there was a free way to transfer any type of copied, digital files already stored on your computer to your tablet, then you would have a solution to your problem.
There is powerful third party software currently available for such an issue. Coolmuster Android Assistant or Coolmuster Android Assistant for Mac is a free-to-download program that lets you transfer files from your PC or Mac to your tablet, among other things. Extremely powerful, it allows you to push music, photo files, and video to your Android tablet as easily as pushing a button. Downloadable onto your desktop, it's an excellent way to manage your transferable data without downloading any apps onto your tablet and taking up vital storage space.
Extra Functions You Can Enjoy from Coolmuster Android Assistant:
It even allows to you transfer data from your Android tablet onto your computer. This is useful when you already have too much content using up precious storage space on your tablet and you want to put more (like a digital copy of your favorite DVD) onto it. Then, when you want to put those files back onto your tablet, Coolmuster's Android Assistant stores all the transferred data onto your computer's hard drive and allows for easy retrieval of those files to transfer them back.
It also backs up Android contacts, transfers files that your Android tablet's OS will not let you transfer, allows you to send, reply to text messages directly from your computer as if you are communicating from your tablet and is generally a great all-in-one Android data managing software.
Just click the following button to get the free downloadable Android Assistant:
Way to Transfer and Play DVD Files on Android Tablet/Phone
Step 1. Launch this program after installation
Suppose you have already converted your DVD files to common video files on your computer by following the method above. Now, you can install and launch the Android Assistant, connect your Android tablet with the same computer via a USB cord and then the Android Assistant will detect it and show it on its window automatically. If not, you may need to open USB debugging on your Android tablet first.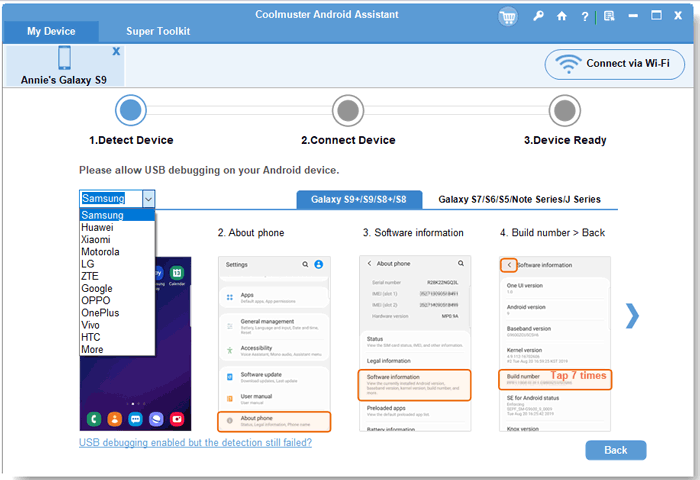 Once the USB debugging is enabled, move back to your tablet's screen to tap the "Allow" option. Then, the parameter information of your device, including tablet model, system version and storage space size will be shown in the main interface like below.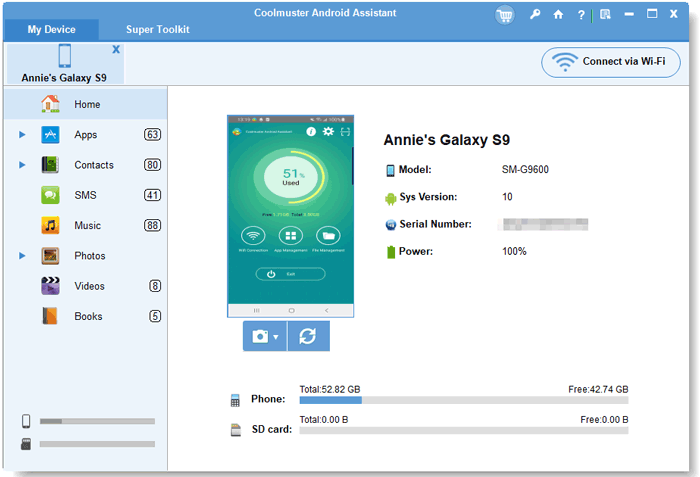 Step 2: Choose the converted DVDs to Android tablet
On the top menu, there are various options represents all the files stored on your Android tablet, including Photo, Video, Music, Book, Contact, App, etc. Choose "Videos" option, enter the video managing window and go to click the button of "Import". Then, the windows file browsing dialog will pop up, allowing you to find the target DVD files. After that, click OK to import the selected DVD movies to the connected Android tablet.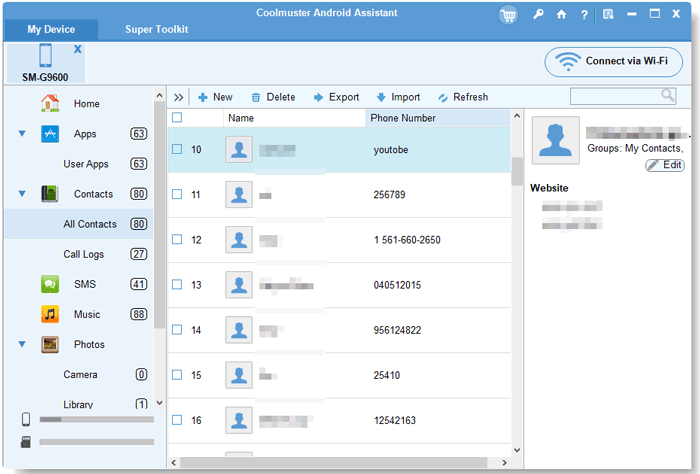 Coolmuster Android Assistant is proven 100% secure and clean, and works excellently on almost all popular Android phones or tablets. If you are going to use any third-party software to transfer files from your computer to your Android tablet, this is the one to get.
Related Articles:
How to Transfer Files between LG and Computer