3 Ways to Transfer Music between Android and iPhone XS/XR/X/8/7/6?
Are you making a switch from an Android phone to an iPhone? If so, we should congratulate you to have the world's best smartphone. Changing to a new phone is simple as long as you have enough budget. However, transferring data from your old Android phone to the new iPhone, for example, transferring music between iPhone and Android is not that easy. Although both the Android phone and iPhone have built-in Bluetooth technology, transferring via Bluetooth between the two different OS phones are limited, which means your devices must be running the same third-party Bluetooth file transfer application.
To a music lover who has saved massive music collections on their iPhone or Android phone, it would become necessary to copy music files from iPhone to Android, or from Android to iPhone without spending time to download these songs once again. In this article, we will introduce three different methods for you to transfer music and songs between Android and iPhone XS/XS Plus/XR/X/8/8 Plus/7/6S.
Method 1: Transfer Music from iPhone to Android via Bluetooth
Method 2: Transfer Music between iPhone and Android via Mobile Transfer (HOT!)
Method 3: Transfer Music from iPhone to Android via Shareit App
Method 1: Transfer Music from iPhone to Android via Bluetooth
Bluetooth is an old but effective way to transfer media files between two phones. But I don't recommend this method because I used to try to transfer files using Bluetooth on my iPhone and Samsung phones, but I didn't succeed in the initial pairing of iOS and Android devices. However, you can try it because it is completely free. To send music from your iPhone to Android, you should do this:
Step 1: Go to "Settings" on your iPhone and Android phones and enable Bluetooth on both phones.
Step 2: Now on the iPhone, click on the "Scan" button to search for nearby Bluetooth-enabled devices. Typically, you will get a list of devices after scanning.
Step 3: From the displayed list, find the Android Bluetooth name and connect to it.
Step 4: Once the pairing is successful, you can go to the iPhone and send the specific music you want to send to your Android phone.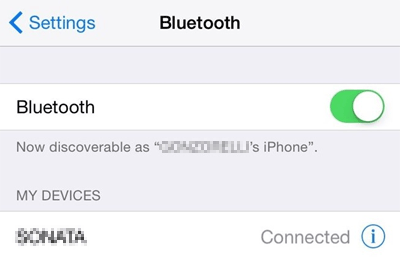 Can't Miss:
How to Switch or Transfer Data from Android to iPhone 6 or iPhone 6S
How to Transfer Data between BlackBerry and iPhone
Method 2: Transfer Music between iPhone and Android via Mobile Transfer
Since the Bluetooth is not always helpful, most phone users might think about using a computer as the middleman for swapping data between iPhone and Android. But some people still feel transferring files via USB cable is complex. They just wonder if there is any easier and quicker way to share music files between iPhone and Android.
Fortunately, we have booming and professional phone to phone transfer named Coolmuster Mobile Transfer, which is specially designed for mobile phone users transfer data between different phones with different operating systems, such as iPhone to iPhone, Android to Android, iPhone to Android, and Android to iPhone. With it, you can copy all the music files between iPhone and Android in only a few clicks. If you need, you can also use this program to transfer videos, photos, contacts, text messages, apps, call logs and more between iPhone and Android phone.
You can download the Mobile Transfer via the buttons below and follow the guide to achieve this music transferring task between iPhone and Android phone. It also comes with Mac version.
Step 1. Launch the Mobile Transfer on the computer
Install the Mobile Transfer program on your computer and launch it. Make sure you have installed iTunes on your computer. If not, install it to get ready. After a few seconds, you can see the primary interface of the program like below picture: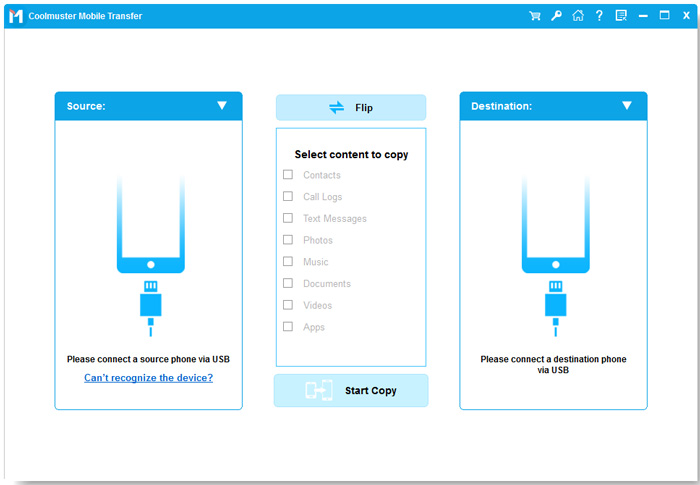 Step 2: Connect both phones to the computer
Connect both your iPhone and Android phone to the same computer simultaneously with USB cables. The program will detect the two phones automatically and display them in the interface.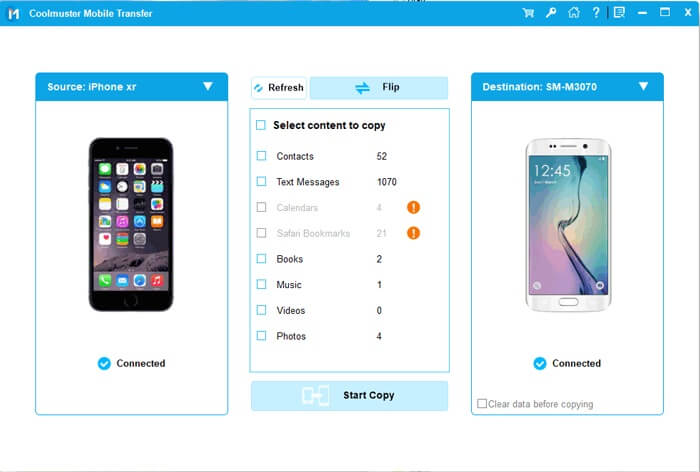 Step 3. Transfer music between Android and iPhone
By default, all the files will be transferred via the program. If you only need to transfer music files, you should check the "Music" option only and click "Start Copy" button to begin transferring process.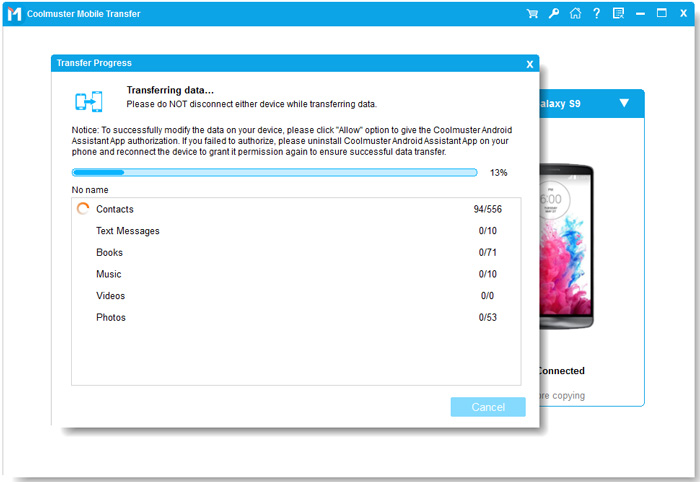 You can change the transferring order freely by clicking the "Flip" button. Please be advised that the Mobile Transfer software is compatible with all Android brands, such as Samsung, HTC, LG, Motorola, Sony, etc.
Method 3: Transfer Music from iPhone to Android via Shareit App
Finally, you can also try the Shareit app, a free app on iOS and Android to help you send photos, music and videos between your iOS device and your Android device without using a computer, or the need for internet, cellular data, Wi-Fi network. It can connect two mobile phones via Wi-Fi. Here are the steps to use Shareit to transfer music from iPhone to Android:
Step 1: Download the Shareit app on your iPhone and Android smartphone.
Step 2: Launch the app on both phones, tap the "Send" button on your iPhone, then tap the "Receive"e button in your Android smartphone to enable the receive mode.
Step 3: Start connecting the two phones. Please note that you must ensure that the two phones are placed no more than 25 meters away or the connection will be lost. Once the connection is successful, you will need to select all the music files you want to transfer from your iPhone and click "Send".
Step 4: After all the selected music files have been sent successfully, you can go to the Android smartphone to check all the transferred music items.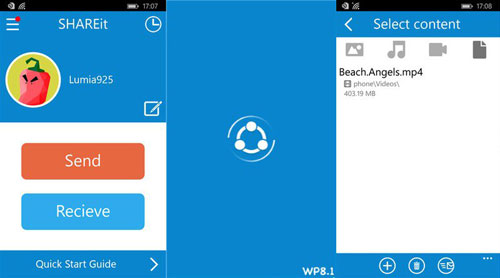 Words in the End
However, the Shareit app may not work properly on some older phones, and it transfers much slower than Coolmuster Mobile Transfer. Since Bluetooth cannot work smoothly all the time, we strongly suggest you use the Mobile Transfer to transfer music between iPhone and Android phone. You can use it to transfer any kind of data from one phone to another and you do not need to worry about the data transfer because Mobile Transfer can copy everything from your old phone to the new one within minutes. Please don't forget to share this article with your friends.
Related Articles:
Sync Contacts between LG and Samsung Galaxy
Transfer Contacts between Android and iPhone
Transfer Photos between Samsung Galaxy and iPhone