How to Transfer Videos/Photos between Huawei Ascend and Computer?
Summary: In case of the data loss problem on your Huawei smartphone, you should think about how to protect your phone data well. This article would tell you how to transfer data (photos & videos) from your Huawei to computer for backup, and restore the backup file back to your Huawei device with one click.
Huawei, one of Chinese smart phone manufacturers, has been making a host of Chinese best-selling smart phones. However, it isn't perfect and it cannot work every time. In fact, data (including photos and movies,etc ) on Huawei are easy to face some problem, such as data loss. Files will be missing because of all kinds of reasons, like system corruption, virus infection, system formatting, etc. What's more, all information will be gone if you lost your Huawei device. It will be worse if you have not transferred those files on your computer or other devices. Another situation is that you saved a lot of files related to your work in the computer but without transferring them to your phone. How embarrassed you will feel at that time when you need to use these files but your computer is too heavy to carry around and you have to put it at work place.
Any possible to transfer files from Huawei Ascend to computer?
What will you do if you suffer data loss on your Huawei device without transferring them to your computer, or can not be able to have access to your favorite files on your computer which are left at work place? Luckily, you can turn to Coolmuster Android Assistant or Coolmuster Android Assistant for Mac for help. The effective tool can easily transfer all files between Huawei and computer without any quality loss. Before transferring process, install Android Assistant, and then connect your Huawei device to computer through an USB cable or connect the SD card on Huawei device to computer. If you want to transfer files from computer to your Huawei device, run the software, browse files on your computer and then transfer them to your Huawei device or the SD card. By contrast, simply click the "Export" button if you want to export files from your Huawei device to computer.
More related articles:
Backup Android Contacts to Computer
Save Android Phone SMS Messages to Computer
Coolmuster Android Assistant works on all Huawei mobile phone series, including Huawei Ascend G510/Mate/P6/E220/Y511. Other Android-based devices like Samsung, HTC, LG, Motorola, ZTE, etc., can be also supported by this tool. If you are interested in, you can also read the article on how to transfer photos between Samsung and computer.
Steps to Sync Photos/Videos between Huawei Ascend and PC
Step 1. Connect Your Huawei Mobile to Computer
Here we will take Windows version as an example. After installing and launching the file transfer tool for Huawei mobile phone, connect your Huawei phone to the computer via a USB cord and once the connection is successful, your phone will be detected by this program automatically. If it is the first time to run this software, you will be required to enable USB debugging on your phone at first. If your phone can be detected by the program, you can skip to the next step.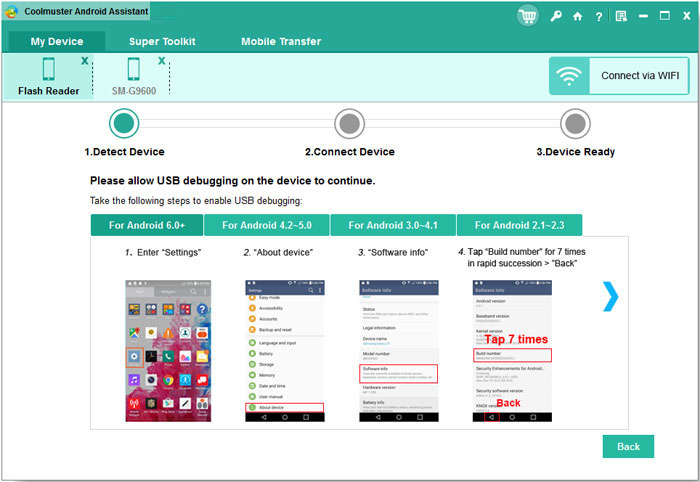 Step 2: Choose the Target Videos and Pictures
When your Huawei cell phone is successfully detected by the program, all the files in the phone will be displayed on the top menu in categories. Click the "Video" and "Photo" icons from the top you will see all the contained files in your Huawei phone will show in list on the right. Mark the files you want to save to the computer and click the button of "Backup".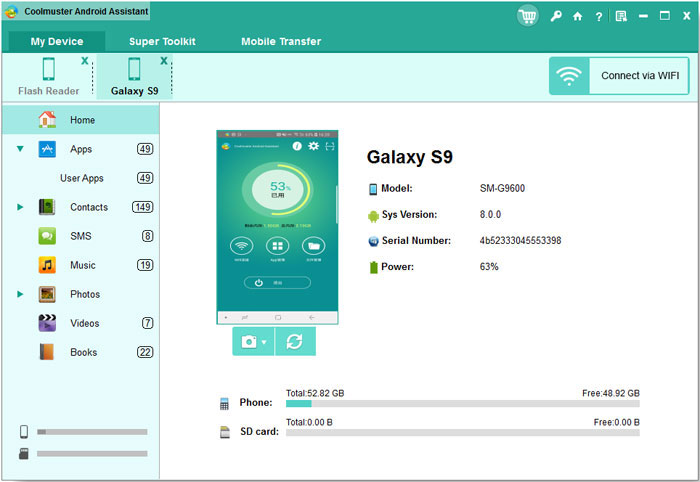 Step 3. Start to export the selected photos and movies
After that, a "Path" dialog will appear, asking you to choose an output location to save the exported files. Just choose a place on your computer and then click the "Ok" button to begin the transfer process. Wait for a short time, all the selected photos and videos will be exported to the specific location.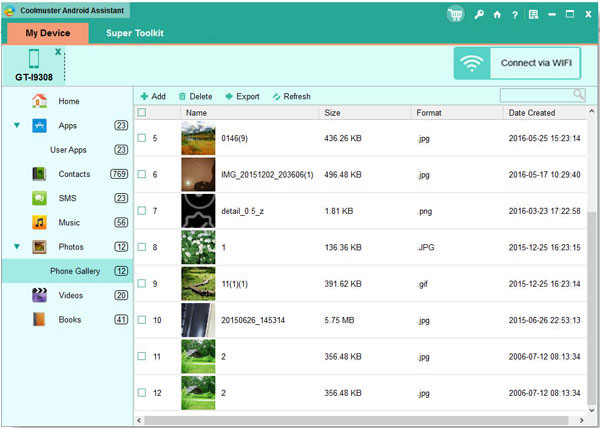 Therefore, next time when you are urgent to sync files between Huawei and computer, you can go for Coolmuster Android Assistant!
Related Articles:
Edit Samsung Contacts on PC with Samsung Contacts Editor