Guide to Play iTunes Videos on Android Phones/Tablets
The Android OS range of smartphones and tablets are being widely used around the globe. There was a time when Apple was a clear leader in the world of smartphones but lately Android OS has overtaken that of Apple's and offers an array of exciting features to choose from. Many Apple users wish to view their videos and other content downloaded from iTunes on their Android devices for several reasons.
One of the major reasons why viewing on Android is better is that it offers superior clarity and HD options which is not available on Apple devices. And if you are a previous Apple user who has now switched over to Android, you would want to view all the saved iTunes Videos on the Android device itself.
How Can a Professional Video Manager Help?
While Android does offer some amazing benefits, you need to be wary about the cons too. For instance, it is hard to refute the fact that one does experience problems when watching an iTunes video on Android devices and the video might not run as smoothly as it would on Apple devices. So, if you want to watch your favorite iTunes videos on Android, is that possible? Turns out it is, but you need to take the help of another third party app. Some feasible ways to watch iTunes videos on Android are:
1. iSyncr Android App – This is an app on Android which works with iTunes to sync the video content via USB or Wi-Fi to an Android device. One can also sync playlists, artwork and play counts with this app.
2. Moving files manually from iTunes to Android – Though this method is straightforward and easy to understand, it can prove to be quite tedious if only a few videos or tracks need to be moved from the entire list.
Though there are several ways to watch iTunes Videos on Android devices, you can never tell when a video will fail to play on an Android device preventing you from viewing it when you need to. So you can actually choose to transfer videos from iTunes to Android device within simple clicks!
Extra Bonus:
How to Share iTunes Library from One Computer to Another
How to Move Batch of Videos from iTunes to Android
If you are still looking for a simple way to watch iTunes videos on Android phones then a professional Android Video Manager such as the Coolmuster Android Assistant for Windows or Coolmuster Android Assistant for Mac is just what you need. It is a one-stop solution for all your Android device-related needs as it can easily deal with all types of Android media, SMS, apps and contacts and organize them in your PC in one place. This takes away the need for using different kinds of software's to manage different things on an Android device making the job easier and hassle-free. Plus, the software does a lot more including helping you to recover lost data from phone backup and transfer files easily. You do not have to worry about losing access to your messages, pictures, apps and more.
How to use the Coolmuster Android Assistant?
It is pretty simple to work with this professional software. You do not have to worry about video conversions and you can watch your favorite videos on your Android device easily. Just follow these three steps and you will do fine.
Step 1 – Connect the Android device to the computer and launch the software.
Step 2 – Choose the Videos tab from the menu to view more information.
Step 3 – You can now export, download, import videos to the Android device with the software.
You can also transfer files between Android devices and computer wirelessly if needed!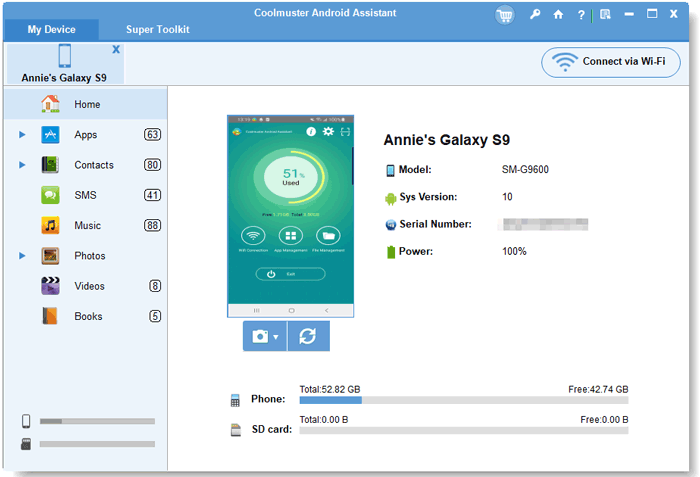 So want to play iTunes videos on Android phones/tablets? Just choose either way mentioned in the above!