What Are the Best Weather Apps for Android Phones?
Want to know how the temperature is outside? Or maybe the temperature in a different city? You would need an Android weather app on your Android phone to do that. It is very easy to find Android apps that tell you what temperature it is. But that does not suffice when you are traveling or going someplace and want to know about the weather there. You may be planning for some outdoor activities and may need to predict the weather for next few days. Such diverse jobs can be performed by Android weather apps available on Google Play store. Now, let's see the top 6 weather apps and widgets for Android phones. By the way, if you are an iPhone or iPad user, you can check here.
1. Weather XL PRO
You may need to spend a little for this Weather app, but the details you get are stunning.
Features:
* Provides correct forecasts for following 10 days
* Rain, snow, fog, ice, wind, humidity, pressure etc are forecasted in detail
* Easy to use with attractive animations
* Status bar display of temperature and weather notification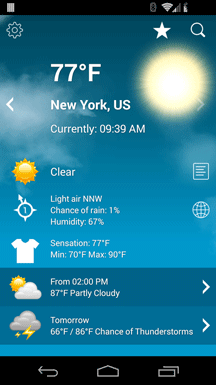 2.Accurate Weather YoWindow
This is simple, and you get accurate info all the time.
Features:
* Animated window that presents forecasts as a living landscape on phone
* Scroll to see forecasts ahead in the day
* Presents forecast for existing weather, for the day and multiple following days
* Forecasts are tracked from top meteorological institutions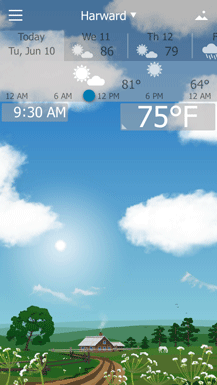 3. Weather
This one does a simple job, and will be supported fully on your Android phone.
Features:
* Ability to input and follow weather of multiple places
* Simple and lightweight
* Compatible from Android 1.5
* Geo-positioning supported to track current location's most recent weather conditions
* Widgets for various locations with hourly and weekly forecasts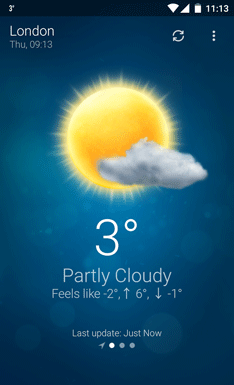 4. The Weather Channel
One of the most popular weather apps out there, it offers comprehensive info about the weather including weekly forecasts.
Features:
* Presents forecasts for the hour, weekend and next 15 days
* Past and present radar maps with weather details
* Receive alerts on storms, lightning, tornado, rain, pollen and snow attacks
* Weather news and weather videos
5. Arcus Weather (with Radar)
If you're looking for weather reports with radar, this is the one.
Features:
* Can be used without turning location on
* Alerts for severe weather
* Support for Android wear
6. WeatherBug
Looking forward to know about weather in a visually appealing interface? You've found your answer.
Features:
* Snow and ski forecast across various locations and resorts for adventurists
* Weather conditions visually presented over 17 map layers
* Weather of 2.6 million places with forecasts from over 10,000 popular weather stations
Bonus 1: How to manage Android weather apps?
Managing weather and other apps on your phone calls for a professional program like Coolmuster Android Assistant or Coolmuster Android Assistant for Mac. It has options to manage apps, contacts, media files, messages and other content through a computer or Mac.
The backup feature is very easy to use and takes backup of your important phone content in a single click. In case you have formatted your phone or restored it to factory settings, it can recover your phone using the backup files.
The software is capable of organizing, adding and deleting contacts and messages stored on your phone. You can send group messages from your desktop too. The tool also lets you download apps in batch on your computer or uninstall them.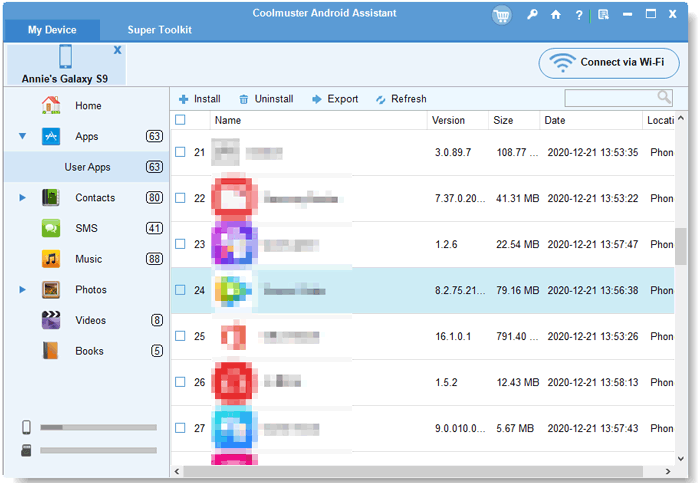 Bonus 2: How to share Android weather apps?
Many times we need to share or transfer the content of our phone to a computer, Mac or a new phone. It takes a third party program like Coolmuster Mobile Transfer to do the job effectively. It can transfer ebooks, photos, videos, music, contacts and other files between the phones of the same or different operating systems. It can support Android, iOS, Symbian systems at present. You can also take backup and use them to restore your phone in case of data loss. The software can even be used to safely delete phone data permanently before you sell it away.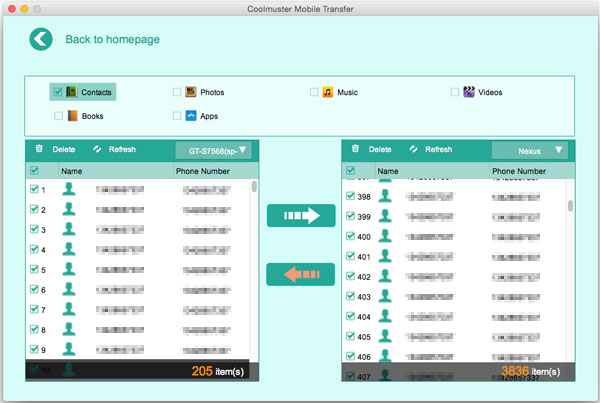 Related Articles:
Top News Apps for Android Phones