How to Recover WhatsApp Messages from Google Nexus 6/6P?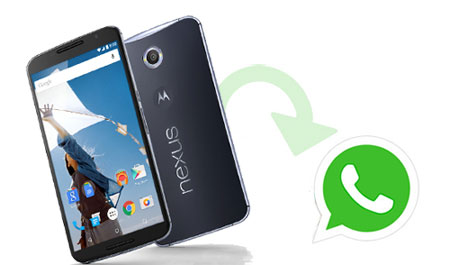 Loss of important information from a phone is a very upsetting thing, especially when you need it urgently. And, no matter how careful you are, you can't expect what kind of suddenness will happen on your phone. But you don't have to completely give up. Because of human wisdom, now, it is not impossible to restore the lost file. WhatsApp is a very popular chatting app. Today we set it as example, telling you how to recover WhatsApp messages on Google Nexus 6/6P.
Part 1: Is it possible to restore WhatsApp data from Google Nexus 6?
Part 2: How to recover WhatsApp messages from Nexus 6P?
Part 3: Common cases cause WhatsApp data loss on Nexus 6/6P
Part 1: Is It Possible to Restore WhatsApp Data from Google Nexus 6?
Can we restore WhatsApp data from a Nexus 6? The answer depends on two situations:
1. Have you send or receive new WhatsApp messages on your Google Nexus? If you have, the answer would be NO. This is because once you accidentally delete WhatsApp data on your Google phone, it is actually still here in the phone but is invisible. But if you send or receive new messages, they will overwrite the deleted ones and you will never can get them back.
2. Do you have a reliable WhatsApp recovery tool to aid you? If you don't have, the answer is No. But don't worry. Here we will introduce you a powerful WhatsApp recovery tool for Google Nexus 6/6P.
Don's Miss: Recover Contacts from Google Nexus 6
Part 2: How to Recover WhatsApp Messages from Nexus 6P?
If you just delete very important WhatsApp data from your Nexus 6 or 6P device and do not have a data recovery tool, do not panic. Just put the phone down and do not use it now. Then, download and install the Samsung WhatsApp Recovery to rescue WhatsApp data from Google Nexus 6/6P. Check out the features of this software below:
* Supports overall Android devices, including Google Nexus, Samsung, HTC, LG, Sony, Huawei, etc.
* Hassle freely to access screen-broken Android device without USB debugging.
* Easily recover WhatsApp data, photos, videos, contacts, SMS, etc. from Google Nexus 6/6P.
Below Are Steps to Recover WhatsApp Data on Google Nexus 6/6P:
Step 1. Launch the Nexus 6 WhatsApp Recovery software
Once you have finished installing the data recovery tool on your computer, launch it and connect your Nexus 6/6P to your computer using a USB cable. Choose Android Data Recovery option from the left sidebar.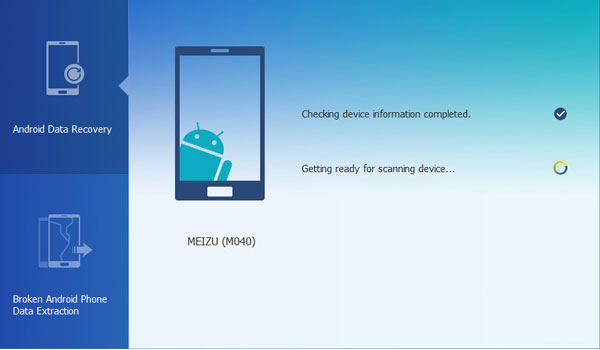 Step 2. Select the WhatsApp data you want to recover
Next, you should select the file types you want to recover. In order to recover WhatsApp data, you should check WhatsApp and then click Next. Then, all the WhatsApp messages and attachments will be scanned out by the program.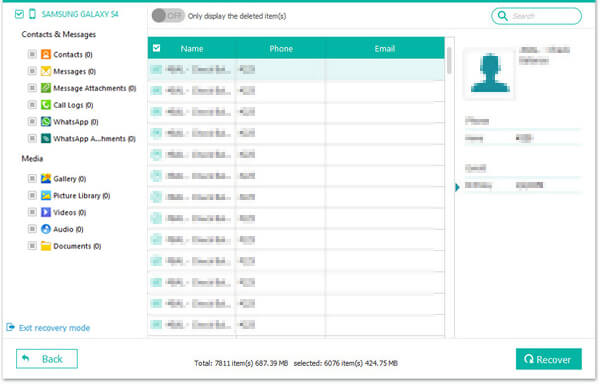 Step 3. Start WhatsApp recovery on Google Nexus 6
Preview the scanned out data and select those you want to get back. After the selection, you can click "Recover" button to save the recovered WhatsApp data on your computer.
Part 3: Common Cases Cause WhatsApp Data Loss on Nexus 6/6P
Your WhatsApp data can be lost from Google Nexus 6/6P due to one of the following reasons:
1. The most common reason of data loss is accidental deletion.
2. System crashes when you try to update the phone system.
3. SD card on your phone gets corrupted.
4. Something goes wrong when you root your phone out of place.
5. Failed to flash the device's ROM.
6. Factory reset the phone and everything has been erased.
7. Phone stuck.
8. Failed to backup your phone data. (Here is an easy and safe way to help you backup Google Nexus 6 data on computer.)
Related Articles:
Samsung Galaxy Desktop Manager Software