Comparison: ePub vs PDF
Although there're still a group of people who get used to reading traditional paper books, there're a far larger number of individuals, especially young people, who have a great love of e-books, which can be stored on mobile devices and carried everywhere with ease. ePub, an emerging and preferred format of e-books, has captured numerous readers' attention as it surpasses PDF, a common e-book format with fixed layouts calling for different editions when reading on different devices. The former applies to reading on devices with different display sizes by providing an automatic layout function, while the latter is relatively inconvenient, with which you can only read part of a page at a time. Hence e-Pub books are gaining in popularity today due to its flexibility.
There are a wide range of ePub books available for downloading online, but some of them are not well laid out with quite a few annoying advertisements attached or even some serious errors. A tool that allows direct modifications or editing will be of great account to readers, let alone proofreaders. If you're an experienced e-Pub user who has published your own e-books or edited ePub files, you might be familiar with Sigil, an open e-book editor characterized in that the file users see in the panel shares the same format with that in the final document, which is better known as "What You See Is What You Get".
It's time to give up Sigil
However, some complaints were raised for the drawbacks of Sigil. ePub is a package of HTML (HyperText Markup Language), and all its content is laid out by HTML, yet users pointed out that Sigil does not excel at processing some HTML files and sometimes brings the parser big trouble by not dividing the files into a proper number of parts. It's also said that some ePub files produced by Sigil cannot be opened on iBooks and somehow have the covers missing. Besides, cases occur when the font and the size chosen can be displayed in Sigil but can't be on ePub, such as when the pictures are named in Chinese. On the other hand, even though Sigil supports Unicode and all the characters are encoded based on UTF-16, the characters on ePub books made by Sigil will turn into messy codes under readers which supports UTF-8 only, like Adobe Digital Editions.
Pick up the best Sigil alternative app
Are you worried that these problems will come up when you edit your book with Sigil? You can be worry-free with Coolmuster SignPub (for Windows 8/7/XP/Vista) or Coolmuster SignPub for Mac (Mac OS X 10.9 or later), more powerful software designed for creating and editing ePub files. Adding covers, table of contents, texts, pictures, videos, audios, modifying contents, and converting file formats will no more be a hard job with this helpful editor and without the problems caused by Sigil. On this platform, you can easily put graphs together with texts, select the font, size, colors, and lay out the contents as well as the attached notes or images in a neat or creative manner according to your preference.
Download the free trial version of the ePub editing software for Mac or Windows on your computer.
How to Edit ePub without Sigil but Using The ePub Editor
Step 1. Open Source ePub eBooks/Files in The Program
In the very beginning, get the program downloaded and installed on your computer. Launch it and then import the target ePub eBooks or files to the program like this: click the "Open File" option to browse and open the ePub eBooks you want to edit, or directly drag and drop the ePub files to the software.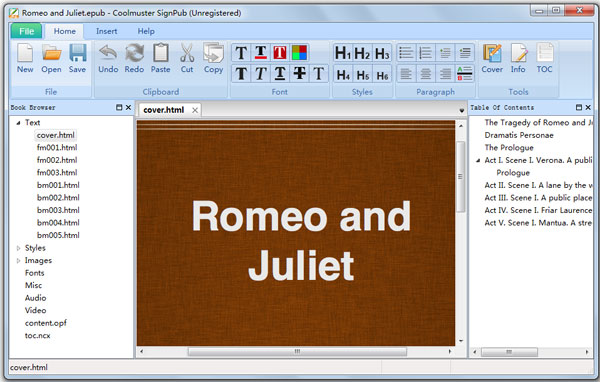 Step 2. Edit The Imported ePub As You Like
all book information of the added ePub will be displayed, including name, author, pages, etc.. You can then choose all kinds of editing tools from the tool bar to add text, insert images, check spellings, and enjoy more ePub editing functions in this program. Just edit the ePub files according to your needs.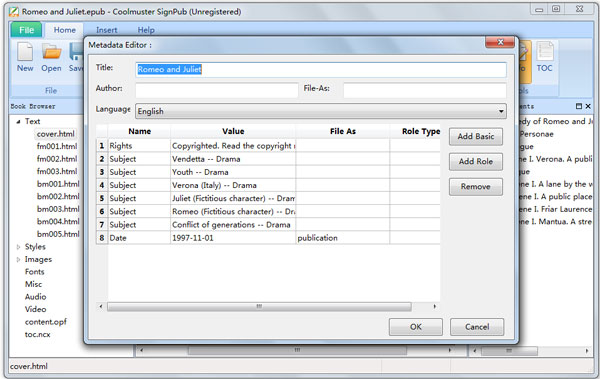 Step 3. Save ePub Editing
After all the necessary editings, you can click "Save" or "Save as" option to confirm the editing you've done in the above step. Choose an output folder from your computer and the software will store the edited ePub here.
In conclusion, ePub has gained popularity as a preferred e-book format due to its flexible layout and adaptability to different devices. While Sigil has been a popular e-book editor, it has faced criticisms for its limitations and compatibility issues. To overcome these challenges, Coolmuster SignPub emerges as a powerful alternative, offering seamless editing capabilities and avoiding the pitfalls associated with Sigil. With Coolmuster SignPub, you can effortlessly create and edit ePub files, customize layouts, add multimedia elements, and convert file formats. Say goodbye to the frustrations of Sigil and embrace a more efficient and reliable ePub editing experience.
Download the free trial version of Coolmuster SignPub and unlock the full potential of your ePub editing journey.
Related Articles:
How to Edit ePub eBooks with Ease