How to Access iPhone Files on Mac without iTunes?
It is remarkable how quickly files can accumulate on an iPhone, especially if you spend a lot of time taking pictures, recording videos, or sending and receiving text messages. It is only natural then to want to access these files as quickly and as easily as possible. Whilst iOS might be regarded as one of the most secure systems in existence, it can be frustrating to discover that files cannot be directly transferred and moved around like you would any other type of information. If you want to access iPhone files on Mac, for example, you first have to locate the iPhone backup files and this can be harder than it sounds.
Fortunately, there is a handy solution out there – a third party app which can help iPhone owners track down, identify, and access all kinds of different iPhone files in less time than it takes to turn the device on. In other words, the Coolmuster iOS Assistant for Mac tool is your one stop shop for enjoying photos, messages, contact, music,, videos, and more in exactly the way that you want, bypass iTunes restrictions. It can handle almost any kind of file, so you should never have a problem working out how to access iPhone files on Mac, whether you are looking to share pictures with friends, upload music to your computer, or edit contact lists, memos, and calendars.
With the support of this responsive management and transfer tool, there is no longer any limit to what you can do with YOUR files. This quick three step guide will show you how to access iPhone files on mac in a matter of minutes. And the Coolmuster iOS Assistant enables you to view iPhone files on Windows PC in the same way.
To begin with, you should free download the trial version of the iPhone to Mac Transfer tool to get ready.
iPhone to Mac Transfer - Allows You to Access iPhone Files on Mac Effortlessly
Step 1. Run the iPhone to Mac Transfer tool
The first step is to head over to the buttons above and hit it to download and install the Coolmuster iPhone to Mac Transfer tool. The entire download and installation process should take no longer than a couple of minutes. Once installed, tap the icon on your desktop and an interface will pop up.
Tips: The iPhone to Mac Transfer supports all models of iPhone, including iPhone 6S Plus, 6S, 6 Plus, 6, 5S, 5C, 5, 4S, 4, 3GS, as well as iPad and iPod.
Step 2. Select the iPhones files which you want to transfer
In order to successfully transfer files directly from the iPhone to the Mac, you need to search for them in the right hand panel. The different types of files should all be clearly labeled with titles like music, calendars, messages, photos, movie, TV shows, etc. You only need to check the tick boxes next to the desired files to prepare them for quick transfer to the Mac.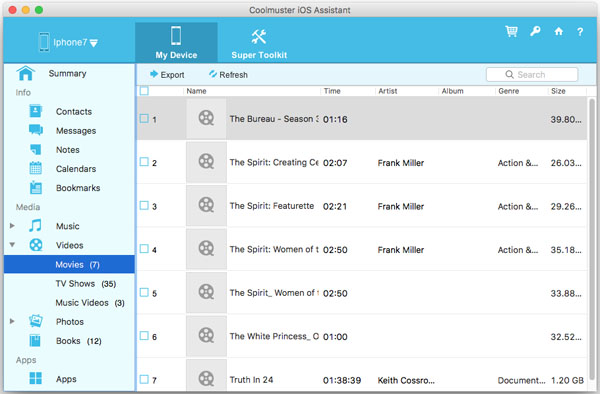 Step 3. Hit the EXPORT button and wait for the transfer finishes
Now, hit the EXPORT button and wait the few minutes needed for the files to transfer. Once the process is finished, you should be able to instantly open the output folder and edit, move, or copy the iPhone files in any way that you like on the Mac computer.
This is also a really good way to create duplicate copies of iPhone folders on Mac, just in case you end up breaking or losing your mobile device.
Related Articles:
How to Sync Outlook Contacts with iPhone