iPhone 6S/Plus: Everything You Need to Know about It
In the WWDC 2015 in fall, iPhone 6S and iPhone 6S Plus has been finally unveiled, and can be pre-ordered on September 12th, sold officially on September 25th. So before you decide whether to change your iPhone to the latest one, it is necessary for all of us to have a brief look on the new features of iPhone 6s or plus. From the Apple WWDC, you may have found that Apple says iPhone 6s/plus is the "most advanced smartphone ever", even though they also says like this in every WWDC in the last few years. But it is undenaible that iPhone 6s or plus packs in more advanced features than ever before, especially the new designed 3D Touch technology. In this page, we'll introduce these new features to all of you one by one. And you can keep reading this article to learn more about the new-released iPhone 6s or iPhone 6s plus.
A Great Update of Colors, Camera and Chip in iPhone 6s or Plus
1. Before getting specifications of the iPhone 6s or plus, you may be surprised that the Apple have given users with another new color choices in this new device, right? Yeah, in addition to the color of silver, gold and space grey, Apple's iPhone has an all-new color for your choice - rose gold. Undoubtedly, this charming rose will capture almost all woman's eyes and heart.
2. If you're a person who are indulged in taking pictures with your iPhone, then the update of iPhone 6s or 6s plus camera could be the most amazing news you've heard in the WWDC 2015. Don't doubt, iPhone 6s or 6s plus comes with 12-megapixel iSight camera, which allows users to capture sharp and detailed photos than ever before.
3. The Apple A9 processor in the iPhone 6s or 6s Plus is 70% faster than the A8 chip, and up to 90% faster GPU performance for all your favorite graphics-intensive games and apps. So you'll enjoy a more faster running speed whatever you're doing on the device than before. Fantastic, right?
3D Touch - A Big Step Up from Force Touch
If you're asking that what is the all-new feature in the iPhone 6s or 6s plus, I guess most of people will answer you that is the 3D Touch. This is an entirely new way that iPhone 6s or 6s plus introduces to their users for interacting with the phone. Just like the Apple says "this is the forst time that iPhone will senses how much pressure you apply to the display". Believe us, it could be a unbelievable using experience than before, you can not only see what a press can do, and you can fell it by yourself! Undboutedly, you'll love it once you have a try.
iOS 9 - New Operating System of iPhone
iOS 9 have been introduced into the market for several months, and many people also have tried the iOS 9 beta before. So you may have an experience unlike any other, or maybe you're toubled with the iOS 9 beta. Anyway, the iOS 9 official version is coming now, and the iPhone 6s or 6s plus will comes with this new operating system by default. Powerful new built-in apps, advanced siri, etc. will make it smarter and more essential than before. Thus, just start your iPhone 6s or 6s plus journey with the new system right now!
Of course, if you're using a iPhone 6 or 6 plus, and you're not intending to change it to a new one, then you can also enjoy the new iOS 9 system on your old phone by updating it. If so, below is some articles that you'll need before updating your device to iOS 9.
Things You Need to Know about Updating to iOS 9
Reasons Why You Should Not Install iOS Beta
Price
For most people, the price of a new iPhone will decide the results of switching the old iPhone to a new one or not. So in the WWDC 2015 in fall, Apple has also revealed the price of the new iPhone 6s and iPhone 6s plus. Generally speaking, the new iPhone will retain the same price as precious years, that means you can get a 16GB models of 6s starting at $199 on contarct, and the 16GB 6s plus starting at $299 on contract. Acceptable, right?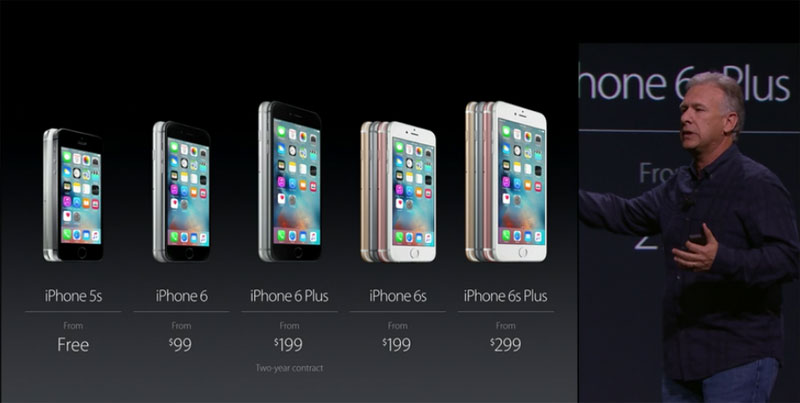 Detailed Specifications of iPhone 6s or 6s plus

All in all, above is the all things you should know about iPhone 6s or iPhone 6s plus. We hope this article is useful for you. And no matter you're going to switch your phone to it, please backup all your important data in the old phone with a reliable tool like Coolmuster iPhone to Computer Transfer or iPhone to Mac Transfer.