Apple September Event 2015: What Apple Announced?
It is no doubt that Apple's WWDC and September event always attracts the eyes all over the world. You may have known that Apple will launch the new generation of iPhone, the new operating system iOS 9 or watch OS in this special september event before, but all of you may only know the things that announced in the latest WWDC 2015. And you may eager to know what is the real features or what Apple really announced or will released in the coming days, right? So in this article, we'll give you a full review on the just ended Apple september event 2015.
iPhone 6s & iPhone 6s Plus
It is no doubt that the new generation of iPhone could be the biggest bright spot in every Apple conference, so does the september event. Here, Apple has announced that the new iPhone 6s and iPhone 6s Plus will come into the market on September 25th, 2015, and you can pre-order it starting from September 12th, 2015. Apple says on their official site "iPhone 6s, the only thing that's changed is everything", it packs with more advanced features than ever before, for example:
1. 3D Touch - It is called as the next generation of multi-touch, that lets you to sense how much pressure you apply to the display for the first time. With it, you can not only see a press can do on your iPhone, you also can really feel it by yourself.
2. Cameras - Update to 12-megapixel iSight camera, which allows users to take 4K video, capture sharp or detailed photos as they like, and it also comes with the new 5-megapixel FaceTime HD camera, that allows you to chat face to face more enjoyable!
3. A9 Chip - Greatly improved the operating speed than before. The statistic shows that the A9 chip lets users experience up to 70% faster CPU performance, and up to 90% faster GPU performance.
4. iOS 9 - iPhone 6s or iPhone 6s plus will come with the new operating system iOS 9 fully. You can enjoy the shinning features of the system without restrictions. Below are some other articles to help you learn more about the Apple's iOS 9. (Things You should Know before Updating to iOS 9)
For more details about iPhone 6s or iPhone 6s plus, you can click here to learn more - Everything about iPhone 6S or Plus.
iPad Pro
Comes with a 12.9-inch Retina display, nearly double the CPU performance of iPad Air 2, iPad Pro can even compare with a laptop on the market. And Apple also adds lots of other dimension to its experence, so that you can enjoy the device in a more creative yet productive way. Furthermore, the iPad Pro packs with the latest A9 chip and iOS 9 operating system, so no matter you love to watch movies or play games, you'll get an unbelievable experience than ever. For more details about iPad Pro, please go to here - Can An iPad Pro Replace Your Laptop?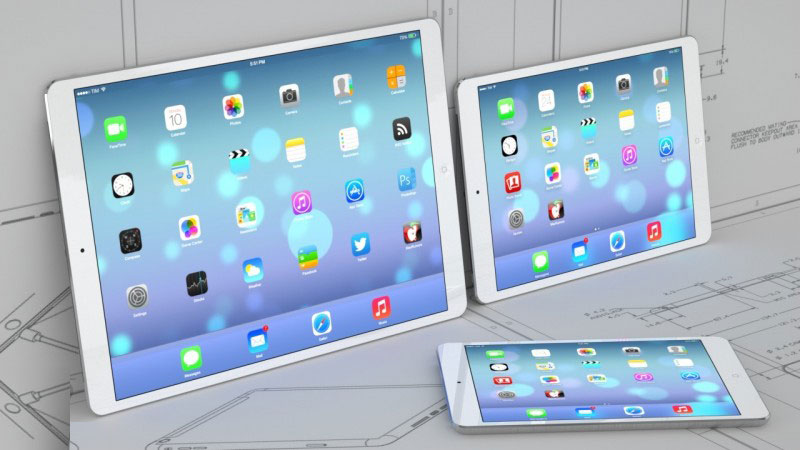 Apple TV
According to Apple's official site, the new Apple TV will adopt the all-new designed UI interface, named tvOS. And it also added the App Store to it, so that you can install all kinds of applications and games on your TV for enjoying with your family. We can say that Apple TV have reflected the future of television. You can connect the TV to your screen, and use the Siri to serach for anything you want to watch.

Apple Watch
The most attractive features of the Apple Watch in this september event is the Watch OS 2 is coming. And it released another versions of Apple Watch for user's reference. There is no generation updating of Apple Watch, but you can have more choices when you need to purchase one. (Go to here to learn more tips about Apple Watch)