Can't Miss This Best Backup Assistant for iPhone SE!
The newest iPhone SE is finally released to the public the other days and they are available for purchase on March, 25. Maybe some Apple fans are just counting days now. But do you know what you should do when finally getting the new iPhone SE? Well, some may say buying a phone case of good quality to protect your new device, that's right but you should do more since a phone case is far from being enough to truly protect your iPhone SE. Actually, together with a professional assistant, the safety of your iPhone SE can be 100% guaranteed.
Since many unexpected reasons can lead to the sudden data losses of your iPhone SE, you should form the habit of backing up important files from your device frequently so as to minimize your loss when suffering from such accidental cases. Here, all you need is just a powerful assistant for your iPhone SE device like this Coolmuster iOS Data Manager (Windows/Mac). With this software, you can easily transfer files from iPhone to the computer as a backup no matter you are a Windows user or a Mac user since this software has two different versions for various users. Also, different file types are supported by this software, including contacts, messages, music songs, photos, videos and etc. After backing up files from your device to the computer, you can also save more space on your device by deleting some files from your device of less significance than other files. This software also has a wide range of compatibility, which can support different brands of iOS devices, including the latest iPhone SE and 9.7-inch iPad Pro. So, after getting the new device as you desired, just get this best assistant to ensure better and nicer experience in using your new device!
How to Use This Coolmuster iOS Data to Back up iPhone SE
Step 1. Get iPhone SE Connected to Computer
To start with, open the installed software on the computer and then get your iPhone SE device connected to the computer. Then this software will successfully detect your device and show the below interface.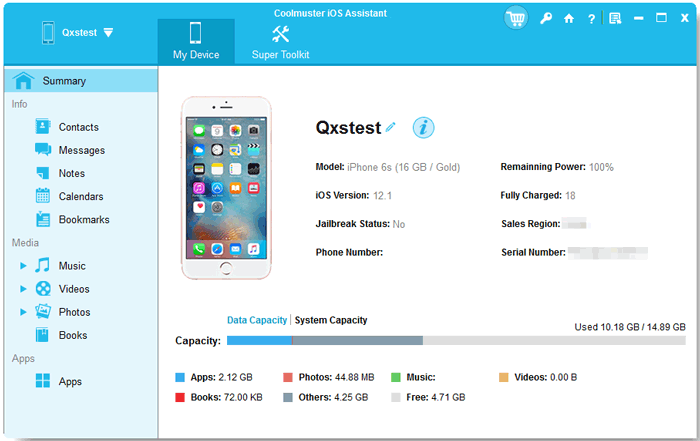 Step 2. Back up iPhone SE Files as Wanted
Now, you can now enter the file folders on the left panel to choose the files you want to back up to the computer and then click on the Export option to transfer the wanted files from iPhone SE to the computer as a backup.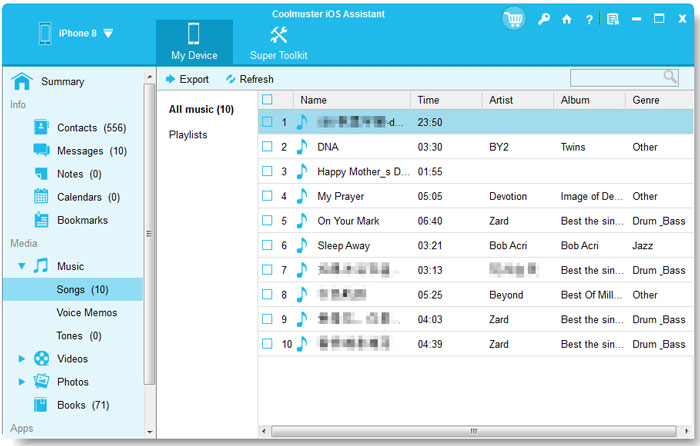 Now, the files saved on your iPhone SE device have been successfully backed up to the computer! There is no need to worry that you may suddenly be cut off the outside since you have already had a backup at a safer place! By the way, the tutorial as mentioned in the above is for Windows users. For Mac users, just download the Mac version and follow the similar steps!
Related Articles:
What's the Best Alternative to iExplorer?
One Click to Block iPhone Calls and Messages
Add a comment