How to Transfer Files from Jailbroken iPhone to Computer
Summary: Backing up an iPhone can be easily done by using various ways, but it seems a little troublesome when it comes to how to backup jailbroken iPhone. This passage shows you a quick fix.
If you have an iPhone in your possession, there are a wide range of things that you would probably want to know as the years go by. Since most people who have an iPhone do not want to part with these devices, they tend to keep them forever until they decide to get another upgraded version. Once the person decides to purchase a more updated version of their iPhone, they may want to sell the old device or give it away to another user. In either case, before the owner transfers the phone physically to another user, there are some things that the person must be aware of.
One of the most important is to protect the data that has been collected on the device. In order to do this, the owner of the phone will need to back up the data first. The process of backing up the data is to ensure no information will be lost when the data is being transferred to another phone. Another reason to back up the data on iPhone involves the process of resetting the iPhone to its factory setting. When this is being done, all of the data on the phone will be deleted. Therefore, there is no going back after it has been wiped.
Related: Why Do You Need A Phone Backup
Trouble shooting problems can be difficult sometimes since the users can encounter a variety of issues. Finding the problem or narrowing it down can also be a little daunting if the problem is not as common as the person may think. In these situations, some users may recommend setting the device back to its original factory settings. However, before this is done, the data must be backed to avoid losing important personal and business data.
Problems you may meet when backing up jailbroken iPhone
Backing up a jailbroken phone does not have to be difficult, if the individual knows exactly what to do. However, when they have not completed the process before, problems can often be encountered. One of the most important is losing numbers, text messages, photos and the like, specifically those that cannot be restored.
Easier & Safer Way to Backup Jailbroken iPhone
If a user does not want to encounter unnecessary problems when they are backing up a jailbroken iPhone, they will need to make sure that they are using a professional data manager like this Coolmuster iOS Assistant (Windows/Mac) software. It has some cool features that is relatively easy to do, which enables you to transfer files from jailbroken iPhone to computer within simple clicks. Also, you can freely transfer any files between iOS devices and computer without any restrictions, including contacts, messages, music, photos, videos and many more. And unlike other professional programs with complex user interface, this software offers you an easy way to back up jailbroken iPhone within simple steps as follows;
- Install the program on a desktop or a laptop computer so that it can be used in the process. This installation will be in the form of app so it will make it easy for the user to find and use it.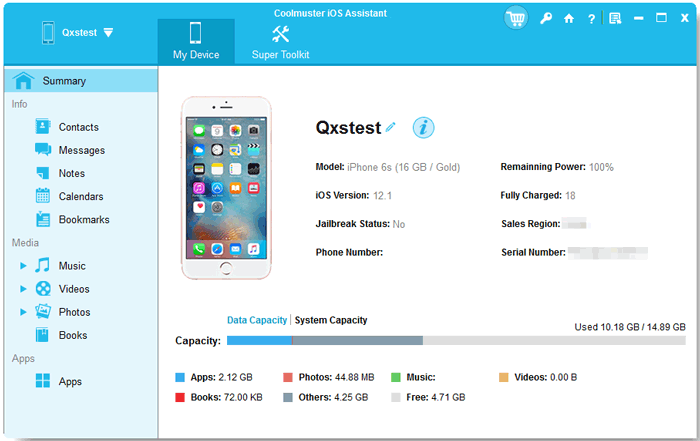 - After the coolmuster.com installation is complete, the next step in this process is to use this software to transfer the data from an iPhone to the desktop computer or a PC. This part of the process is usually done by using a USB cable to connect the iPhone to the computer.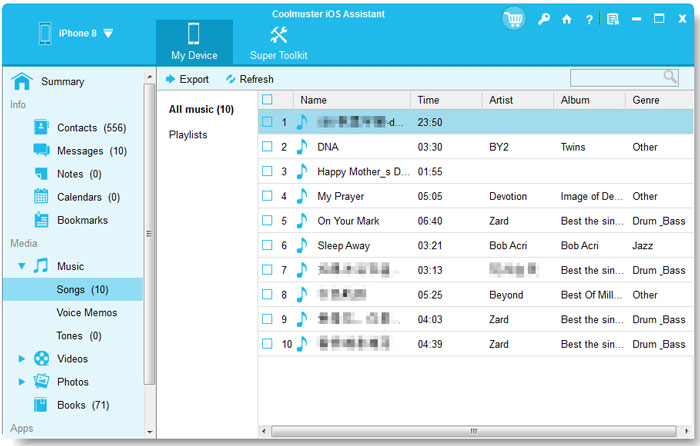 - When the USB cable and the iPhone have been connected, the next step is to launch the app so that the user can access its interface. The interface will provide the option of transferring all of the data at one time or to pick and choose specific data that the user wants to back up.
Related Articles:
How to Back up iPhone Contacts to iCloud