What are the Best Drawing Apps for iPhone/iPad?
Why need a drawing app for iPhone/iPad?
With so many different iPhone apps available on the market today, people can pick and choose the software products that they want to use in their homes, offices, and even at school. In fact, just when users think that they have seen and witnessed it all, there's another application that take everyone by surprise. One of the latest that people are using is catering to the needs of artists, specifically those who like to create their work via the use of digital art. Even though this type of art is just getting started, there are some great software tools that can assist artists with their creations. So, for those of you who are interested in finding out more about digital art and how it is completely transforming parts of the craft and world, here are 5 top drawing apps for iPhone/iPad that can be found on the itunes store and a brief description of each.
Related: How to Transfer Apps to New iPhone
Top 5 drawing apps for iPhone/iPad
1 - Draw Something Free By OMGPOP
This digital drawing app ideal for artists for a number of different reasons. So, it provides its user with the capability to eliminate incorrect letters so it is a very helpful tool in making sure everything is accurately done. Contains Color Packs that has all of the colors of the rainbow and much more. Meaning it has been made to create the best sketching and painting experience. App is produced to assist users with creating fresh content that comes From both Science as well as the Pop Culture. User has the capability to access Guess curated artwork from many users.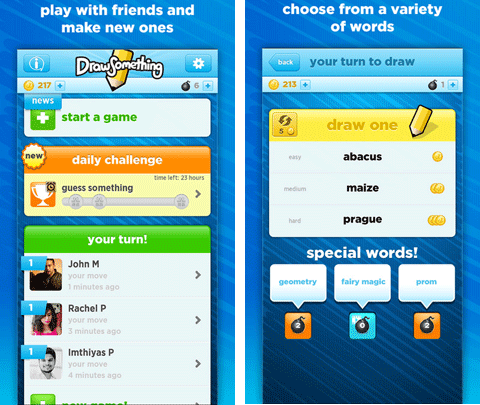 App has a number of essential feature that digital artists can use to create their designs. Some of the most notable include a blending tool, line tool, hue saturation lightness controls, text tool, brush stroke mirroring, dodge/burn blending, and temperature adjustments. This app also provides its user option to move the toolbar in associate with left handed interface.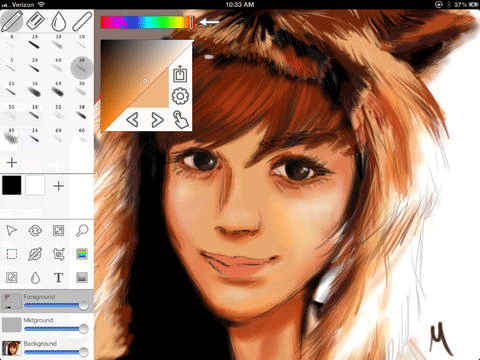 3 - Procreate (Sketch, paint, create. By Savage Interactive Pty Ltd)
Procreate can be described as one of the powerful sketching, illustration, painting and illustration apps that have ever been designed specifically for a mobile device. The developers are offering a comprehensive artist's toolbox. This toolbox is packed with features that will allow the individual to create stunning illustrations, beautiful sketches, and inspiring paintings, anywhere the artists goes.
4 - Adobe Photoshop Sketch By Adobe
As with adobe photo shop other software applications, this application has been designed with numerous purposes in mind. Therefore, the artists is able to draw their digital drawing with soft pastel water brushes, pencils, markers, and erasers.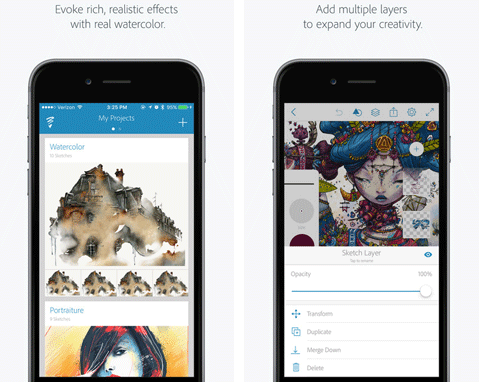 5 – Graphic (illustration and design By Indeeo, Inc.)
This app can be described as a full-featured illustration and graphic design for the iPad. It is an excellent tool that allows the individual to use the following features:
- Magnifier Loupe
- Dropbox Integration
- Autosave
- Dimension labels with precision settings
- Boolean path combinations
- Layer FX - shadows, glows, multiple strokes and fills, etc.
- Multi-color linear, radial, and angle gradients
- Pen tool multi-point selection and editing
- Smart alignment guides and point snapping
- Canvas scale, Rulers, and units (mm, cm, inches)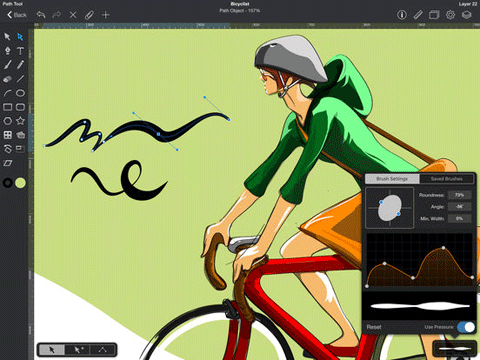 Extra Bonus: Easily Manage Downloaded Apps on iPhone/iPad
Fed up with messy apps saved on your iPhone/iPad? Just rely on this Coolmuster iOS Assistant (Windows/Mac) software to manage the downloaded drawing apps as wanted and needed. With it, you are free to transfer apps between iPhone/iPad/iPod and the computer without any hassle, be it installing the apps from the computer to your device or from iPhone/iPad to the computer as a backup!
Related Articles:
Best Backup Software for iOS Devices