Easy Way to Change iTunes Backup Location
Storage space is a major problem of having iTunes backups. The problem gets even bigger if you use a Windows machine with a variety of data and software stored in the C Drive. This happens because iTunes puts all the backup data in this drive and you cannot move this placement within its preferences. As the backup data of iTunes increases, that precious space in your C Drive decreases. You might be wondering if there is a solution to this problem? What can you do when your iTunes back-ups are eating up the space there and you need to move it out of that place?
You can change iTunes backup location, indeed. Most often, C Drive is the file you would want to keep empty, and you can easily store all the iTunes data in another location - even an external hard drive! This will ensure that you do not have to experience any slow and sluggish system or worry about other problems - it's always a good idea to keep your C Drive free.
What can you do about this?
Generally, iTunes is designed in such a way that all its backup files are automatically stored in the C:Drive. This cannot be changed. You have two choices here, you can use an external hard drive to back up your iTunes or simply change the location of the iTunes backup folder.
Since the original location where iTunes will save its backup cannot be changed, you can create a new folder another hard drive of your PC, D:Drive or the E:Drive. Then you will have to link this new folder with the old backup folder. What will happen now is that every time iTunes backs up the data in the old folder, it will get saved in the new back-up folder that was just created in another hard drive.
More Useful Articles:
* Simple Way to Download iCloud Backup?
* Download Videos from Facebook to iPhone/iPad
User Guide to Change iTunes Backup Location
Step 1: Create a new folder in the hard drive that has more space. It could be the D: Drive or the E:Drive. It's up to you. Name this folder as "New iTunes back-up" or any other name that you want.
Step 2: Now go to the default location of the iTunes and rename the folder from Backup to "Old back-up folder".
Step 3: Once you've renamed the old folder, press and hold down the Shift Key and right click on the old iTunes back up file address. This will take you to a pop-up menu.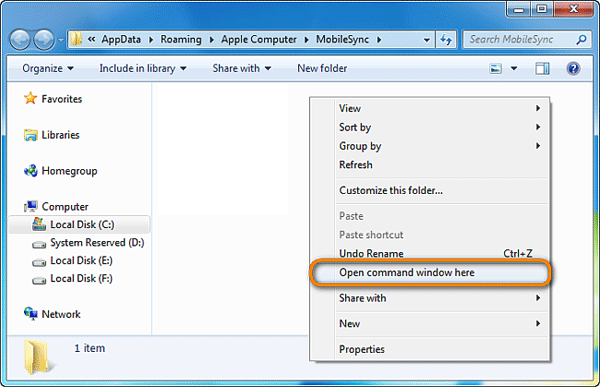 Step 4: When you select "Open Command Window Here" you will see the following interface:

Step 5: In the next window, type in the command given below.
mklink /J "%APPDATA%\Apple Computer\MobileSync\Backup" "D:\Backup"

Remember, here, D:Drive is the place where the new folder is created and "Backup" is the folder that you just renamed.
Step 6: You have now succeeded in creating a junction. You wills see a new folder shortcut called "backup" in the original location.
Now, in the MobileSync folder, delete the old iTunes back-up files and connect your iPhone to your computer. You will now notice that the backups are created and saved in the drive where you created you new folder.
Top Things to Take Care Of
Just remember to check out the disk space that you just freed up and pat yourself on your back! Also you should know, the C:Drive or the Solid State Disk Drive is not famous for its storing capacity. It boosts the response time of your system and the applications running on it. Burdening it with unnecessary data such as iTunes backups will slow down your system, so changing the location of your iTunes backup is not only a good idea, but a necessity.
Last but not the least, to freely manage your backup data, you can also rely on this Coolmuster iOS Assistant (Windows/Mac) to be your best data backup assistant, which allows you to easily transfer various files from iPhone/iPad/iPod to the computer, including contacts, messages, photos, videos, apps and many more. With it, you are free to save the iPhone backup at any local disk as wanted!
Related Articles:
Where to View iPad Backup Files