How to Connect iPhone to iTunes Successfully?
Apple's iTunes allows iOS device users to manage effectively the files on iPhone/iPad/iPod and also sync the media files among multiple iDevices under a same Apple ID. Generally speaking, iTunes helps a lot for the Apple users to better manage their devices.
However, if you are a new user for iTunes, you might need the guide on how to connect to iTunes so that you can manage your device. So here in this article you might get a step-by-step guide about iTunes connection. Just check it out.
User Guide: How to Connect iPhone to iTunes
With iTunes, you can sync different contents on all versions of iPhone/iPad/iPod, including the albums, songs, movies, TV shows, books, playlists, ringtones, riminders and etc. And the first step is to connect your iDevice to iTunes. So here is the clear guide on how to connect iPhone to iTunes.
Here is how:
Step 1. Open your iPhone and go to "Settings" > "General" > "Restrictions", then turn off the "In-App Purchases" to remove the automatic syncing from the app.
It is because this will restrict the allowed contents that you have manually downloaded to the device. And you should repeat this step on all of your iDevices that share the same Apple account if you would like sync to iTunes Library.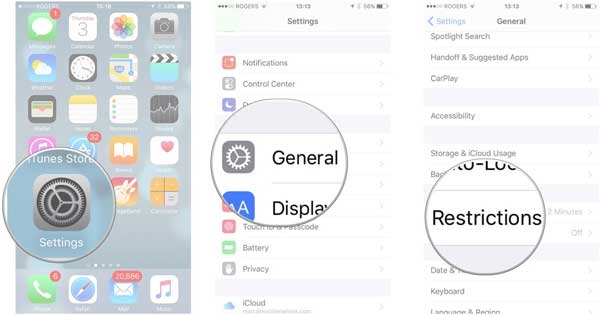 Step 2. Connect your iPhone to computer with a USB cable and launch the latest iTunes on PC.
If it is the first time you connect your iPhone to PC, iTunes might pop up a window to ask you if you want to sync your device to iTunes Library, just select "No", unless you want all of your media data downloaded immediately onto the connected device.
Step 3. Under the Option interface, you might choose the manual sync option for device as you like.
The options include "Automatically sync when this iPhone is connected", "Sync with this iPhone over Wi-Fi", "Sync only checked songs and videos", "Prefer standard definition videos" and etc.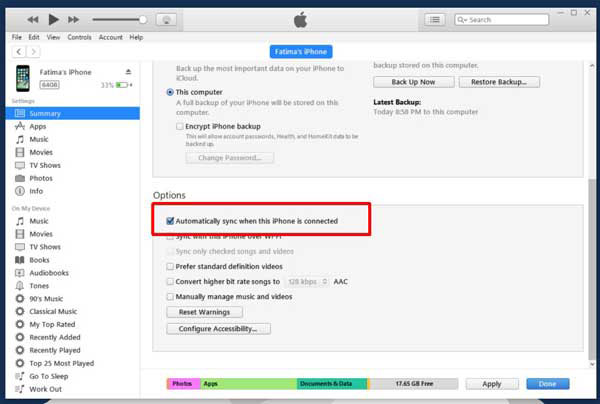 Step 4. You can also set up the syncing settings for specific contents. Click the tabs like "Music", "Movies", "Podcasts" and etc. to bring more options in a new window.
Step 5. For example, click "Music" and you might get a new window where you might tick the box of "Sync Music", "Entire music library" and "Selected playlists, artists, albums, and genres" and etc as you like. After selection, just click "Apply" option below.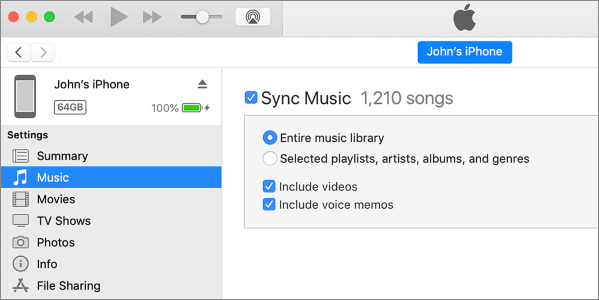 Step 6. If you have the other iDevice, you might repeat the manual syncing process on every Apple device after connecting the device to iTunes.
Related Articles:
How to View iMessages on iTunes?
How to Backup iPhone Messages without iTunes?
How to Restore iPhone Call History from iTunes?
Add a comment