Simple Way to Customize iPhone Keyboard
iPhones and iPads are the best among the latest trends in mobile devices. If you are already a user, then you must be aware of the keyboards of these devices which are exclusively handy and smart in getting what you want to type ahead.
Related: 2016 Apple Event Released Latest iPhone 7/7 Plus
Why do you need to customize your iPhone keyboard? To be precise, customization will simply enhance your use of the keyboard, allowing you to experience everything that the keyboard can do for you, more than it is currently doing. You can experience a completely new look, feel and use of the keyboard with customization.
Easy Way to Customize iPhone Keyboard as Wanted
Here's the list of the top 5 custom keyboard for iPhones that you must try out for all their features and benefits.
1. Custom Keyboard
Custom keyboard allows you to design you iPhone/iPad keyboard absolutely as you like.
> More than 25 colors, 15 background patterns, and 15 gradient colors.
> Photos can be used as backgrounds, with effects.
> Various styles available for borders, corners, and transparency.
> More than 15 fonts and sound effects for the keyboard.
> Default emoji, along with 3 sticker sets.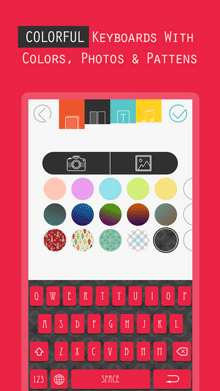 For fancy stickers, colorful themes, and various emoji arts, this custom keyboard is wonderful for iPhones/iPads.
> Input made fun with multiple fancy stickers.
> You can type with emoji as they are huge in number and expressions.
> Keyboard customization allows backgrounds personalization, use of preferred fonts and tones.
> Various themes such as Cool, Geek, Factional and more.
> More than 40 languages supported with facilities to adjust as per user preference.
> High security, smart keyboard, and is fast to use.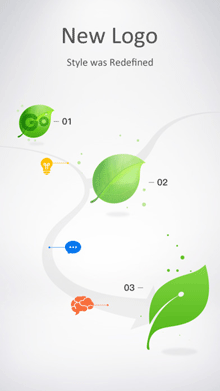 Extra Bonus: Guide Center on Best iPhone Apps
3. Word Flow Keyboard
This is highly suitable for those looking for GIFs, colored themes, and swipe features. You would also love it because it's really simple to type on this one.
> Keyboard options comes with customizable features, search options, Arc and swipe modes.
> Offers intelligent suggestion for the next word while typing.
> Easily shared images, GIFs, emoji, for better expression.
> Looking up for any information or news made extremely easy.
> Prediction for typing, searches, and suggestions is extremely intelligent.
Bonus: How to Transfer Apps to New iPhone
Fleksy has proven to be one of the most fun and accurate customizable keyboard for iPhones.
> Extremely fast to use and highly accurate, including custom extensions.
> Custom functionality make it highly powerful, including features of auto-correct, GIF support, and more.
> More than 35 colorful themes, well designed.
> Numbers of emoji, and expressions, making typing fun.
> Supports more than 40 languages.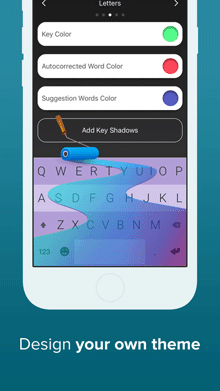 For making the best use of colorful photos and emoji expressions, this keyboard offers awesome features.
> Integrated RainbowKey allows creating your own keyboard using your preferred photos.
> More than 40 fonts and colors to decorate the keyboard.
> More than 10 built in themes.
> Auto correction, prediction, multiple emoji and expressions.
> All applications on iPhones/iPads are supported.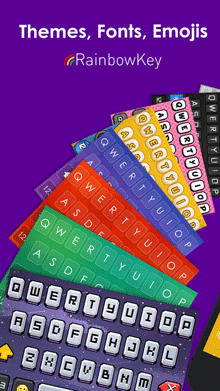 A customizable keyboard can just make your iPhone experience a whole lot better. You can use new smileys or just text differently. Your iPhone will feel different too and most importantly, some of these keyboards are really easy to use too. If it's something engaging user keyboards that you would want to take a look at, try out one of these. You surely won't be disappointed.
Related Articles:
Monitor Battery Percentage on iOS 8/9