Simple Way to Download Contacts from iCloud
With iCloud, things are becoming so much easy when it comes to data backup. It is a saviour when it comes to backing up your phone's data, contacts or files. This is because when you back it up on iCloud, you can always transfer the content any other time and sync it on a new phone or another iOS device. Losing contacts is one of the things people fear most when it comes to losing a phone or buying a new device since the process of having to rewrite the contacts manually all over again can be quite tiresome, annoying and time-consuming.
When do you need to download contacts from iCloud?
• When you want to restore lost contacts.
• When you want to sync all previous contacts to a new device.
• When you want to retrieve an essential contact you had with the previous device.
• To make a variant call format copy quickly.
• When you lose your phone.
Related: How to Access Music on iCloud
User Guide: How to Download Contacts from iCloud
With an iPhone, contacts can get lost mysteriously. iCloud backup can help get them back in a matter of seconds. The following is a step-by-step guide on how you can go about the recover them:
1. Start the setting application on your iPad/iPhone/iPod.
2. Tap on the iCloud option.
3. Switch on the contacts option by tapping the gear option on the side and when a box appears that asks you what to do with the contact, click on "delete from my phone".
4. A question will follow asking you whether you want to merge the contacts, select "Merge" contacts.
5. Run the Contacts app or the Phone app and preview your contacts to make sure they are all there.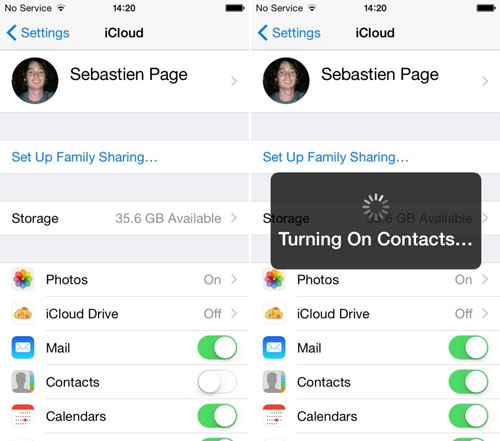 Read More Articles:
* How to Transfer Contacts to New iPhone
* How to Easily Save Contacts from iPhone
Bonus: How to Download Contacts from Computer
If you already have had an iPhone backup on the computer and want to download contacts from computer to your iPhone device, then this iPad/iPhone/iPod to Computer Transfer (Windows/Mac) software is surely can't be missed, which enables you to transfer contacts, files, videos, or other data from your iPhone/iPad/iPod to a personal computer or any other external data storage. This software is particularly helpful when you accidentally delete or lose contacts, files and other contents that you consider important and hard to part with. This software is compatible with all iOS devices and can easily transfer contacts with 100% safety and does not tamper with your data as far as its quality and content are concerned.
More reasons why you should rely on this software:
• It can easily transfer Contacts, files among other data from your iPhone to a personal computer. This great feature ensures that you have a backup of your contacts, files, music, photos/videos, and data among other valuable things in your iPhone with one click. This will allow you to manage this content easily from your laptop or computer.
• It allows you to preview file in different modes. With a phone, you can only view the contents of it in one single way. With the help of this software, you can preview your contacts and other files in two different ways. You can view them in thumbnail mode which allows you to see them in a mini picture mode. You can also look at them in List view mode which enables you to see the mainframe as well as all the details will be displayed.
• It allows you to locate your contacts among other files in one second. This software has a built-in search function which allows you to locate the files in two ways. You can connect your iOS device with a USB directly and look for the archive according to the data type. Alternatively, you can use the search box to get contacts or any other file you are finding.
• Enables you to manage content on computer. This feature will allow you to modify your iPhone/iPod contents like contacts quickly. You can rename, share or upload other contents easily using this software.
Such a powerful software is waiting for you! So what are you waiting for?
Related Articles:
Best Backup Software for iPhone/iPad/iPod