How to Extend Your WiFi Network Range?
Wi-Fi enables users access network immediately anytime and anywhere. Importantly, with Wi-Fi, you don't have to purchase cellular data of your mobile phone but you can still enjoy watching movies, listening to music, browsing webpages, playing games, send or reply instant messages and etc. via wireless WLAN.
However, if the Wi-Fi network has weak wireless signal, you are not able to access the internet as well, or the web applications often run slowly and tend to be less user friendly. So in this case, how do you make your wireless network connection work better? Here this article will offer some tips for you to extend your Wi-Fi network range with AirPort Express of Apple.
Part 1. Know More about AirPort Express - the Apple Wi-Fi Extender
Part 2. How to Extend Wi-Fi Network Range Using Apple Wi-Fi Extender
Part 1. Know More about AirPort Express - the Apple Wi-Fi Extender
What's the Apple Wi-Fi Network Extender?
There are many ways to extend the Wi-Fi network range, but the best way is to use the Apple Wi-Fi network extender. You can use this small but powerful device to extend network range at your home.
Due to its small size, this Apple Wi-Fi extender only supports "one Ethernet LAN port". However, you can either use it alone as a router to increase the wireless network at your home, or use it to enhance the Wi-Fi range at your home with "in conjunction with another router".
Importantly, you can extend your Wi-Fi network range up to 150 feet from this AirPort Express. Besides, this device enables to operate with two different bands: 2.4 GHz and 5 GHz bands, which make it easy to receive and send data at the same time.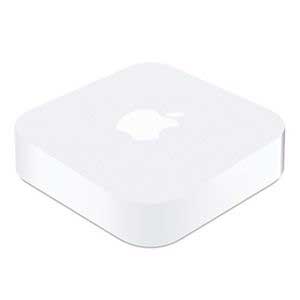 See Also: How to Backup Your Device with iTunes or iCloud?
Some Definition of Apple Wi-Fi Extender
The Apple Wi-Fi Extender - this AirPort Utility of Apple helps you to set up connection easily with some Wi-Fi network settings, relating to Ethernet, roaming network, Wi-Fi base stations and so on. Now, let's learn more information about the Apple Wi-Fi extender together.
1. "Wi-Fi base station": A variety of AirPort Express, AirPort Extreme Base Station or Time Capsule.
2. "Extending a wireless network: It means using several Wi-fi base stations to extend the range of the AirPort network over a bigger area. It helps when the "range of a single base station is insufficient".
3. "Extended Wi-fi base station": It is the other base station, which is to connected to the primary base and is set on bridge mode, using to extend the range of the network.
4. "Multi Wi-fi base station network": It is a type of network that make use of two more base stations to extend the network range or to extend certain features, such as music streaming, printing, storage, internet access, etc. And these base stations can also be connected together "via Ethernet" or be wireless.
5."Wi-fi client": It names the device that uses wireless connection, such as internet, printing, storage and music streaming, for example, the computers, iPhones, iPads, digital video recorders, game consoles or other Wi-fi devices.
See Also:
Transfer Movies from iPad to Computer
Full Guide on How to Use Wifi Calling on iPhone
Part 2. How to Extend Wi-Fi Network Range Using Apple Wi-Fi Extender
So how to use Apple Wi-Fi Extender to enhance Wi-Fi network range? This part will show you how to connect the AirPort Express to your device, like iPad and set up Apple AirPort Express to increase wireless network range.
Here is how:
Step 1. Place your Apple AirPort Express on the best spot and make sure it is close to the users. Then turn on it.
Step 2. Unlock your iPad and go to "Settings" > "Wi-Fi". Wait for a while, iPad will find the nearby wireless networks.
Step 3. Under "Set Up New Airport Base Station" section on your iPad, please choose "AirPort Express". If you don't see this option, please reset your AirPort Express device to the original settings.
Step 4. After selection, you can see the AirPort Setup opening, and it starts to detect the network information.
Step 5. When it turns to another setup screen, you can either add the AirPort to the existing network or create a new network. If you select the first option, please select "Other Options" and click "Next".
Step 6. Find your network and join it by tapping it, then tap "Next".
Step 7. Under "Device" section, please enter the name of your connection and create the password for extra security. Next tap "Next" and "Save".
Step 8. Then the AirPort Express will configure now. When the setup process is complete, you might receive a notification, telling you that the AirPort has joined the network. Then please tap "Done" to finish the process.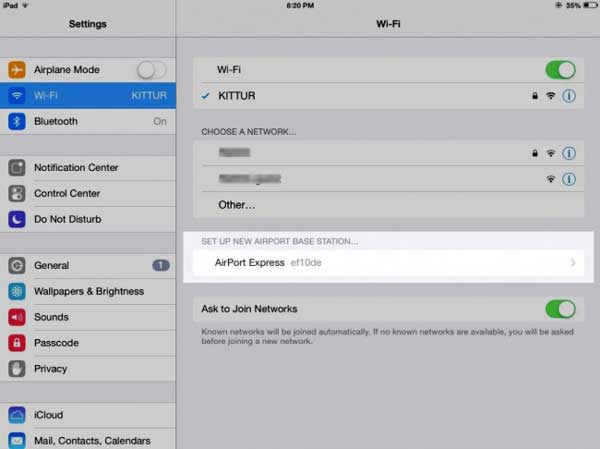 Related Articles:
How to Easily Sync iPhone over Wifi
Things to Know about iTunes Wifi Sync
Make Best Use of WiFi for Android Devices
Add a comment