Tutorial on How to Backup & Restore iPod
Sometimes, you can lose data, files, photos, and videos among other contents from your iPod. These records and data may hold information that is important and one that you don't want to lose. Due to this, you may want to back up your device to restore these contents. This article will show you how you can quickly restore your device or data safely without losing or altering its content.
Part 1 - How to Backup An iPod Device
Part 2 - How to Restore Files from iPod
When Need to Backup and Restore iPod?
Reasons for backing up and restoring may vary from one user to another. Here are some of the reasons:
• When you lose your iPod.
• To free up disk space.
• When you erase the content by mistake.
• When you delete it intentionally not knowing you can need it later.
• Due to file corruption.
• Losing data when you sync your device.
• When you want to upgrade to a newer model.
• When you forget your password, and device is locked.
• Device is damaged or crashed.
Bonus: Top 4 Reasons Why You Need a Phone Backup
Part 1. Simple Guide on How to Back up an iPod
1. Back up an iPod with iTunes
To transfer files from iPod to iTunes as a backup, follow the steps as listed in the below:
- Open the installed software on the computer and link iPod to the computer via the USB cord.
- In iTunes, right-click (or Ctrl-click) on your iPod device, which appears in the leftmost pane under Devices.
- Then hit the Back Up option to backup iPod in one click.
- Once the process is done, you can access the backup in iTunes Preferences > Devices. (Note: If you have encrypted your iPod backup, you will see the Lock icon next to the backup.)
Aside from using USB cable to back up an iPod, you can also rely on Wifi to backup an iPod within iTunes.
Related: Know More about iTunes Wifi Sync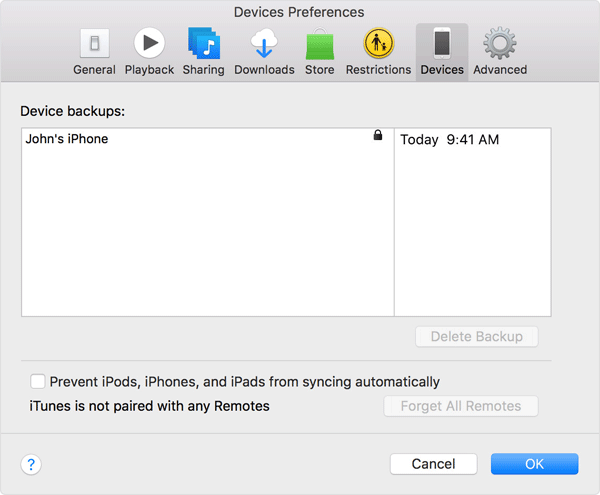 2. Back up an iPod with iCloud
- Tap Settings and go to "iCloud" section.
- Scroll down, tap "Backup", and make sure that "iCloud Backup" is turned on.
- Then hit the "Back Up Now" option to begin the file backup process.
Just make sure your iPod stays connected to Wifi till the process is done.
3. Easier Way to Back up an iPod
Letting go of all the things that you save just because of any of the above reasons may be hard. Every person who has a mobile device should backup their device data. Coolmuster iOS Assistant (Windows/Mac) is the software you require to transfer, backup and restore your files. It allows you to move your data and back it up to your computer or any other storage device. The software is compatible with all iOS devices of all generation.
Functions of Coolmuster iPod/iPhone/iPad to Computer Transfer:
• It helps transfer music, messages, contacts, videos among other files.
• Coolmuster allows changes like enabling you to see data in a different mode which is selectable thumbnail and list view mode.
• It helps locate the file you require quickly and efficiently.
• It allows you to manage the contents like music, videos, photos, etc. from your personal computer.
This software is user-friendly even to a beginner, can transfer as many files as you want in one click and gives free lifetime upgrade service for users who register.
Read More Articles:
* Best Backup Software for iOS Devices
* How to Backup iPod without iTunes
The steps are simple and precise:
1. Launch the Coolmuster software and connect it to your personal computer using a USB cable.
2. Preview the data or file through thumbnail before you move.
3. Transfer the files from your iPod to the computer by marking the file you want to copy and clicking "Export".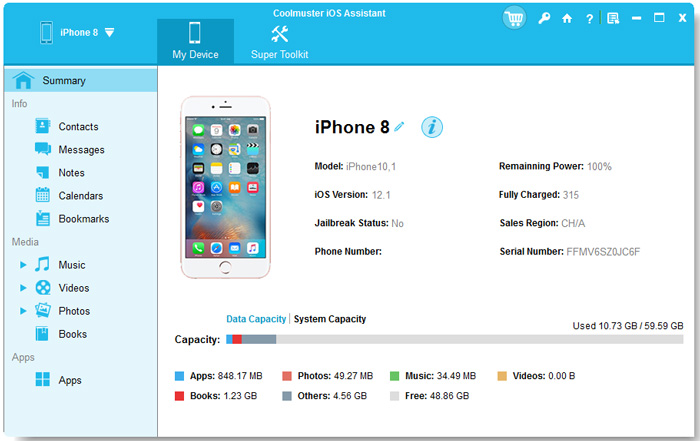 Part 2. Tutorial on How to Restore An iPod
Coolmuster iOS Rescuer is a software that specializes in getting back data that is lost either through deleting, formatting any other reason that results in data loss for Apple devices. It does this through extracting it directly from your device or the iTunes backup files. It supports all versions of Apple devices.
Features of Coolmuster iOS Rescuer:
• It can restore iOS data and files without iTunes backup. It recovers photos, call history, messages, and contacts among others.
• It recovers lost files by backing up the iTunes. It is possible because each time you sync your phone, you save the files on your iPod automatically.
• It allows you to preview and get back the exact content you require through a deep scan.
• It allows you to backup what you recover on your computer or sync it again to iTunes.
Method 1: Recover from iPod directly
1. Connect your iPod to your computer through USB device.
2. Click "Start Scan" to get all files including the one that you lost.
3. Preview and restore the data you want.
Method 2: Extracting lost data from iTunes backup files
1. Launch the iOS software, switch to recovery mode and start scan.
2. Preview the data and select the one that you want to restore by clicking "Recover".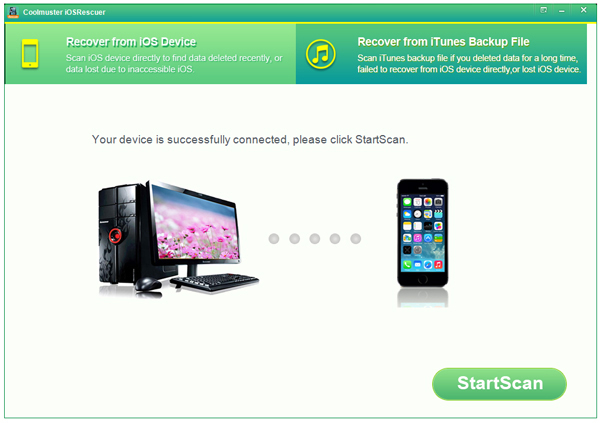 Related Articles:
One Click to Backup iPod without iTunes