There was a lot of excitement when Apple announced the release of iOS 9. This led to lots of Apple product users upgrading their gadgets to the new operating system as they were promised new incredible features that would blow their minds among other reliable improvements in performance. This has not been the case as some have come to realize as a number of problems have become evident after using the much hyped operating system. The timely article is meant to inform you on why you should downgrade and how to downgrade iOS 9 to iOS 8.4 before it is too late.
Reasons as to why you should downgrade from iOS 9
- The first reason is that there have been a lot of installation issues reported over the past few days.
- iOS 9 is well known for consume even more power than iOS 8 leading to reduced battery life. This is ironical as Apple users were promised extended battery life when they upgraded to the new operating system.
- The loss of the highly treasured "Jailbreak" tweaks is a big discouragement because iOS 9 Jailbreak has not been released yet.
- Upgrading could break some of your favorite apps due to constant crashes, and general instability issues noted making the apps less effective.
- iOS 9 beta version is somehow buggy on a variety of devices. The bugs among other issues make the iOS9 experience less optimal when running the beta software on your primary iPhone or iPad.
Backup Your Apple Gadget Before Downgrading from iOS 9
Owning an Apple product be it iPhone, iMac, iPod or iPad is about memories that are meant to be cherished forever. This makes it very essential to backup your images, contacts, music files, videos and any other important information or data before deciding downgrading. The downgrading process will delete all the installed apps and data from your device, hence backing up all the important information is a wise move to make.
It is no doubt that you can backup the iDevice through different ways. So here we'll list some of them in the following contents and you can select one of them to reach your goal.
1) When using iCloud to back up the phone data, you only need to go to the settings option on your device. Select the iCloud option and when you have been successfully redirected, tap on backup and wait for completion.
2) Users who prefer using the iTunes backup device option can connect the device to PC using a USB cable, click on the files option provided and select their device as indicated on the screen. When all has been set, feel free to click on the backup option and wait until the process is complete before disconnecting your gadget.
3) iCloud and iTunes always backup the whole contents of your iDevice at one time, and it may need a little bit long time to finish the whole backup process. So if you only have a part of files need to be backed up, Coolmuster iOS Assistant (Windows/Mac) can help you reach the goal. With it, you can easily and quickly export data like contacts, messages, photos, movies, etc. to the desktop computer selectively.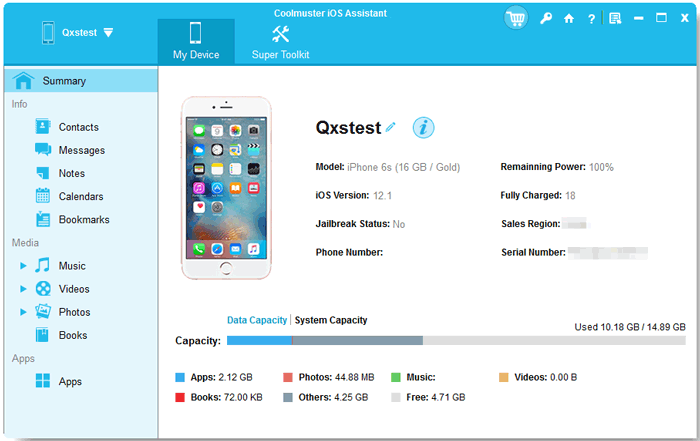 Can't Miss:
How to Fix iTunes Backup & Restore Problem
How to Transfer Music from iPhone to Computer/Mac
Step by Step Guide on How to Downgrade iOS 9 to iOS 8.4
There are two different methods to show you how to downgrade iOS 9 to iOS 8.4 step by step. You can follow them to downgrade iOS system on your device as you like.
Method 1. Downgrade to iOS 8.4 by using iTunes
This process is a little longer and detailed than the second one but is more effective and less risky to use.
Step 1. First thing you need to do after backing up all the relevant data is to set the device to "Device Firmware Update (DFU)" mode. This special hardware state provides the user with the platform required to update or downgrade their device's iOS version as required.
Step 2. After activating the DFU mode, connect your iPad, iPod touch or iPhone to PC using its relevant USB cable. When the gadget has been connected, switch it off and wipe it through erasing all the available data on it.
Step 3. After erasing the phone data, you can press the power button for almost 3 seconds, followed by pressing the home button while still holding the sleep button for about 10 seconds and then release the power button. Here, you should keep holding the home button until a pop up from iTunes appears indicating that your device has been detected but is in recovery mode.
Step 4. After confirming that you still want to go ahead with the downgrading process, select the iPod/iPhone/iPad restore and update button. This will in turn provide the next button which will allow you to either continue or stop the process just in case you are having second doubts about it. If you still want to go ahead with it click on the "Agree" button.
Step 5. An automatic download of the selected iOS 8.4 will automatically start and when it is finished the operating system will be automatically installed into your device.
When you have successfully completed the downgrading process, you can follow the instructions that provided on the screen to set up your device and restore the backed up personal data to your device.
Method 2. Downgrading Your iDevice OS from iOS 9 to iOS 8.4 with Firmware (IPSW)
First of all, you have to disable the "Find my device" function on your device, then you can follow the below steps:
- Go to recommended iOS stores and download the iOS 8.4.1 firmware that is compatible with your device. Then link your device to PC with USB cable, launch the iTunes application and select your device from the options provided.
- When using a Mac computer, please hold the ALT/Option key before selecting the check for updates option. Those using Windows devices should use the Shift key before clicking on the check for updates option instead.
- When prompted, select the downloaded ipsw file from its location and click on the update button and wait. iTunes will start downgrading your device once it has verified with Apple.
- When the device has been successfully downgraded, it will restart and ask you to slide to upgrade. Enter your unique passcode and wait. When the upgrading is complete, activate your device and start using the stable iOS 8.4 version.
How to Restore Lost Data during the Downgrading Process?
For some unknown reasons, you may lost something important during the downgrading process, so here you need to find a reliable way or tool to help you regain these crucial data again. Under this situation, below are some tools may help you solve the problem.
1) iPhone SMS+Contacts Recovery - Single-functional program for iOS users, which allows users to recover deleted contacts and text messages from all generations of iPhone directly.
2) Data Recovery for iPhone iPad iPod - Help users recover lost data like contacts, call logs, messages, voice memos, photos, etc. from iTunes backup selectively or in a batch.
3) iOSRescuer - Full-functional program, that provide users with two different ways to get back their lost data: restore from iOS device directly or restore from iTunes backup file. What's more, it supports almost all kinds of files on your iDevice, including contacts, photos, movies, call history, text messages, reminders, notes, etc.
Conclusion
The iOS 8.4 version is a stable firmware that should be used until Apple releases a more stable iOS 9 public version. Change is always good, but at times it pays to take a back seat and wait until everything is perfect before diving in head first. Users who wish to downgrade their devices should do so before Apple is decided to stop signing the older operating system version leaving them with no choice but to use iOS 9. The how to downgrade iOS 9 to iOS 8.4 guides is meant to make the downgrading process as easy and enjoyable as possible.
Related Articles:
How to Fix iPhone Turns to Brick after Upgrading to iOS 9
Best Solutions for Jailbroken iPhone/iPad to Upgrade to iOS 9