Easy Ways to Record A Phone Call on iPhone
Your need to record a phone call on your iPhone could be for many reasons. You might just want to keep your conversations saved for your memories, especially if they are with some closed or loved ones. You might need to record a call to have important information saved for later use. Particularly, if you are a student, a journalist or a businessman, your information related information could be extremely important to store. Or you might also need to save call recordings if you want to interview someone, or to prove someone's words, and so on.
Thus, the need could be many. However, if you are an iPhone user, you must also know how to record a phone call effectively.
You Might Also Want to Know:
How to Capture A Screnshot on iPhone
How to Make Slow Motion Video with iPhone
Different Ways on Recording Phone Calls on iPhone
Essentially there are five ways in which you can record a phone call on iPhone.
1. Using Google Voice Application
You can use the Google Voice for recording phone calls on iPhone. For this, you would need to follow the following steps:
Step 1. Create your own account on Google.
Step 2. Download the Google application and install it.
Step 3. Following the given instructions on-screen, sign up for the application.
Step 4. Set up your own account on the app to record your calls.
2. Using iPhone Application
An iPhone has its own application too, which you can use to record calls. The following steps are needed to follow:
Step 1. Open your iPhone app store.
Step 2. Find the best app for your use for which, you might have to do a little bit of research by checking which app offers the best recording among all.
Step 3. Install the chosen app and make a call.
Step 4. Play back the recording to check it.
You can even make edits on your calls, or choose an app that effectively manages your calls and recordings too.
3. Recording Using Hardware
There are a number of applications available for the purpose. You need to follow the following steps:
Step 1: Download a selective call recording software on your PC or a tablet if you have.
Step 2: Bring your iPhone in front of the machine.
Step 3: Place the microphone near the speaker of the phone.
Step 4: Launch the application, test for the right connection, and make your call for recording.
4. Using the Mac
You can also use your Mac to make call recordings by following the steps below.
Step 1. Put your "iPhone Calls" on Mac ON.
Step 2. Bring your iPhone and Mac closer to the same Wi-Fi network connection.
Step 3. Download a good Mac recording application such as Audacity, and install it.
Step 4. Use Facetime on your Mac to place the phone call, and you're ready to go.
Learn More:
* How to Group Contacts on iPhone
5. Using 3rd-Party Application
* Call Recorder FREE - This app allows very easy way to record your calls. Key features include:
> Recordings for both incoming and outgoing calls.
> Full length of calls recorded.
> Ability to download call records and share through Email, Twitter, iMessage, Dropbox, Facebook.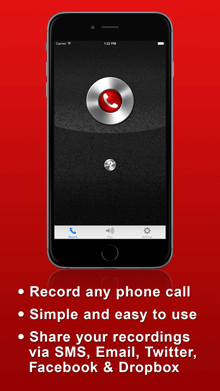 * TapeACall Lite - This is another app which offers high quality recording of your iPhone calls. This is in fact, one of the best app that can serve your purpose. Below are the main features of this application.
> Recording for both incoming and outgoing calls.
> No limit of number and duration on calls.
> Transfer options available.
> Upload facilities on drive storage.
> Easy to use and updated with new features all the time.
> Recordings are labeled making them easy to find.
> Have access to the laws related to call recordings.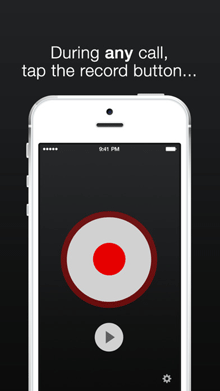 Now, you can choose either way to record a phone call on iPhone as wanted and needed!