Easiest Way to Keep iPhone Data Safe
Most people use their iPhones for a number of different reasons and purposes. In fact, some people use their iPhones to surf the Internet, keep in touch with family members and close friends, take pictures of themselves and others, download their favorite music and a host of other things. In many cases, people save the information that they collect so that they can review them over and over again. So, when anyone who loses data from their iPhone inadvertently, there can be many different problems that will surface. Here's a list of the effect causes of data loss:
- Contacts Lost
In the past, most people kept a manual phone book of the contacts that they used on a regular basis. These contacts were normally filled with important people that they needed to keep in contact with from one time to another. Some contacts were used daily, weekly or even monthly, others may only be used sporadically so there is no specific time frame for making these phones calls.
Today, the contact information that was recorded in a manual telephone book is now kept in a database on iPhones. So, when this information is lost it can completely interrupt a person's phone's life, especially if they do not have a back-up of this data. Meaning the person may lose some of this data forever because they may only get back the contacts that gathered from recent times. Others may be lost forever if it is a friend that they have not seen for a long time.
- Special Pictures
Just like losing contact information, people can also lose family pictures, pictures of themselves, memories of special events and the like. Meaning data that is inadvertently lost may not be recaptured again.
- Text Messages
Some text messages may be read once and then deleted. Other text messages may be very important because it is documentation that people normally keep. Therefore, when this type of data is lost, the person may not have proof of essential info that they need to conduct business.
Related: Why you need a phone backup?
Tutorial: How to Easily Secure iPhone Data
Securing data so that it will never be lost does not have to be a difficult task to do. All you need to is get this all-in-one Coolmuster iOS Assistant (Windows/Mac) software. With it, you can easily save almost anything from iPhone/iPad/iPod to the computer as a backup without any restrictions. Various files can be perfectly supported by this software like contacts, messages, photos, videos, apps and many more. More importantly, as long as your device is running iOS operating systems, you can always rely on this software to backup any data as needed and wanted. Best of all, unlike other professional files with complex user interface, this software boasts of super easy user guide, allowing even computer novice to complete the backup process without any hassle. Actually, below are the free trial versions of this software. Why not download the right one and give it a try by yourself?
Now, you can follow the below steps to backup iDevice so as to secure iPhone data:
- Open the installed software on the computer and then link your iPhone to the computer via the USB cord.
- Now, this software will automatically detect your device and scan for all file folders on your device.
- You will see then different file tabs are arranged on the main interface. Now, you can enter the right tab to preview more detailed file information. While previewing, select the wanted files that you plan to back up to the computer and then hit the Export option to transfer as a backup.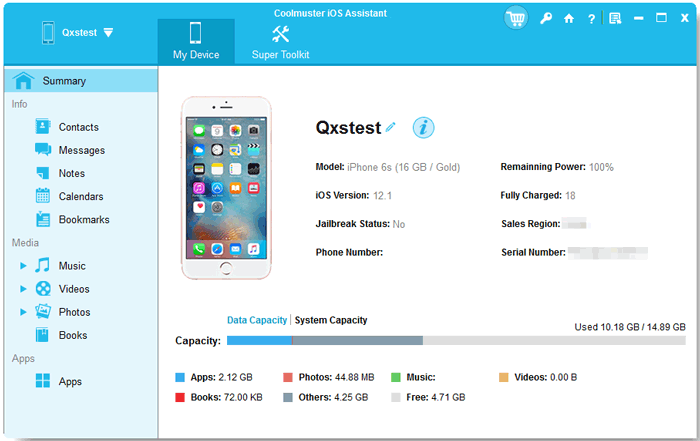 After that, the file transferring process will be completed within a little while. And you have secured your iPhone data by saving them to a safe place!
Other tips and tricks to secure iPhone data:
Securing an iPhone and its data is essential for any iPhone owner. Because people can hack the phone to gain access to a person's data. It is important that the iPhone is secured correctly. Fortunately, there are some tips and tricks that people can use to eliminate these risks and they include the follow:
- Use Strong passwords to keep people from getting in. The 4 digit passwords are discouraged.
- Turn off the lock screen notification feature.
- Turn off the automatic sync to iCloud Feature.
- Utilize Virtual Private Network Security.
- Turnoff cookies in the browser.
- Disable Autofill option in the browser.
Related Articles:
How to Transfer Music from iPhone to iCloud