Simple Guide on How to Sync Fitbit to iPhone
If you own an iPhone, you can do a whole lot more than just take calls or click pictures. You can also take care of your health as iPhones today come with different health sensors included in it - and you can also buy in an Apple Watch to supplement the iPhone health experience. Everyone wants to live a healthy lifestyle by eating nutritious food and engaging themselves in diverse physical activities. You are doing your bit, but, how can you be sure that you are on the right track? You can do it with Fitbit, an electronic fitness device which keeps a track on your fitness parameters like fitness goals, heartbeat rate, calories consumed, quality of sleep, and even the distance covered.
Learn More:
* How to Recover Lost Health Data on Apple Watch
* Useful Tips to Keep iPhone/iPad/iPod in Health
That is why, Fitbit products are known as trackers which track your fitness activity and helps you to analyze your performance. You can wear it like a wristband, install the Fitbit app on your phone or tablet and finally, sync it with Fitbit.
Learn More About the Fitbit App:
What makes the Fitbit app an ideal tool for fitness training is that it not only tracks and records the user's daily goals and activities, but will also automatically sync their stats to your smartphones wirelessly! So no matter where or when the user decides to workout, the activity will be logged in their smartphone so they could track accurately their daily goals.
The application also allows the users share their daily goals and advancement status with their friends and also measure it against historic averages. The "Bluetooth Low Energy" used by the application automatically manages the tracker stats from various Fitbit devices, allowing the user to see his latest stats, charts and graphs and effortlessly manage his activity on his smartphone. It's a smart way to get fit!
Your Fitbit will not work unless you sync it with your phone or tablet.
Quick Fix: How to Sync Fitbit with iPhone?
If you have an iPhone and you are unable to sync your Fitbit with it, follow these simple steps on syncing the Fitbit with an iPhone.
- Turn ON your Bluetooth. This is the first step towards syncing your Fitbit app. Fitbit will not work until you pair it with your iPhone.
- Download Fitbit app on your iPhone from the App store.
- Open it and click on the "Join Fitbit" tab.
- Now, you have to choose the Fitbit tracker you want to sync with your iPhone. There will be a list of devices in the app. Select your device and then click on "Set Up".
- If you haven't created your account yet, you can do it by entering your details. Follow the instructions to set up your account on Fitbit.
- If you already have an account, skip this process and simply click on "Sign in".
- After signing in, tap on the "Account" tab. Scroll down and find the "All-day sync" option.
- By default, it is always turned on. But, if it is not, you can slide it to the right to turn it on.
- You will receive a confirmation message after the syncing process, that your account has been synced successfully.
- Now, you can record all your activities through your tracker on your iPhone.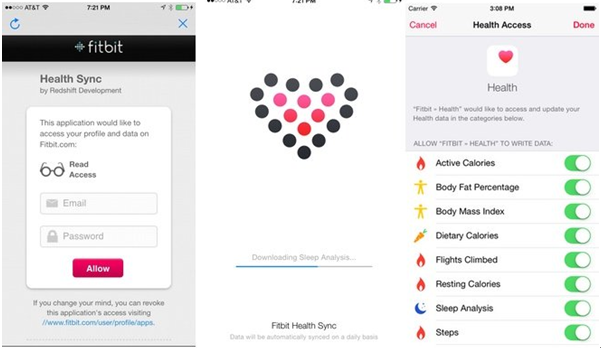 Now, every time you open the app, your tracker will be synced with the app. Sometimes, your tracker stops syncing with the app on your iPhone. Check your Bluetooth connection because most of the times, it happens due to the connectivity issues related to the Bluetooth. You are ready to record your activity feed and analyze your performance. You can either keep a track on your fitness parameters to improve your endurance level or challenge your friends to beat you in the game of basketball!
More Useful Articles:
* How to Sync iCal with iPhone
* Sync Google Calendar with iPhone
Words in The End: What if my fitbit fails to work?
Press the button on the fitbit tracker, only to find that it does not illuminate? Then you should charge it or change the battery in case you don't see any display. But what if your steps can't sync to Fitbit?
Step 1: Log into your Fitbit.com with the email and password on the computer. Then click on the gear icon at the upper right corner of the dashboard.
Step 2: Then you to have complete the device setup using the Fitbit Connect application for pairing the Fitbit tracker. If there is no Fitbit Connect software you can download it by clicking on the pink download button on the top.
Step 3: Now, you can check the data or time when it was last synced on the gear icon menu.
When you find that your steps are syncing to Fitbit, you can press the button on the Fitbit and charge it with the USB if it's not illuminating. Or, you can reboot the computer as well. You can also try to re-connect your Fitbit to the Fitbit account and replace the Fitbit tracker.
Related Articles: