How to Sync Music Songs from Computer to iPhone
If you own an iPhone, you would want to do everything you can with it. And that includes playing games, using it's 4k enabled camera, and downloading some cool apps. Armed with some great features, this device is a wonderland for nerds and geeks. Now, as any smart phone goes, the amount of data stored in a phone is mindboggling. From contacts to photos, videos to documents, a smart phone is personal treasure. Given the current trend, it has started to reflect the real you.
Now, with anything technological, malfunctions are bound to occur. And it is the same with an iPhone. Hence, it becomes imperative for an iPhone owner to sync the device with the computer. In this article we will discuss about the ways to syncing music from computer to your iPhone with/without iTunes.
Way 1. Guide to Sync Music from Computer to iPhone with iTunes
Way 2. Better Choice: Easily Sync Music from Computer to iPhone without iTunes
Way 1. Guide to Sync Music from Computer to iPhone with iTunes
> Open the installed iTunes on the computer and then connect your iPhone to the PC/Mac computer with a USB.
> The device appears as an icon in your iTunes, in the upper-left corner of the iTunes window. Press on the device icon.
> Under Settings on the left side of the iTunes Window, you will find the list of content types that you are allowed to sync from the iTunes Library to iPhone.
> Press the content type you wish to sync. Now, if your device had been already been synced with another iTunes Library, a message for the same will pop up. If you press, Erase and Sync, all the synced items will be deleted and replaced with content with content from your computer.
> If iCloud or any other services is used to sync, then syncing through iTunes is automatically deactivated.
> After the sync is turned on, there will be additional options to customize your settings for sync. Customize your sync settings in a manner want it to be done. The iPhone does give you that option.
> Press on Apply, which is situated in the lower right corner of the screen. This is done to save your sync settings. Sync usually starts automatically, thereafter. If the syncing does not start on its own, press the sync button.
The best part of syncing is that every time you connect the device to your PC, thereafter, it will sync by default. There could be a situation where the sync does not start. This would primarily mean that your pc is not authorized for that type of content.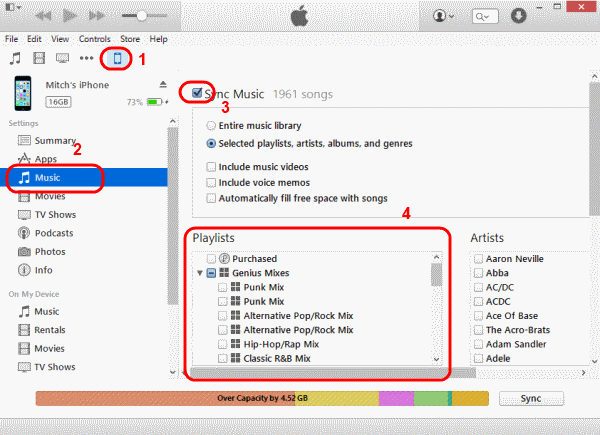 Extra Bonus: How to authorize a MAC or a PC computer
Way 2. Better Choice: Easily Sync Music from Computer to iPhone without iTunes
But as you can see that the process is too lengthy. And iTunes is not capable of syncing mail accounts, notes and bookmarks. Also, you can only sync your iPhone with only one iTunes library at a time. Instead, using iOS to Computer Transfer can help you do all that in just a few clicks.
You can easily transfer music files between iPhone/iPad/iPod and the computer as wanted and needed, be it export data from your iPhone to your PC/Mac computer as a backup or import files from the computer to iPhone. Additionally, you can also view the files in different thumbnail modes, as you want.
It also helps you choose the files you want to transfer easily, and manage your smartphone data right from your computer. You can transfer multiple files at once, without the hassles of an iTunes transfer.
Can't Miss:
Top-notch Lyrics Apps for iPhone/iPad/iPod
Multiple Ways to Download Music to iPhone
How can you transfer music using this software?
It takes just two simple steps to complete the transfer:
1. Connect your iPhone to your PC and run the installed software. Then, you can enter the different tabs to preview more detailed file information that you want to transfer.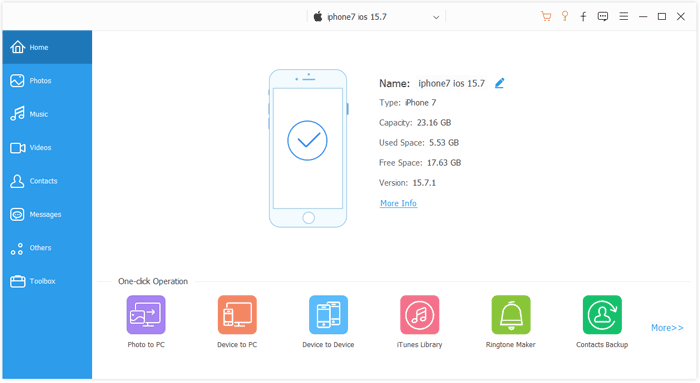 2. Now, click on Media option and then the Add option to select the music files from your computer you want to sync to your iPhone. Wait for a while and the selected songs will be transferred immediately from computer to iPhone within simple clicks.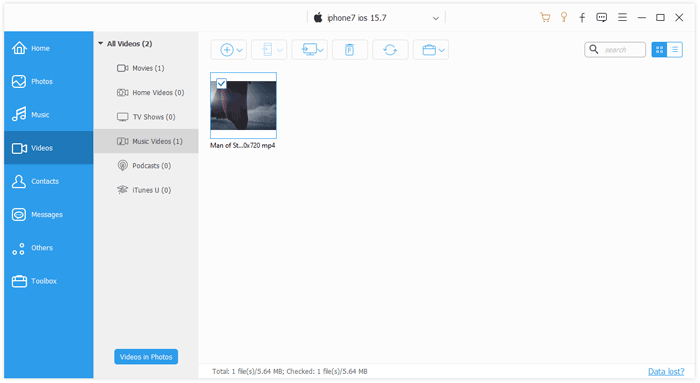 It is really easy to transfer all your mobile data from your smart phone to your PC, and back up all that you want.
Related Articles:
Guide on Best Backup Software for iPhone/iPad/iPod