Easy Way to Transfer Apps from iPad to iTunes
Transferring apps from your iPad to iTunes is very important. This will act as a backup for you app data in case you might decide to switch or change your iPad. Furthermore, backing up data on iTunes is important especially if your iPad might be damaged and you lose your app data. This process helps you easily restore your data without any glitches. iTunes is a very convenient way to back up your app data. iTunes stores backups on your Mac or PC. The amount of data you can back up depends on your Mac or PC's storage space. iTunes also offers encrypted backups, and most importantly it allows you to use your apps from your Mac or PC.
Bonus: Collection Center on Best Apps for iPhone/iPad
User Guide: How to Transfer Apps from iPad to iTunes
1. Connect your iPad to your Mac or PC using the included sync cable that comes with your iPad.
2. On your PC double click on iTunes.
3. You will see an icon for your device appear in the menu bar of your PC or Mac. It will be positioned on the upper left side of the iTunes window. Click on the icon.
4. Click the Back Up Now option to begin the process of transferring your apps from your iOS device to your Mac or PC. If you would prefer to include account passwords ensure that you check the checkbox entitled Encrypt iPad backup.
5. Once the backup is complete iTunes will show you the backup's date and time.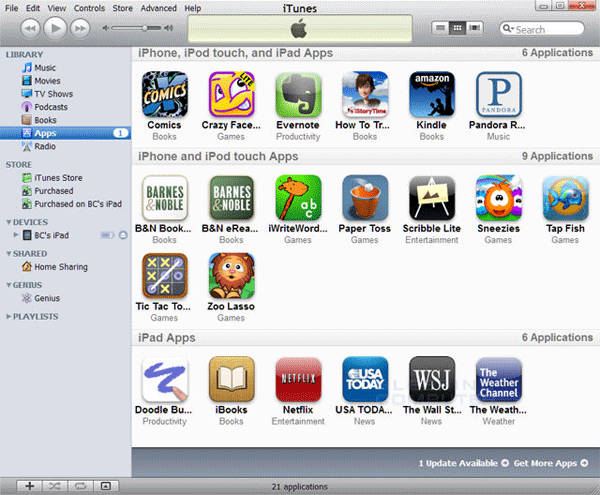 If you want to sync photos to your iTunes, you might be at a disadvantage especially if the photos were not taken using an iPad camera or an iPhone camera. You will not be able to delete them or edit them when you sync them to your iPad. This is because when you are syncing photos from your Mac or PC to your iPad you are not importing the photos to your device, you are just syncing them. This is a real disadvantage for many users who use iTunes to back up photos. This is one of the main reasons why you need another alternative for backing up your apps.
Read More Articles:
* Useful iTunes Backup Tips You May Like
* How to Change iTunes Backup Location
Alternative Ways to Sync iPad Apps without iTunes
Option 1. Using iCloud to sync iPad apps
Apple introduced iCloud Backup so as to make backing up data and apps less stressful. iCloud allows you to back up your data on Apple's cloud. Backing up data on iCloud happens automatically when your iPad is either getting power, locked or when it is connected to a Wifi network.
1. Tap on settings on your iPad device.
2. Tap on the iCloud option.
3. Select the Backup option.
4. Make sure the iCloud Backup is turned on.
5. Your backup will start immediately.
6. Ensure your device is still connected to the Wifi network until the backup is complete.
Related: How to Sync iPhone/iPad/iPod with iCloud
Using iCloud is a breeze. It allows you to restore your data anywhere on the planet and also makes upgrading very easy. For example, if you set up a new iOS device you can restore your apps and data from your iCloud backup. But there are a few downsides to this. You must ensure that your device is connected to a power supply and that it is locked. You must also ensure that you are connected to a reliable Wifi connection. Apple also gives you a limited amount of cloud storage space. For iPads the maximum storage space given is 256GB. In case you might have additional data you want to store on your cloud you have to pay Apple so that they give you additional iCloud storage space.
Option 2. Using 3rd-party program to sync iPad apps
Aside from iTunes and iCloud, you can also rely on this Coolmuster iOS Assistant (Windows/Mac) software to sync iPad apps to computer without any restrictions. It frees yourself from storage issues of iCloud or other files of iTunes. With this professional program, you are free to sync any files between iPad and the computer. Moreover, aside from apps, you can use it to sync other files like contacts, messages, photos, videos, music and many more between iPhone, iPad, iPod and the computer (Windows/Mac) without any restrictions.
More importantly, this program boasts of a simple user interface;
- Open the installed software on the computer. Link iPad to the computer via the USB cord.
- Now, all file folders will be detected and displayed on the main interface.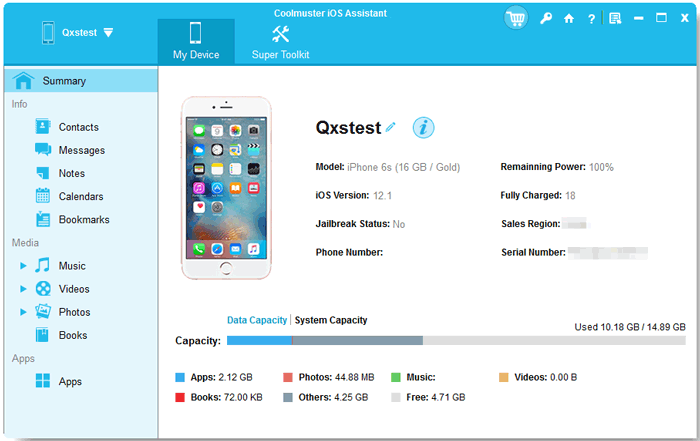 - Enter the Apps tab to select the wanted apps that you want to transfer to computer.
- Hit the Export option to sync iPad apps to computer. Choose OK option to confirm your action and wait patiently for the process to get completed within a little while.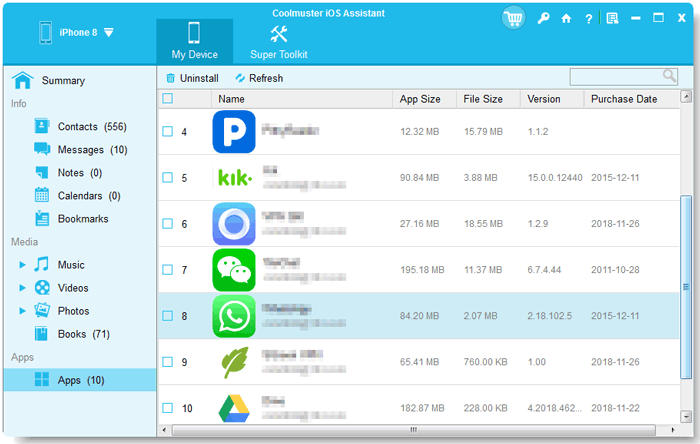 So if this is what you are looking for, just download the right version and give it a try by yourself!