Easy & Safe Way to Install iOS 10.3 on iPhone/iPad
It has been sometime since Apple has rolled out the new iOS 10.3 for their devices. It is a great improvement from the earlier versions and brings new features and functions.
• An improved Siri which now can communicate with third party apps.
• Intuitive and smoother user interface with beautiful widgets and lock screen.
• Enhanced Homekit app is now able to communicate with all smart appliances of your home without the need of third party apps.
• Third party apps can now be viewed on the lock screen.
• You can respond instantly to the 3D touch enabled notifications on your lock screen.
• Apple Music is also improved with less text and high definition album art.
• Maps have also been redesigned to be intuitive and appealing.
Related: Things to Know about iOS 10
Full Guide on How to Update to iOS 10.3
Part 1. Get Prepared for Updating
Wondering what are the top things that you should take care of during the updating process? A few of the things can easily go wrong and it is important to check that you've the right tools with you. Also understanding the different problems will help you to tackle them in a better way.
Some of the things act as prevention too like the first point, which is backing up of data. Normally you wouldn't have to worry about anything as the process would be smooth and you probably wouldn't wouldn't backup. However, of things do go wrong it's what's going to save you. Here is a list of all the things that you need to do.
1. Make sure you have already made a backup of the data on the device. You might want to know:
- How to Sync iOS Devices with iCloud
- Transfer Files from iPhone to iTunes
- Sync iPhone Data to Computer
2. Charge your device fully so that it does not switch off between the upgrade process.
3. Free up enough space to make sure enough space is available for new downloads.
4. You are better off using a Wifi internet for the update as cellular data can be very costly.
5. Check if the apps you are going to use after upgrading to iOS 10.3 are compatible with it.
Part 2. Install iOS 10.3 on iPhone/iPad
We will use the over-the-air method of the iDevice to update to iOS 10.3.
Step 1 - From your home screen, choose Settings. Then select General and press Software Update.
Step 2 - You will be able to see iOS 10 listed. Now select Download and Install.
Step 3 - Provide your password if the device asks for it. Press Agree when the Terms and Conditions are presented. You have to select Agree once again.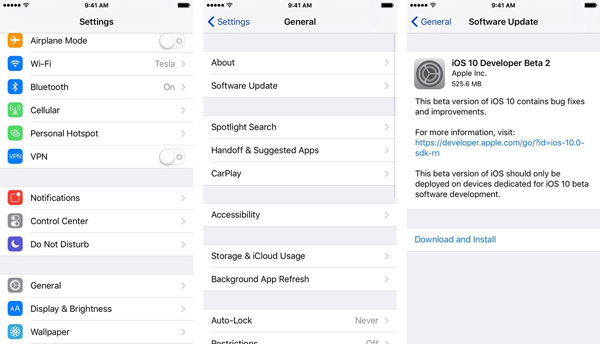 This will initiate the download process and then just wait patiently for the process to get completed within a little while.
Related Articles:
Things to Do When Getting A New iPhone