iOS 9 iPhone VS Samsung Galaxy S6 Edge
Recently, both Apple and Samsung have released the latest and powerful phones to public, which caused many mobile phone users to consider which phone worth to buy. iPhone 6s and Samsung Galaxy S6 Edge are both have the attractive features that can not be ignored. Let me introduce these two phones for you now.
Apple iPhone 6s, which public released on 9th, September, 2015, has surprised mobile phone users all over the world with its new features. And at the same time, people also considering whether to choose the high-end Samsung Galaxy S6 Edge or not.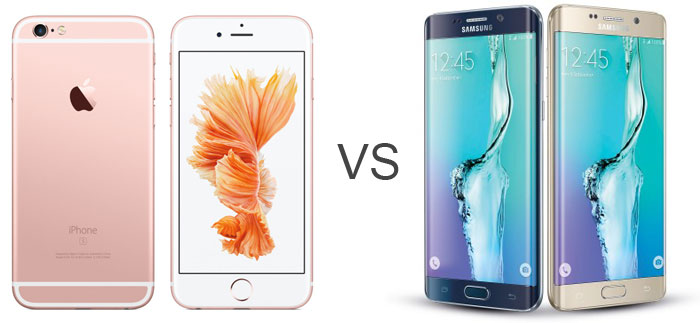 Compare iOS 9 iPhone 6S to Samsung Galaxy S6 Edge
Diaplay
iPhone 6S: 4.7in 750x1334, 326ppi
Galaxy S6 Edge: 5.1in 2560x1440 Super AMOLED, 577ppi
The Galaxy S6 Edge is the clear winner on paper when it comes to screen quality with a larger 5.1in display, a higher QHD resolution and a higher pixel density.
And iPhone 6S, equipped with 4.7in 750x1334 326ppi screen that has enjoied great reputation all over the world.
Both these two screens have their unique advantage that attract people to buy. The iPhone 6S is equipped with 3D Touch technology, which means the screen can register perssure, even the moving mode.
Design and dimensions
iPhone 6S: 138.3 x 67.1 x 7.1mm, 143g
Galaxy S6 Edge: 142 x 70 x 7mm, 132g
The iPhone 6S and Galaxy S6 Edge both feature hige technology and attractive appearance. Expecially iPhone 6S with the new feature which is much more intellitent than iPhone 6. Apple reported that it's tougher than iPhone 6 thanks to the new aluminium material, which means the iPhone 6s should avoid another "bendgate" saga.
The Galaxy S6 Edge has a metal and glass design, which caused arguement that it looks more premium given the dual display that wraps around the edges of the 7mm frame.
As you see, the Galaxy S6 owns a bigger screen of the two, however, it's the lightest at 132g compared with the iPhone 6S's 143g. It's more thinner, as the new iPhone is a slightly fatter 7.1mm.
And to talk about the colours, the iPhone 6S is available in silver, space grey, gold and rose gold models, while the Galaxy S6 Edge is available in black, white, gold and green.
Processor
iPhone 6S: A9
Galaxy S6 Edge: 2.1GHz octa-core Exynos
Users may love the iPhone 6S which uses Apple's new A9 chip and promises contain plenty of power compared with the last generation A8 chip. On the other hand, Samsung Galaxy S6 Edge also gives us a new fresh experience.
The Galaxy S6 Edge has a 2.1GHz octa-core Exynos chip, a powerful processor which means that users are unlikely to experience any crash.
The Operating system
iPhone 6S: iOS 9
Galaxy S6 Edge: Android 5.0.2 Lollipop
The iPhone 6S runs iOS 9 system, which become the first phone in the world developed with features such as a revamped Siri virtual assistant, Apple's new Maps and News applications, and low power battery mode.
The Galaxy S6 Edge that equipped with Google's Android 5.0 Lollipop operating system, which Samsung company has skinned in a scaled-back version of the TouchWiz user interface.
According to the opinions of the majority of users, iOS 9 system is much more better than Android 5.0.2 Lollipop. However, some Samsung fans still persue their favourite brand for expected new features.
Cameras
iPhone 6S: 12MP rear-facing, 5MP front-facing
Galaxy S6 Edge: 16MP rear-facing, 5MP front-facing
The Galaxy S6 Edge this time set with a higher-spec 16MP rear-facing camera. However, Apple owns 12MP offering is among the best on the market, with faster autofocus than on the iPhone 6 and the same two-tone flash.
Both of them feature 5MP front-facing cameras. Samsung's lacks a flash, but Apple has enlarged its new 'Retina flash' feature that sees the screen lighting up to illuminate selfies.
Storage
iPhone 6S: 16GB, 64GB, 128GB, no microSD
Galaxy S6 Edge: 32GB, 64GB, 128GB, no microSD
Inspite of the words that Apple would 'do a Samsung' and ditch the 16GB storage version in favour of a 32GB base model, it hasn't. On the other words, we can see last year's iPhone 6, the iPhone 6S is available in 16GB, 64GB and 128GB storage versions and there's no room to expand via microSD.
And Samsung's Galaxy S6 Edge is available with 32GB, 64GB or 128GB of storage, but compared with the iPhone, it doesn't make sense.
Battery
iPhone 6S: 1,715mAh
Galaxy S6 Edge: 2,600mAh
The same as the iPhone 6, the iPhone 6S will offer 14 hours of talk time, less than the 18 hours quoted by Samsung.
However, the Galaxy S6 Edge has the advantage that it comes with wireless charging support.
Overall
It's difficult to define which is winner between the iPhone 6S and Galaxy S6 Edge. Samsung smart phones wins on specs with a higher resolution display, better camera and bigger battery, but people still focus more on the iPhone 6S recently.
Conclusion
It is no doubt that both iPhone 6S or iPhone 6S plus and Samsung Galaxy S6 Edge are all good choice while you're going to select a new smart phone for yourself. And with the release of iOS 9, you may know that Apple also take an all-new app called Move to iOS to help you transfer data like camera roll, messages, google account, contacts, bookmarks from Android devices to new iPhone with one simple click. So no matter you're using an Android or iOS device at present, you'll never worry about the data transferring problem between them.
Related Article:
Things You Need to Know about Updating to iOS 9
Add a comment