Ad Blocker Apps to Block Off Unwanted Ads from iPhone/iPad
One of the most annoying things when surfing the web is advertisements. Especially on a smaller screen like that of an iPhone and an iPad, it can interfere with your browsing experience. It is especially tiresome when you are trying to watch a video. Add to it the popups that some sites employ – if you click one of those multiple advertisement links open at once. And if you happen to navigate to a website that is not very well protected or is malicious, you may inadvertently end up clicking on adware. The best route out is to use an adblocker software.
Top 5 Adblocker Apps for iPhone/iPad
Here are the top 5 adblocker apps that you would get for iPhone and iPad. They are the best when it comes to helping you offer an ad free experience, so that you can do a lot more than before when it comes to having a better smart phone experience.
1. 1Blocker
What's special: 1Blocker is easy to use and apart from standard blocking of ads lets you custom block anything – cookies, content etc. – from any URL. It also has the capability to block social widgets and custom web fonts. It is one of the very few free apps that can compete with the paid ones in features, functionality and efficiency.
Cost: Free. Pay $1.99 to unlock unlimited blocker functionality.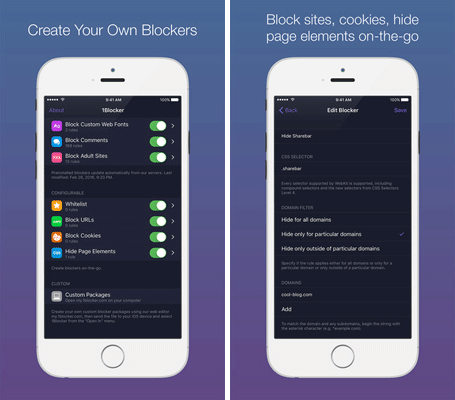 2. Weblock
What's special: Weblock blocks advertisements not only on Safari but also on all applications on your phone. Apart from ads, you can also choose to block scripts and social widgets. Although not free, but it has only a one-time fee and no in-app purchases required.
Cost: $1.99.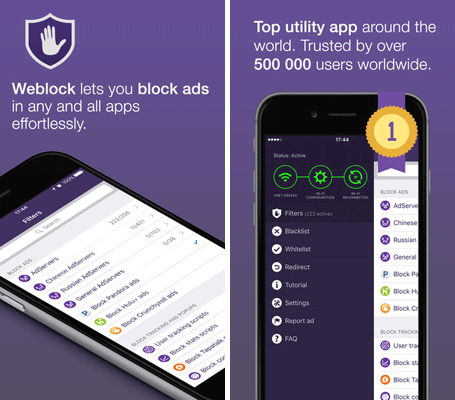 3. Blockr
What's special: Block is perfect for those people who like simple apps that are extremely easy to operate. An extension leads you to the app settings directly from Safari, where you can choose your preferences. You can choose to block cookie warnings too. The sleek and simple app interface is a pleasure to use.
Cost: $1.99.
4. Crystal Adblock
What's special: Crystal lets you choose your preferences regarding blocking. Using this app helps you save a lot of data, and also conserves battery. Not only this, the web pages load faster too. You can either choose to block ads universally, or have a custom blocking mechanism where you can decide what to block apart from just the ads, or whether to not block a certain website.
Cost: $0.99.
5. Purify
What's special: Purify lets you block images, scripts and custom fonts apart from ads. It also has a list of bad sites that is updated periodically, and the app makes sure your browser stays away from these. You can choose to white list some of the sites that you don't have a problem showing ads with.
Cost: $1.99.
These are just some of the top adblockers for iPhone and iPad that you could find. They are the best when it comes to helping you do more with your iOS device - and you do not have to worry any more about those pesky ads that seem to pop out of nowhere.
Extra Bonus: How to Manage Downloaded Apps on iPhone
Now, you can choose either ad blocker app to block unwanted ads from iPhone/iPad. Well, want to download all these apps to choose the perfect one? Want to manage the messy apps in good order? All these can be easily with this Coolmuster iOS Data Manager (Windows/Mac). With this software, you can easily download any apps to your iPhone device by importing them from the computer. Also, this software allows you to transfer files including contacts, messages, apps, music songs,videos and many more from your iPhone device to the computer.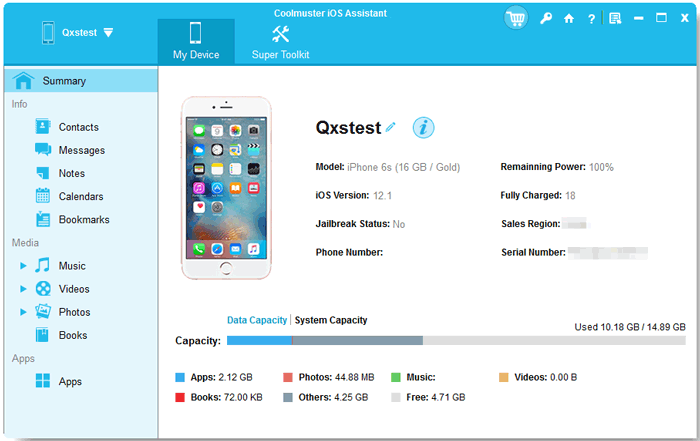 And operating this software is quite easy, you just need to:
- Open the installed software on the computer and then get your iPhone device connected to the computer.
- Enter the right file folder on the left panel and choose the files you want to manage.
- Then choose the Export option to begin the files transfer from iPhone to the computer.
By the way, if you want to import files from the computer to your iPhone device, you can choose the Import option first and then navigate to the files on the computer. Finally, start the file transfer and wait for it to complete within a little while!
Add a comment