iPhone Emoji Keyboard 2018: How to Access, Enable, Use, Remove it?
If you aren't using the iPhone Emoji Keyboard 2018 when you update your iPhone, then you are missing out on a lot. In today's world, we can conclude that emoji icons have been accepted as a form of communication. The iPhone Emoji Keyboard 2018 is well developed to help you communicate all of your feelings in just one touch. Not only does it include an additional set of new emoji, but the app has also been advanced to meet the needs of every iOS user. In this article, we will show you how to use the iPhone Emoji Keyboard on your device.
Part 1. How to Enable iPhone Emoji Keyboard?
Part 2. How to Use Emoji on iPhone?
Part 3. How to Access the New and Multicultural Emoji?
Part 4. How to Remove the Emoji Keyboard?
Part 5. How to Backup Messages/Notes/Calendars on iPhone?
Part 1. How to Enable iPhone Emoji Keyboard?
Enabling the emoji keyboard isn't a simple task. This is because the iOS recognizes the emoji keyboard as a whole new keyboard option. Therefore, you are required to enable it manually. Remember, your iPhone is designed to use the Keyboard layout that you chose when you first started your device. You thus can't simply slide it on or off. You also need to know that this Keyboard can only run on iOS 7 and above.
Nonetheless, it's not computer science. It's quite doable.
Step 1: Navigate to the Settings panel then click General followed by selecting the Keyboard.
Step 2: From there tap on Keyboards then Add New Keyboards.
Step 3: Check through the list till you locate the Emoji Keyboard and enable it.
You will observe that there will be your default language and emoji on your keyboard screen.

Part 2. How to Use Emoji on iPhone?
After enabling this keyboard then using it is super easy. On your keyboard, you will see a smiley face on it. Clicking on it will open the hundreds of emoji icons that you can use. You can, however, use these emoji icons on apps that allow you to type using the keyboard. Examples are Facebook, Instagram, Messenger, and Mail amongst others.
The list of emoji is endless. You will see smiley faces, flowers, people, animals and plants. They are objects that are seen or used on a day to day bases such as mobile phones and cars. You can add it by clicking on that particular emoji. You can also delete it by using the backspace key.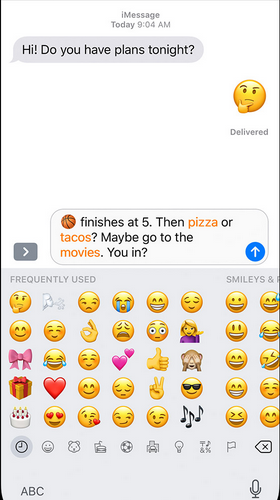 Part 3. How to Access the New and Multicultural Emoji?
It's only recently that there has been an introduction of multicultural emojis. A while back there were only white people emojis. But thanks to the coordination of Apple and Unicode Consortium which deals with controlling emojis, there are now emoji faces that resemble people from all corners of the world. The multicultural emojis can't be accessed on the standard keyboard.
If you have enabled the iPhone Emoji Keyboard 2018, you can access multicultural emoji by following the steps below.
Step 1: Tap and hold on a particular emoji.
Step 2: You will then see a pop up which will consist of the different variations.
Step 3: You can then click on the multicultural emoji that you want.

Part 4. How to Remove the Emoji Keyboard?
In iOS, it's impossible to delete the Emoji Keyboard. You can only disable it. To do so, you will need to do the following:
Step 1: Navigate to Settings > General > Keyboard > Keyboards.
Step 2: Click Edit and next to your emoji keyboard you will see a red icon.
Step 3: Tap on Delete to disable it.
The above is how to use the iPhone Emoji Keyboard. It's fun and makes communication more relaxed and enjoyable. Additionally, when you are typing a text, and then switch to the emoji keyboard. You will notice some words become highlighted. This means that there are emojis for these words. You can tap on the word to change it to an emoji.

Part 5. How to Backup Messages/Notes/Calendars on iPhone?
You can use the emoji keyboard not only to send messages but also in taking notes or using calendars. This therefore brings the aspect of knowing how best to backup messages, notes and calendars on your iPhone. To do this, please use the Coolmuster iOS Assistant. It can easily transfer and backup files on your iPhone to your PC or on iTunes. Below is a step by step guide that will show you how to use this software.
Note: Make sure you have installed the latest iTunes version on your computer to ensure successful connection.
Step 1: Run the Program on a Computer
Running this program is quite simple. All you need to do is download the Coolmuster iOS Assistant on your PC and then launch it. You should then connect your iPhone to the PC via a USB cable. Once connected, you will see the different files on your iPhone. What to do if iDevice fails to connect?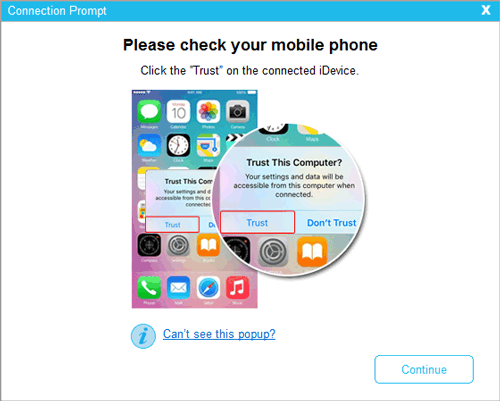 Step 2: You Can Transfer Data from Your Device to Your PC and Vice Versa
From here, the Coolmuster software also allows you to manage your device data as you deem fit. You can either copy messages, contacts, photos and much more to and from your device to the PC.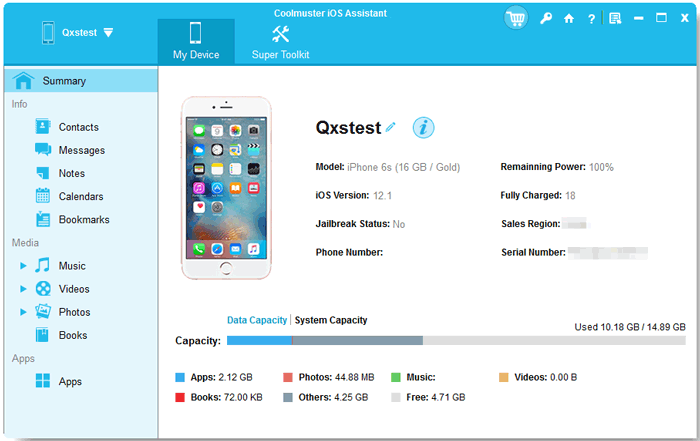 Step 3: Backup Your iPhone Data to iTunes or the Computer
Once you can access your data, then you can easily back it up. You can either back up your data on your computer or iTunes. It's advisable that you save data on iTunes because anything can happen to your computer. And this could lead to loss of data. However, backing up data on iTunes is a sure guarantee that whenever you need your files, you will be able to restore them.
To back up your files, switch to the Super Toolkit section. Then click on iTunes Backup & Restore tab, click on the Backup button and then select your device. You will also do the same if you want to back up the data on your computer. Choose a suitable location and then click OK to start the backup procedure.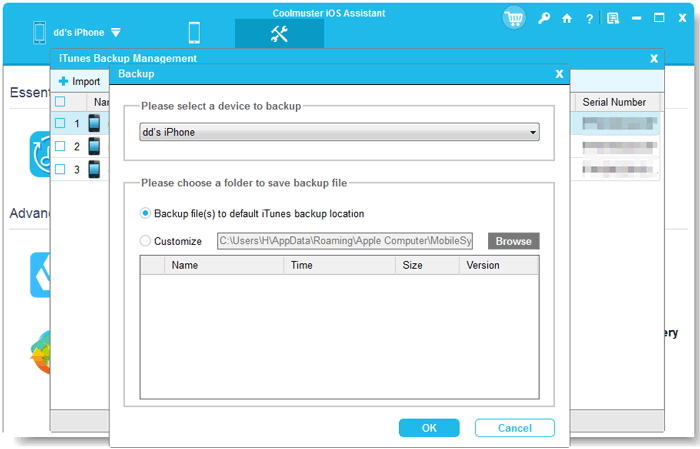 The restoration is relatively simple. Just navigate from the Super Toolkit to the Restore option and begin restoring your data.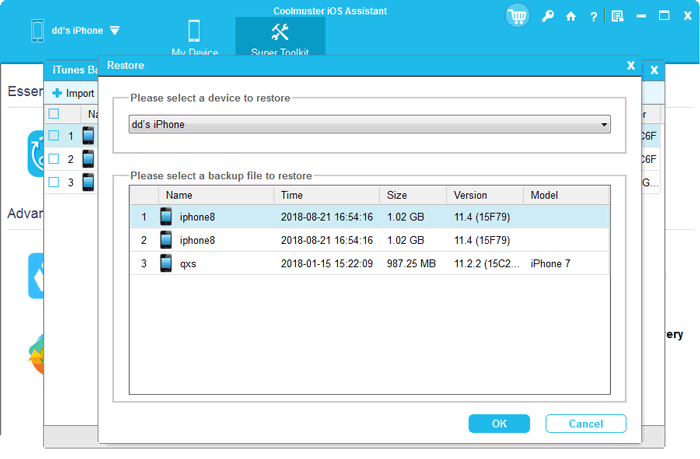 Video Tutorial:
Related Articles:
iPhone XS vs iPhone XS Max vs iPhone XR
How to Backup and Restore with/without iTunes
One-stop Guide to Transfer to New iPhone XS, iPhone XS Max & iPhone XR
How to Easily Restore New iPhone from iTunes Backup
How to Fix iTunes Won't Sync to iPhone
How to Add or Remove A Device from Find My iPhone
Add a comment