How to Make iPhone Camera Shoot JPEG Pictures in iOS 11
In iOS 11, iPhone camera will take pictures in the new HEIF image format by default, instead of JPEG. The new HEIC image format, also known as High Efficiency Image Format, is a kind of space-saving image format and takes up less storage storage on iDevice and iCloud Photo Library. However, with its limited compatibility, some iPhone or iPhone users might prefer to have the camera to take photos in JPEG format like before for sharing, transferring or backing up. So this article will show you how to make iPhone take JPEG photos in iOS 11.
Part 1. HEIF vs JPEG: What's the Difference?
Part 2. How to Setup iPhone to Take JPEG/HEIF Photos in iOS 11
Part 1. HEIF vs JPEG: What's the Difference?
1. Supported Operating System:
As a newly launched image format after iOS 11, HEIF image format is not widely used and it is not supported by every operating systems. For example, Android and Windows users can not open and view HEIF files directly on their devices as JPEG. Please check the compatibility of HEIF image format as below.
| | | | | | |
| --- | --- | --- | --- | --- | --- |
| | iOS | Android | Windows | macOS | Unix |
| JPEG | Yes | Yes | Yes | Yes | Yes |
| HEIC | Only in iOS 11 or later | No | No | macOS High Sierra (10.13) or higher | No |
Specifically, the HEIF-supported iOS devices include iPhone X, iPhone 8 Plus, iPhone 8 Plus, iPhone 7 Plus, iPhone 7 or later (iOS 11 or later), while the supported macOS operating systems contain macOS High Sierra (10.13) or higher.
2. HEIF vs JPEG - Size Comparison
In iOS 11, the HEIF image can increase the compression rate by twice as much as JEPG. However, the HEIF image files will not reduce the image quality while having high compression rate. Unlike JPEG, the HEIF format does not use file compression to preserve the image details for it just compress the images by using the high-efficiency feature.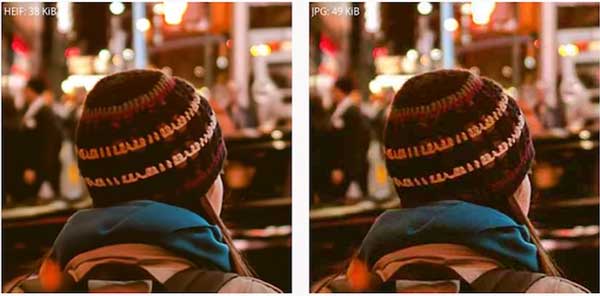 Can't Miss: Free Ways to Open and View HEIF/HEIC Images on Windows/Mac/Android
Part 2. How to Setup iPhone to Take JPEG/HEIF Photos in iOS 11
In iOS 11 devices, you can freely decide whether you want to take HEIF pictures or JPEG photos on your iPhone or iPad. So if you want to make your iPhone to shoot JPEG photos again, you can also setup the image format of iPhone camera capture on your device.
Here are what you should do:
Step 1. Unlock your iPhone or iPad and open Settings app on your device.
Step 2. Tap "Camera" and "Formats" option to set up the photos format when you take photos with your iPhone camera.
Step 3. Tap "Most Compatible" option under CAMERA CAPTURE section so that you can take JPEG photos with your iPhone or iPad again.
To take HEIC pictures with your iOS 11 device again, just switch on "High Efficiency" option here.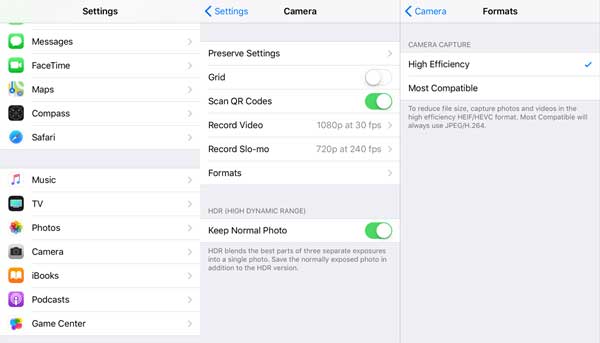 Tips: You can set up your iPhone or iPad to automatically convert to compatible format of HEIF photos/HEVC videos when transferring to PC/Mac computer. To do so, simply go to "Settings" > "Photos" > "Automatic" option on your iOS 11 device.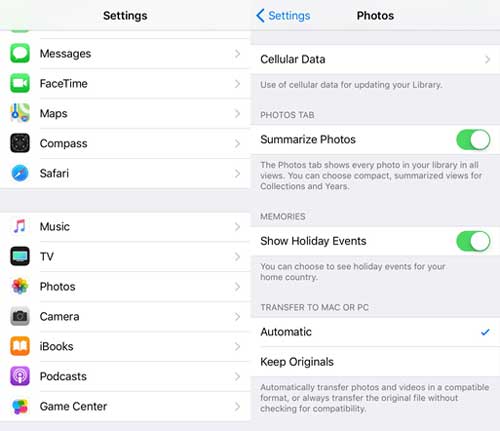 Related Articles:
Different Ways to Download HEIC Photos from iPhone to Computer
How to Convert HEIC/HEIF Images to JPG/JPEG Format? [Free]
How to Transfer HEIF(.heic) Images from iPhone to Computer/Mac?
Add a comment