Easy Way to Transfer iPhone ePub to Computer
Nowadays, an iPhone is no longer a simple device used only for contacting friends and families via calls or messages. More and more functions are incorporated into this new device such as reading ebooks on your mobile device. Undoubtedly, reading ebooks on iPhone has been an unstoppable trend in the modern times. Compared with tradtional paper books, ebooks are easier to be taken with whenever you go. So you can download your desired book on your iPhone and read it wherever you are. You can read ebooks when you are on the way from your home to the office or when you are simply queuing in lines for payment in the supermarket, so as to kill off the boring times. And surely the best shining point within ebook lies in its portability, since it is saved on your iPhone. As long as your iPhone is at near hand, you can reach your favorite ebooks without restrictions.
Also Read: Free AudioBook Sites for iPhone/iPad
Though you can save ePub/PDF books on your mobile device, it does not mean they are safe permanently. To keep them safe once and for all, my best advice is to make a backup. And then you surely can't miss this Coolmuster iOS Assistant software, which allows you to sync epub from iPhone to computer without any restrictions. More importantly, this software can help you do more, enabling you to transfer all different files from iPhone to computer as a backup including contacts, messages, photos, videos, apps and many more. And as long as your device is running iOS system, this software can be your lifelong data backup assistant. Best of all, this software has a simple user interface, allowing you to sync epub from iPhone to computer within 1-2-3 steps even if you are a computer novice.
Simple Steps to Transfer iPhone ePub to Computer
Step 1. Open the installed software on the computer and then link iPhone to the computer via the USB cord. After that, this software will detect your device automatically and you will see the main interface as pictured in the below.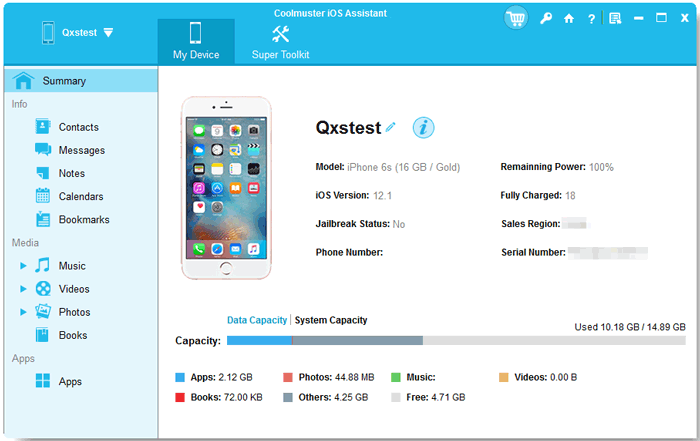 Step 2. Now, you can see different file tabs are arranged on the main interface. Now, you can enter the eBook tab to preview more detailed file information. While previewing, tick out the ebooks that you want to transfer from iPhone to computer.
Step 3. Finally, hit the Export option to sync iPhone ePub books to computer within one click. And now you just need to wait patiently for the process to get completed within a little while.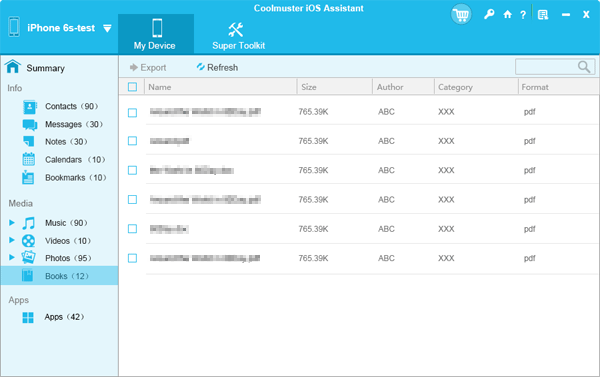 Soon, all your favorite ebooks will be saved on the computer as a backup. So if this is exactly what you are looking for, just download the right version and give it a try by yourself!
Related Articles:
How to Export iPhone Contacts to Excel File