How to Easily Sync iCloud with Outlook
Why need to sync iCloud with Outlook?
People all over the globe are looking for the best software products to track and store the information that they need for both their personal and business use. This is because the software that they choose can make a major difference in how information that they need is stored for future use, accessed when needed and presented in a platform that is easy to utilize and share with others when it is needed. Fortunately, when a user chooses a specific type of software application, they can make their decisions based on a number of different things including the features offered to the user. In some cases, the features that the person uses are often designed to provide them with a simple to use seamless experience. Therefore, when an individual is looking for the best platform to use when they want to send and receive their email, store contact information or enter dates on their calendar, they may want to review an Outlook iCloud Service Integration solution.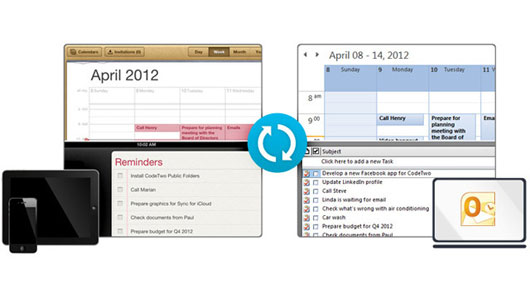 This kind of integration is available for many different reasons and purposes including those that include adding Outlook data files and account settings on their iCloud control setting. With this in mind, one of the first things that users usually want and need to know is how to sync iCloud with Outlook so that they can take advantage of these benefits.
Also Read:
How to Transfer Outlook Contacts to iPhone
Quick Fixes to Common iPhone Problems
Simple Guide How to Sync iCloud with Outlook
Though there are numerous ways available on the Internet that discusses how to sync iCloud with Outlook, many solutions have this or that kind of problems. For instance, some users complain that they don't have a difficult time getting started with initiating the sync process, but they discover issues of concerns that they will need to troubleshoot before the process is completed. For instance, some complain that if they have not created an email account before starting the process, they will find that they cannot sign in to the contacts, calendar or the tasks features.
It is also important that users know how to configure their iCloud to create a custom data store. Though some of these problems may not appear to be significant (i.e. Akrutsync), they can prevent the sync process that has been initiated to be completed without any type of errors or problems with trouble shooting. One of the best solutions for syncing iCloud with Outlook is Apple's iCloud, which is a very nice tool that can be used to keep the user's calendar, contacts, and other data that is needed. With this solutions, users can follow a 3 step process to complete the process.
Step 1. Install iCloud Control Panel for Windows (Windows Vista SP2 or Windows 7 or later required) on the PC computer.
Step 2. Access this control panel via the path: Start Menu -> Control Panels -> iCloud.
Step 3. Enter your Apple ID and password and click Sign In. Then you will see the below interface where all file folders are arranged on one window.
Step 4. Now, select the files you want to sync from iCloud to Outlook. Then the selected files will be synced with iCloud. Any content synced currently with iCloud will be added to Outlook.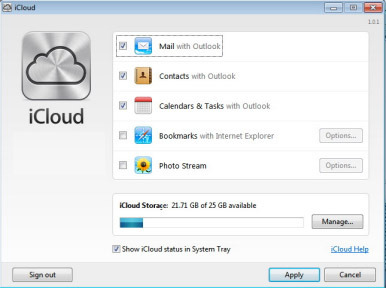 Attention: As pictured in the above interface, mail/contacts/calendars/tasks can be synced with Outlook 2007 or later. Bookmarks can be synced with Safari 5.1.1 or later or Internet Explorer (IE 8 or later).
Related: How to Sync iOS Devices with iCloud
Words in The End:
There are several things you need to pay attention to when syncing iCloud with Outlook. For instance, with this type of integration, the user should make sure that they are setting their iCloud data files as the default. When these files are set as the default, the appointments that they set will show up on the "to-do-task bar". However, this information will only be displayed based on the version of iCloud that is in use. So you need follow the professional guide as instructed in the above if you want to sync iCloud with Outlook!
Related Articles: