Full Guide to Sync iPhone Calendar with Mac
Most of us own multiple devices today - from a tablet, a smart phone to a laptop and our good old traditional desktop. How can we ensure that the data across all the devices remain synced? It really isn't a great idea to enter the same data across all devices, like syncing your iPhone calendar manually with your Mac. Since we use many devices to store our data, it becomes difficult to keep track of all the different information stored in all the different devices. So we have the facility to "sync" the varied data from different devices together. This basically means that we synchronize our data with each other.
Part 1. Transfer Calendar from iPhone to Mac
Part 2. Sync Calendar from Mac to iPhone/iPad
Part 3. Easily Sync Calendar between iPhone and Mac (Recommended)
Part 1. How to Sync iPhone Calendar with Mac
For all the Apple devices, this task is even easier. By synchronizing data, when you update any information in one of them, it automatically updates that corresponding data in all the other "synced" devices. It saves you the trouble of re-entering the data and therefore saves a lot of time. For example, when you sync your calendar with your iPhone or your Mac device, each of these devices has all the details that you require. We have for you here, simple steps as to how you can sync your calendar with your apple device.
> First of all, make an iCloud account. You probably have one already if you own any iOS device. This is required each time that you sign into iCloud or if you want to keep track of your store and purchases.
> Once you have created the account, select on the things that you want to sync. You can select things like calendar and mail across devices.
> On the check box next to calendar, ensure to select "ON" on your apple device before you update any new event.
> Now that the device has gotten the information to sync the updated information in all the other devices that are logged in with the same iCloud account, every time that you enter a data, it will automatically be updated in all the other devices.
> You can decide on how your events are arranged in your schedule. The created events are organized by color co-ordination to match with the dates on the calendar.
> The Edit menu helps in determining which calendar to sync and what to add and remove from the calendar. All these options are clearly mentioned in any apple device and just by following the appropriate prompt; this work can be done easily.
Also Read:
How to Sync Outlook Calendar with iPhone
Easily Sync Google Calendar with iPhone
Part 2. Sync Calendar from Mac to iPhone/iPad
The Calendar app that comes with your Mac computer and iPhone enables you to create appointments and set reminders as needed and wanted. Now, let's see how to create new calendars on Mac and share them to your iOS devices without any hassle. Below are the step-by-step guide:
- Open the Calendar app on the Mac computer and then click on the "File" menu, select "New Calendar" and then "iCloud".

- Now, you will see the new calendar will appear under the iCloud list in the left Calendar panel.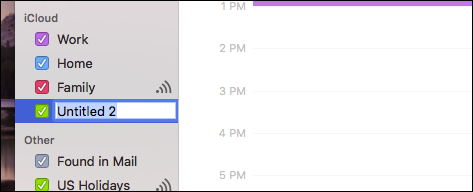 - Then you can rename it as wanted. If you want to share it, click Share icon and then select those to whom you want to make your calendar open.
- Now, you can open the Calendar app on your iPhone/iPad. All your iCloud calendars listed including your newly created one are displayed on the main interface.
- Then you can tap the "I" icon to edit any calendar displayed on your device as desired.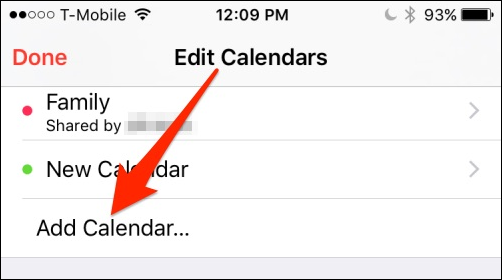 Note: You can also create a new calendar on your iPhone/iPad device and make it available on the other devices. Make sure that all devices are connected to the same iCloud account.
Also Read: How to Easily Share iCloud Calendar
Easily to Sync Calendar between iPhone and Mac
If you are looking for an easier way out, you can try out the professional Coolmuster iOS Assistant for Mac, which helps you do everything from backing up files to syncing data across your devices. All you need is a USB cable to attach your iPhone to your Mac and you can do some interesting things. (Here is the Windows version for PC users.)
- Backup all your data so that it remains safe, always.
- Exporting and importing all kind of files becomes easier when you use this app. You can view any file directly from the program.
- Compatible with all generations of iOS devices, transfer of all kinds of data is possible here.
- Every file will be classified into section and folders which makes searching for a particular file easy.
- It is also easier to handle your files, as you can modify and rename these folders as you want. Every feature about the information will be at your fingertips.
- While transferring data, there is always this fear that the quality of the data will diminish. But not with Coolmuster.
And this software is rather easy to operate:
- Open the installed software on the computer and then get your iPhone connected to the computer via the USB cord. Then this software will detect your device and scan for all files.
- Now, you can enter the Calendar tab to preview more detailed file information. While previewing, you can select the wanted files by ticking them out. Finally, hit the Export option to sync iPhone calendar with Mac computer.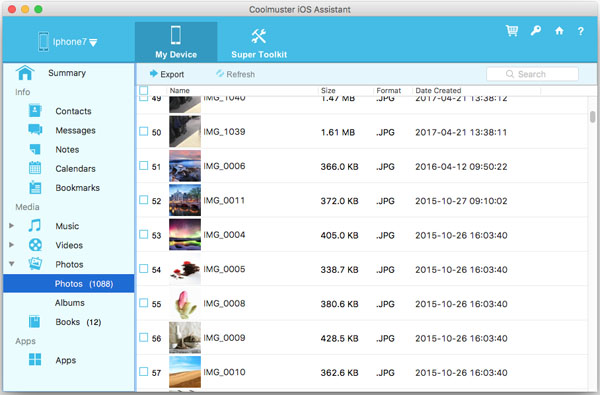 If you're looking for software that can handle all your data management needs, look no more. It can be quite easy to sync calendar from iPhone to Mac within simple clicks! Also, you can use it to sync calendar from Mac to iPhone within simple clicks!
Related Articles:
Tips to Sync iPad with External Hard Drive