Easy Steps to Sync iPhone with Exchange Server
If you a fan of Facebook, you might want to know how to sync Facebook with iPhone, so you can better manage your contacts within these different places. If you are accustomed to using Gmail, you may want to know how to transfer Gmail account to your iPhone, so you can get comprehensive information of your contacts once you open you iPhone. Apart from Facebook and Gmail, Exchange Server has also received warm reception in the mobile market since its release to the public, which is a calendaring and mail server developed by Microsoft company. Quite a few mobile users have been relying on this powerful application, either for individual preferences or for occupational requirements. But actually. having one in-built calendar and email within your iPhone device and another within this Exchange Server can actually be a messy matter, to some degree. Now, this passage will tell you how to sync iPhone with Exchange Server in several clicks!
Simple Guide on How to Sync iPhone with Exchange Server
Step 1. Open your iPhone, then click the "Settings" on the main interface and then select the "Mail, Contacts, Calendars". After that, you will see a new interface and tap on the "Add Account" option and select "Exchange" option to continue. Now, you will see the below interface.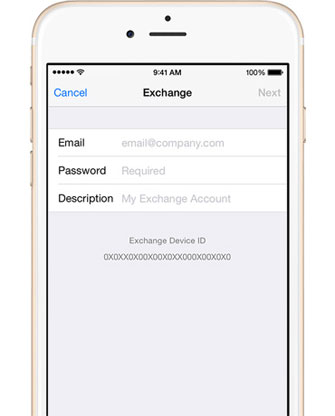 Step 2. After filling the blank with your email address, password and the description of your account as pictured in the above. You will then see the below interface, just click the option of "Next" to continue the whole process.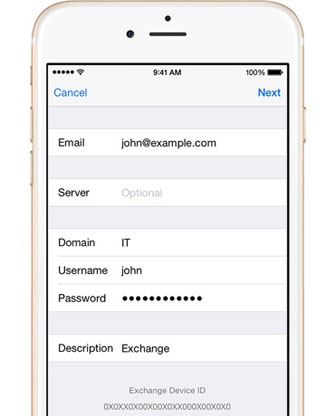 Step 3. After that, your iPhone will automatically connect to the exchange server. Now, you can sync the Mail, Contacts, Calendars, Reminders, and Notes with your iPhone by clicking the corresponding option. At last, just click the "Save" option to finish syncing iPhone with exchange server.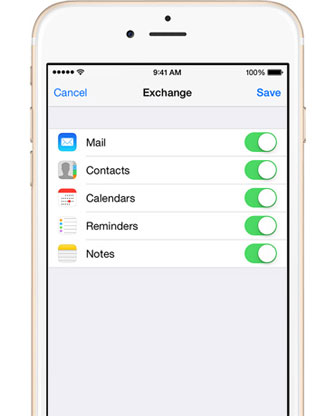 Till now, you have successfully synced your iPhone with Exchange Server. Quite easy, right?
Words in The End:
Syncing iPhone with Exchange Server can help you better manage your files, but by no means can they guarantee that you won't lose your important files like calendar, email and etc. once and for all. But Coolmuster iOS Assistant CAN! With this powerful software, you can transfer important files from iPhone to computer as a backup. So even if you lose files from your iPhone by accident, you can easily extract these files from the backup file to your iPhone in one click. This software can be perfectly compatible with all generations of iOS devices, like iPhone, iPad and iPod!
Related Articles:
How to Sync iPhone Files with Flash Drive
How Can I Download Free Books on iPhone/iPad
Add a comment