Things You Need to Know about Updating to iOS 9
The WWDC 2015 event is exciting for iPhone and iPad users. It's been hold towards developers but it still attracts many loyal users who are eager to catch sight of the new iOS 9 before the official iOS 9 released. As it's known to all that, iOS 9 is Apple's next generation mobile operating system which was announced at WWDC 2015 at Moscone Center in San Francisco on June 8, 2015. It brings some new features which has made great progress compared with the old generations. Generally, the advantages can be listed as follows:
- It includes a more intelligent Spotlight;
- It owns a more proactive Siri;
- It is equipped with a new News app;
- It has an undated Notes app;
- It can transit directions in Maps;
- It is developed with renamed Wallet app with store and loyalty cards;
- And tether-less Carplay, and slide-over and split-screen modes for iPad.
According to the WWDC report, Siri becomes much more proactive with iOS 9. This development has inspired a great number of iPhone lovers' passion. To image that if you have something need to do the day later, you can just ask Siri to remind you at any time you wanted. And the most attractive thing is Siri will learn your routine every day, and run your iOS according to your routine. For example, if you love listen to music every night before going to bed, then Siri will learn that and your love music will automatically show up on the lock screen. If you listen to radio every day morning, your radio will pop up by the time you open it every day.
And if you are one of the loyal users and want to update your iOS device to iOS 9, I would like to remind you that there are several things you need to know about updating to iOS 9, but in general, they come down to four major items. In this article, we will introduce the most important aspects to help you upgrade to iOS 9.
Backup Your iPhone/iPad/iPod touch Data before Updating to iOS 9
It goes without saying that making a backup for all the data from your iPhone and iPad is the most important things to do first for the sake of data safety during the update process. It must be noticed that if you want to back up all the files on your iOS device, you need to draw support from iTunes and iCloud. Or you can turn to professional iOS transfer application - iOS Assistant, which allows you to preview and mark what you need to backup. Because of its all-in-one functions, it has become the most popular and effective iOS transfer software to download. In addition, it is compatible with iPhone, iPad or iPod touch without any limitation.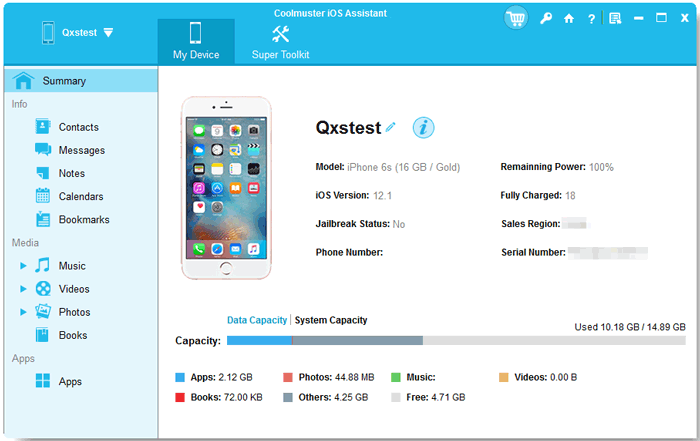 Furthermore, apart from transfer tool, we provide iPhone data recovery software for you in case of data loss during the above process. With this recovery software, you can recover contacts, text messages, music, movies, books, photos, notes, apps, document files, and so on from any iDevice without hassle. Besides, it allows you to preview and choose what you need to recover in batches and you can also make a backup on your computer after recovering the lost data.
Note: Some people may also like to backup their iOS data with iTunes, but you know that the iTunes backup files always get corrupted due to lots of reasons, so if you have iTunes backup file and corrupted, you can come here to learn how to fix the iTunes backup corrupted problem.
Prepare to iOS 9
After you make sure the data is safe with backup, we can begin the process of updating to iOS 9. First of all, iOS 9 will work on the following devices: iPhone 4s, iPhone 5, iPhone 5c iPhone 5s, iPhone 6, iPhone6 Plus, iPad 2, iPad 3, iPad 4, iPad Air, iPad Air 2, iPad mini, iPad mini 2, iPad mini 3. You need to judge whether your device is supported to update.
At the same time, you should enable at least 60% power supply on your devices because it will spend sometime on updating. Because updating your iOS takes some time, if the power is not enough that the backup will fail on the half. Moreover, it's of importance for you to make sure that you have a stable network available. And one more thing, you should also ensure that your device has adequate storage space to download the new files. This aims to ensure that files for updating will be downloaded successfully.
If you wish to get more info about the preparation works that should be done before undating to iOS 9, Please go to this page to learn more - Prepare Your Device to iOS 9.
Steps to Upgrade Your iPhone/iPad Operating System to iOS 9
Generally speaking, there are two different ways for you to update to iOS 9: one is to update it on your device directly, the other is to ask help from iTunes. Now, let's us to check the detailed tutorial one by one.
Solution One: How to Update to iOS 9 on Your Device Directly
Step 1: Operate on your device, click on settings > General > software update
Step 2: Press "download and install", then the download process will start immediately, you should enable the device is connected to Wi-Fi network and has adequate power.
Step 3: Click on Install or Later. If you click on install, the installation process will begin immediately. If you have a pass-code, you may need to enter it before the update can be installed.
Solution Two: Updating to iOS 9 with iTunes
Be sure your iTunes have been upgraded into the latest one.
Step 1: Install iTunes on your computer/PC, and then connect your device to your computer.
Step 2: To select your device and click "Check for Updates" on the interface.
Step 3: Click download and Update button.
Note: problems may appear during iOS 9 updating process.
If you are likely to meet some problem, it's including software update failed error messages, system get stuck with various situation, even Wi-Fi problems, data loss, and space storage. Please keep calm and you don't need to worry because things always have a way out. You can turn to recovery software and transfer software according to this article. And as long as you follow the collect steps to operate, I am fully convinced that the probability of risking the above issues can be narrow down.
Add a comment