How to Sync Jailbroken iPhone Music to PC/Mac Computer
Transfer Music from Jailbroken iPhone to PC/Mac
Music has become an integral part and parcel of people's life. We are listening to music while driving, commuting to work, doing household chores and even during lectures. Infinite choices are provided to us with our carry around iPhones with just a click. But our phone doesn't only store music; it's also used to store photographs, documents, and videos; among others. with just a limited amount of memory available it becomes a daily occurrence for you to remove some unwanted trash to make room for new stuff. But what if you don't want to delete your songs, there's a simple solution. Transfer your music to your Laptop or PC and delete imported music from the device to clear storage.
If you've got an iPhone, you have probably looked at jailbreaking iPhone . Jailbreaking offers you certain distinct advantages including the ability to do what you want. Unfortunately, it also means that you need to be wary about Apple - since the company states that jailbreaking is illegal and can even turn off your iPhone if it identifies you are doing it.
So, how do you sync jailbroken iPhone music to PC/Mac computer without any trouble? This time, we will talk about how you could transfer music easily, without any worries.
More Useful Articles:
How to Put Music on iPhone without iTunes
How to Transfer Music from iPod to Mac
Problems You might Have to Face while Syncing iPhone to PC or Mac
There may be some problems in syncing your iPhone to your PC; sometimes the computer is unable to recognize the device, if this happens try restarting your iPhone or your computer. Also check if the USB cable is supported with the computer and IPhone or not. If problems persist try reinstalling iTunes.
It doesn't matter whether you own a Mac or a PC that runs on Windows -the process is the same in either case. You can sync your iPhone to your computer or personal system by iTunes but it only enables you to transfer purchased content without allowing you to transfer any of the non-purchased content.
Quick Fix: How to Easily Sync Jailbroken iPhone Music to PC/Mac
If you want to sync all content whether it be purchased or non-purchased, you can use a brand-new Coolmuster iOS Assistant (Windows/Mac) software, which enables you to transfer all your media files be it videos, audios or other software to your device. Situations can arise when your iPhone's screen doesn't work or is broken; it helps you to back up your data without losing anything. Backup all your memories and get hold of them when you need, without any trouble.
How to use this software?
Transferring files through your iPhone using this software is just a child's play. Let me walk you through the procedure and you can judge for yourselves.
1) Run the software using the instructions which appears after clicking on the .exe file and connect your iPhone to the computer using a USB cable. The software will automatically detect your iPhone if connected properly and display the device on its interface.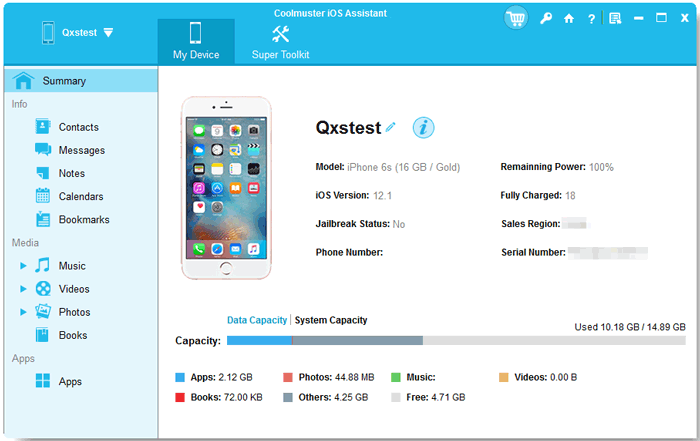 2) Your files should be visible to you on the interface of the software, select those files you want to transfer by clicking on them. After selecting the files preview them to approve transfer from the device to the computer. You can check detailed info about any file by clicking on it and viewing the right hand panel.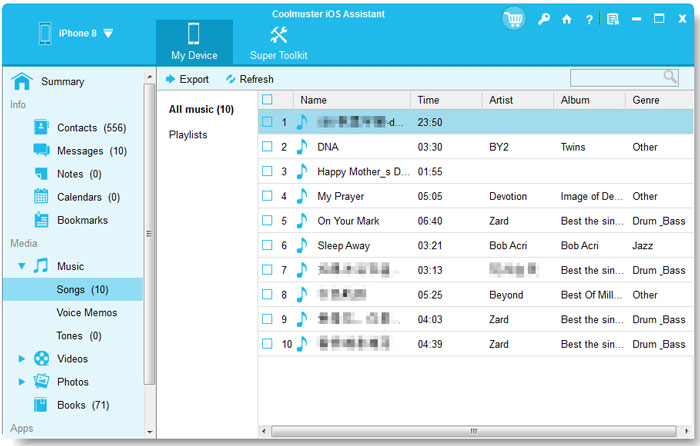 3) Click on Export to transfer files to the computer. He files will now be exported from your iPhone and a pop up will appear to announce the export completed when the process is finished.
That is all that you need to do! With this all-in-one Coolmuster iOS Assistant (Windows/Mac) software, it is just a matter of a few clicks to transfer music from jailbroken iPhone to PC/Mac computer within simple clicks.
Related Articles:
Guide on How to Transfer iPad Music to Mac