If you love podcasts and are an Apple devices fan, you can easily share the podcasts between your devices. You can transfer the podcasts from an iPhone to an iPad because of the following reasons;
• Need to sync your podcasts between your different devices through various stations, playback stations and podcast subscriptions.
• Need to allow Apple device owners to explore hundreds of thousands of free audio and video podcasts.
• If you wish to back up your podcast files on another device for reasons such as you are upgrading or gifting away your old iPhone, and you need not lose your data.
• To create more space on your iPhone, since most iPhone users like to listen to podcasts while on the go, and running out of space can interrupt your smooth schedule of catching the latest news on your concerned topics.
• Some users prefer watching podcasts with videos, vidcasts, on large screens, such as iPads or Macs. Having vidcasts on iPads is one of the best ways to have portable access especially if you are going to be away for a very long time.
However, sharing the podcasts between the devices is not easy especially if you do not have the correct application. Additional problems Apple device users face when transferring content between iPhone and iPads include the difficulty that comes with using some data transfer software when transferring podcasts between Apple devices. Some people have also complained about the complicated syncing process between Apple devices, hence interrupting their ability to listen or stream their podcasts afterward.
You Might Also Want to Know:
* How to Transfer Contacts from iPhone to iPad
* Transfer iPhone Podcasts to iTunes/Computer
Easy Way to Transfer Podcasts from iPhone to iPad
If you want to transfer podcasts from your iPhone to iPad and vice versa, the Coolmuster iOS Assistant (Windows/Mac) is a good choice for this activity. It is one of the best software in the market, assuring you of a smooth, fast and simple way to transfer phone data such as podcasts, videos, music, contacts, note, messages, calendar events, call history and voice memo between Apple devices.
If you treasure your podcasts, you will use it to make backups on iPads, hence export anything in one simple click without losing any data. The program is installed on your desktop or laptop since it is compatible with both Macs and Windows operating systems. This software offers one of the fantastic ways of managing iOS data on computers and portable devices in the end.
Simply, this all-in-one software provides Apple users with the following;
Ease of Use - It requires no particular professional skills for both beginners and experts. It makes it one of the easy to use and most reliable software in the market.
Batch Transferring - Your many podcasts will be transferred in batches in a quicker way, compared to exporting files directly between devices. You can easily export all the podcast files with one click.
Wide Compatibility - This software can support all files saved on your device such as contacts, messages, photos, videos, apps and many more. Also, different devices of iOS systems can be all perfectly supported.
Guaranteed Lifetime Upgrade Service - Every registered user is assured of free and regular updates of the powerful software, for a lifetime.
Now, you can follow the below simple steps to easily sync iPhone podcasts to iPad within simple clicks;
Step 1: Run the software and connect both iDevices to PC
Connect your iPhone and iPad to the computer via USB cables. After connecting them, run the great program by double-clicking its desktop application icon. It automatically detects your devices and displays your device information in the primary interface.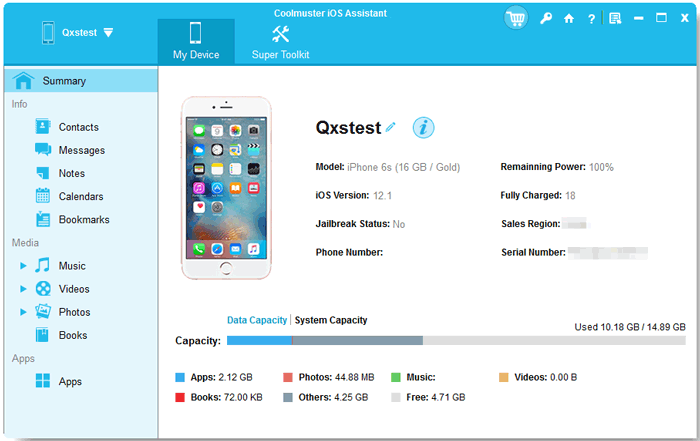 Step 2: Preview the Podcast Files before Transferring
All your files in the iPhone are displayed in different folders in the left panel. You will find your saved podcasts, click them and select the ones you wish to transfer to your iPad. They can be viewed in thumbnails.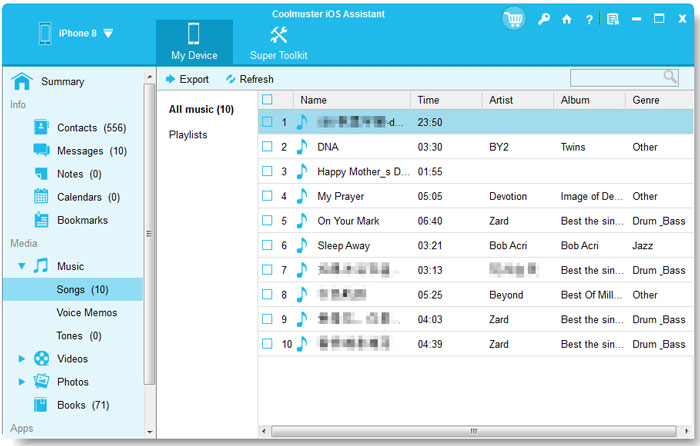 Step 3: Export files from iPhone to iPad
After viewing the required podcasts, copy and click "Export" on the top interface. After completing the transfer, a pop-up window will appear and remind you of the successful transfer of the podcasts.