How to Easily Sync iPod Music to New Computer
With all of the latest technologies available today, people can carry their music everywhere that they go. It does not matter what genre of music that people like, the latest devices can accommodate any style. In some cases, the music can be shared with others or transferred from one device to another. All the person has to do is know what processes that they need to be used to transfer their favorite songs.
Related: How to Share iPod Music Songs
So, for those of you who want to know how to transfer your songs from iPod to your computer, there are some common techniques that can be used. One of which involves opening up iExplorer on the Mac or the PC computer to make the transfer. To make this kind of transfer, however, the user will need to connect the iPod to the computer with a USB cable. Once the cable has been connected, the user will receive a prompt from iTunes that says make the transfer by clicking ok to sync both devices. After the OK button has been clicked on, the transfer of the music files will be made.
When an individual follows the transfer process listed above, there are some problems that can be encountered. Some of the more notable are listed as follows:
- User can encounter problems with syncing process and may need assisting with fixing these problems, based on the operating system that is being used.
- Syncing album art can prevent device problems.
- User may need help bringing the sidebar back with the iTunes 12 version.
- Music video option does not appear.
- Process can crash when syncing apps.
- Calendar and contacts do not sync properly.
- Tap update function does not work when trying to update apps.
- Duplicate songs will need to be deleted.
- Problems copying playlists from one device to another.
More Useful Articles:
* How to Sync iPad to New Computer
* Easily Transfer Contacts to New iPhone
Easier Way to Transfer Songs from iPod to New Computer
Unfortunately, the transfer process provided above, lends itself to a number of different problems and issues so these transfer can take time to complete correctly. Therefore, when the user needs a transfer process that can be completed easily, they can take advantage of Coolmuster iOS Assistant (Windows/Mac). With it, the user can complete these types of transfers with a 1, 2, 3 step process.
The coolmuster ipod to computer transfer process has been made easy for any user to perform, and it only takes 3 simple steps to complete successfully. Here's are the steps that the user should follow to complete it without unnecessary fixes being created.
1) Download and launch this program on your computer. And then link your iPod to the new computer via the USB cord. Then, this program will detect your device and scan for all files.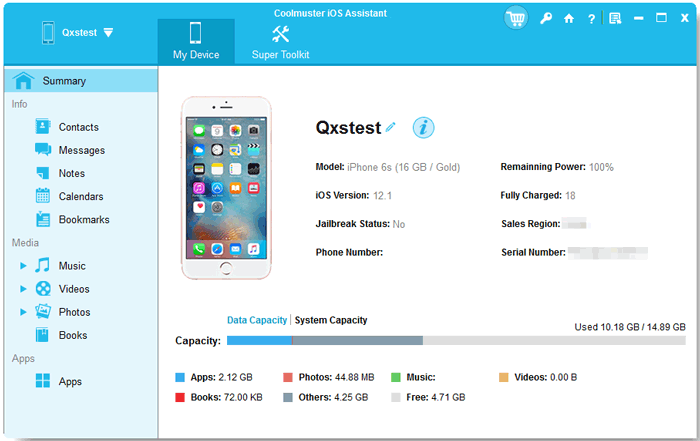 2) As you can see now, all different file folders are arranged on the left panel. You can enter the Music tab to preview more detailed file information and tick out the music songs that you want to transfer from iPod to new computer.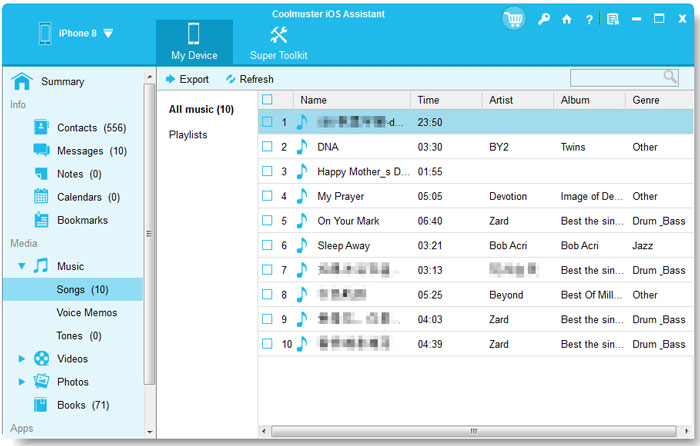 3) Hit the Export option to begin the file transfer from iPod to new computer. And then wait patiently for the process to get completed within a little while.
Related Articles:
How to Backup iPod without iTunes