What's the Best Video App for Android/iPhone?
Undoubtedly, video chatting applications on the phone have made our lives easier and happier again. Think again, talking to a person directly, be it your friend, family or workmate directly, even though they are miles away from you, is it not awesome? In addition you can see the person you are transacting with, face to face, from the other side, even when you are busy handling your own business, through your phone's 5 touch screen.
Why Need A Video Chat App for Android and iPhone?
There are many reasons why we need the video chat apps in the first place.
To begin with, we need to stay connected since the world has fast become a global village. Keep in touch with people, with such a direct link to them through videos; you can give them a peace of mind.
Additionally, you need to keep communicating with your business associates or workmates while transacting your firm's business. As much as emails are the preferred method of communication, teleconferencing through smartphones tend to be instant and a better way to express a situation and make an informed decision or get a second opinion touching on the business.
Finally, yet fundamentally, is that most smartphone makers are incorporating a built-in video software and hardware, for example, the front cameras, usually on top of the screen. Through this, mobile app developers are finding an easy time to design cross-platform video chat apps for both Android and iOS, to promote this type of communication.
Related: More Useful Apps for iPhone/iPad
Top 5 Video Chat App for Android and iPhone
1. Vonage Mobile (iOS/Android)
The app lets users connect with other users worldwide. It allows one to enjoy quality communication through texting, video calling, share photos and even make calls. The app lets users call international numbers with a low per-minute rate to both mobile phones and landlines.
• Make free domestic and international calls via WiFi and 3G/4G.
• Switch from voice to video calling and vice versa.
• Share video and receive video messages.
• One touch dialing, calling directly from your mobile phone's call log.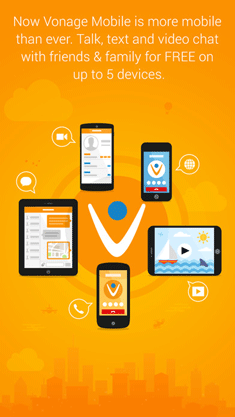 The app allows you to connect with over 400 million other Viber users across the world, making calls to even non-Viber users, thanks to the Viber Out option at low rates. It syncs with your contact list, hence make both video and non-video calls.
• Allows photo sharing, video messaging, with incorporating of locations, stickers, and emoticons.
• Guarantees push notifications, and through this, Viber users never miss a message or call, even when Viber is off.
• Integration and synchronization with user's contact list for calls and messages.
• It provides for free calls with high definition sound quality.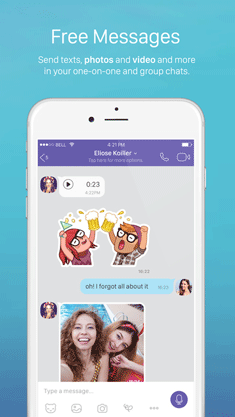 Inarguably one of the popular and most dependable apps, Skype has been on the market since 2003. It supports both front facing and rear camera without incurring any additional charges. You can make calls to landlines and other mobile numbers using Skype credits, cheaply.
• User send and receive instant messages for free.
• Users can send photos, videos and files of different sizes for free.
• Allows one to share special moments with free and unlimited video messaging through Skype.
It is one of the most dependable video chat apps in the market, allowing users to share texts, pictures, and videos. It has a high video call quality and does not require you to sign in unlike other video calling apps, making it easier to communicate with friends. You can challenge your friends in games during calls.
• Play games and share photos even when video calling.
• Listen and share song videos powered by Spotify.
• Edit your photos and share them with friends.
The app requires little introduction, thanks to its popularity. It is one of the simplest apps to use even for the less tech-savvy folks.
• Allows for the newly introduced video calling thanks to the new video calling feature.
• Enables user to send text messages, voice messages, and videos.
• Free for the first year, with service cost going for USD 0.99 in subsequent years.
Extra Bonus: How to Manage Downloaded Apps on Android/iPhone
In some cases, you may want to just transfer apps that have been downloaded on the computer to your smart phone, or possibly you want to manage the messy apps in good order, then how can you easily manage downloaded apps on Android phone and iPhone?
Here, for iPhone users, you can rely on this iOS Data Manager (Windows/Mac), which allows you to easily transfer any files freely between iOS device and the computer, so you are free to import apps from the computer to iPhone/iPad/iPod or export them to the computer as a backup in case of sudden data losses.
Note: For Android users, you can try this Coolmuster Android Assistant (Windows/Mac) software.
Related Articles:
Music Streaming Apps for iPhone/iPad