iTunes Not Syncing Music, How to Fix it?
If you are having problems with your iTunes music synchronization, you need not worry, since this is a common problem with many iDevices. Typically, iTunes syncs with any iDevice, but at times, it may not be a smooth process in the first place. There are some underlying factors causing problems to your iTunes synchronization with music.
Some of the common reasons include;
• Fault on your iDevice or iTunes - It is where there could be a fault of the app or the mobile device hence interrupting the synchronization process.
• iTunes Fail To Detect the iPhone - The first thing to check if there is an issue with the synchronization process is if the app can detect the device. Even after physically connecting the device, iTunes may fail to recognize it, preventing you from going any further.
• Recent Update on the iOS - If you have updated your iDevice's operating system, iTunes may fail to sync music to your device. Making any update on the iOS means that it comes with the latest version of iTunes.
• Failure to Sign In With the Correct Apple ID and Passkey - It mostly happens if you are trying to use a computer that may not be authorized for use with your iTunes account.
Related: How to Fix iTunes Incompatible Issues?
Fixes to iTunes not Synching Music Issue
• Restart the iOS device, and then try to sync the music again. Slide the red slider on your screen, towards the right and ensure the iPhone restarts.
• You may need to try connecting the PC and iPhone using a different USB cable and port, then go ahead to sync again. Some of the data transfer cables collapse internally, hence the failure to connect and detect the iPhone.
• If you have updated your iOS, you also need to update your iTunes software. After downloading and installing the drivers, reauthorize the account with your iTunes ID and passkey.
• Fix the iDevice with an effective tool for example Coolmuster iPhone to Computer Transfer software.
You can try the above steps to solve iTunes not syncing music issue, but you can also trust the below all-in-one iTunes alternative to sync music at ease.
Final Fix: Best iTunes Alternative to Sync Music
Serving as the best alternative to iTunes, this Coolmuster iOS Assistant (Windows/Mac) is a 100% safe synchronization solution to transfer files across different iDevices. With it, you can:
• Intelligently export data from your iDevice to a PC. Your precious music files are securely backed up, preventing them their loss in case the phone crashes.
• View all your documents and files in different modes; selectable thumbnails and list view.
• Significantly trim down the time you would use in tracing files from your iPhone or iPad, locating it easily for your reference.
• Enjoy an easy to use interface, for both beginners and experts. Just simple clicks, handling each syncing process as easy as 1-2-3.
• Enjoy batch transfer of files. Even with lots of music files to be synched, you can export them to your iTunes account with ease and in just under one click.
• Fully manage music, video, and photo among other precious files between your devices, using a single to import or export the documents.
Useful Guides You May Want to Know:
* How to Backup iPad Data with/without iTunes
* What's the Best Backup Software for iOS Devices?
How to use it?
After running the installed software, connect your iDevice to your PC. Proceed to:
• Preview your music files before transferring to your iTunes account. It displays the folder in panels divided into favorites, playlist, and albums. You are only required to check the categories and preview on the detailed information about the files.
• Export music files from the iDevice. After marking the music files you wish to export, click on the "Export" tab, usually on the top of the user interface. Upon completion of the syncing process, a pop-up window alerts you of the process' success.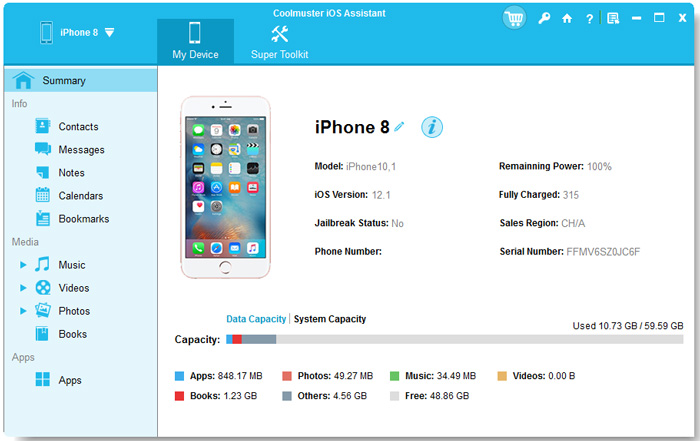 Related Articles:
How to Backup iPhone Contacts to iTunes