Everything to Do before Downgrading/Upgrading Apple iOS
Generally speaking, when the newest iOS version is released, there are always quite a few iOS device users will prefer upgrading to the newest version since it boasts of more advanced functions and features. While some people greatly enjoy the newest version, some other people may be prone to downgrading to the older version after experiencing the new one for some time. But never downgrade or upgrade your iOS devices on an impulse! Or otherwise the possible result you will get is that you will suffer from sudden data losses or other problems. Now, let's have a look at what needed to do before downgrading or upgrading Apple iOS.
> Make sure to make a phone backup.
> Make sure to have a recovery tool.
> Other things need to be done.
Part 1 - How to Make a Phone Backup
Before upgrading or downgrading your Apple iOS, you are suggested to make a phone backup of your iOS devices in case of data losses during the process. In terms of making a phone backup, you have more than one options. For example, you can rely on iTunes, iCloud, Gmail, Facebook and etc. to backup important files from your iPhone/iPad/iPod. But, here you have another better choice - Coolmuster iOS Assistant (Windows/Mac), which frees you from the troubles of capacity limits underlying within iCloud, or other problems like time-costing issues, file and device compatibility within iTunes, Gmail and etc.
As the best backup software for all iOS devices, it enables you to quickly make a phone backup of your iOS devices within simple clicks, including various files like contacts, messages, music, apps and etc. It offers you a super easy-to-understand interface. So all you need to is follow the exact steps as instructed to begin the file backing up process!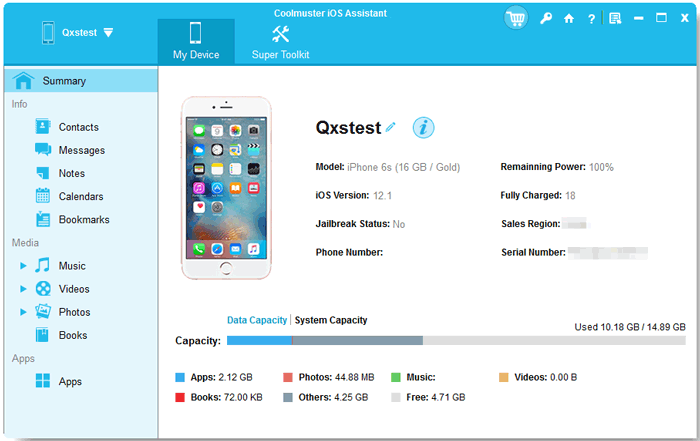 Steps to do it:
- Open the installed software and link iOS device to the computer.
- Enter different file tabs to preview more detailed information.
- Make a phone backup by clicking on Export option to begin file transfer.
Part 2 - Recovery Tool to Restore iOS Devices
However, not all people will have the habit of backing up files. So what if you lose your important files from iOS devices after finishing the upgrading or downgrading process? You will have no options but tear yourself apart from the vital files?
Actually, you can rely on this Coolmuster iOS Data Rescuer to get backup the lost files. This software is able to recover the lost files from your iOS devices via iTunes backup or via iDevice itself. So you can choose either way according to your real situation.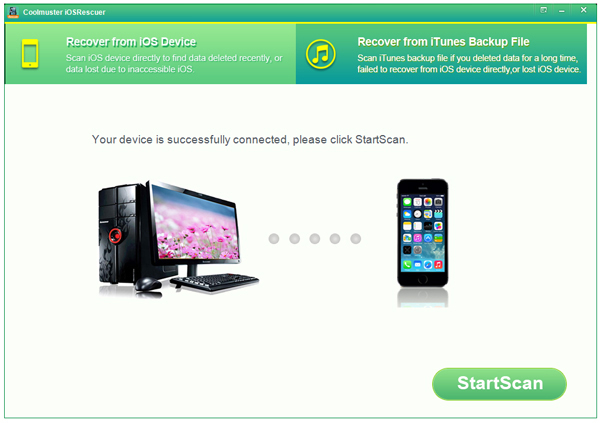 Steps to use it:
- Open the installed software on the computer and get your device linked to the computer.
- You will see an interface where you are offered two options: recover from iDevice and recover from iTunes backup. Choose the right mode to continue the process.
- Select the files you want to recover and then hit the Recover option to recover the lost files in one click.
Words in The End - Other Preparations
The two things mentioned in the above are of the most importance in terms of things done before downgrading or upgrading Apple iOS. Also, there are other little things worth your attention.
> Enough battery is required during the process. So you need to make sure that your device is at least 70% charged. Here you might want to know:
How to Extend Battery Life for iOS Devices
Will iOS 9 Battery Life be Extended?
> Be fully familiar with the wanted iOS version. For example, if you plan to update to iOS 9, you should know all the major features of this Apple iOS 9.
> Gather feedback over the Apple iOS you want to upgrade or downgrade, so as to decide whether to begin the process.
> Find solutions to possible problems after downgrade or upgrade. For example, if you want to update to iOS 9, you need to get all fixes to potential dangers.
> Carefully follow the upgrade and downgrade steps as instructed.
Now, you are free to start the Apple iOS downgrade or upgrade process as you needed and wanted!
Related Articles:
Top 8 FAQs about iPhone Jailbreak & Update
How to Downgrade iOS 9 to iOS 8.4
Easy Way to Downgrade iOS 8 to iOS 7
Add a comment