iOS 12 Dark Mode: Everything You Want to Know
For a very long time now, Apple has given iPhone users the ability to invert colors on the screen. Later, they introduced the grayscale mode in iOS 8, the Night Shift mode in iOS 9 and then the red screen filter in iOS 10. The dark mode was added for the iOS 11 and iOS 12 users. The iOS Dark Mode usually inverts the color of the background and many other components of various apps in iOS from light color shades to black and dark grey.
Unlike the previous "classic invert", the new "Smart Invert" does not reverse everything and particularly the images, media and all the other iPhone apps that already use dark color styles. Once the dark mode is enabled, it provides the device user with a reverse color scheme that is intended to improve readability.
Part 1. How to Access Dark Mode Setting on iOS 12
Part 2. How to Turn On/Off Dark Mode on iOS 12
Part 3. 18 Best iOS Apps with Dark Mode on iOS 12
Part 4. How to Effectively Manage Data on iOS 12 for iPhone
Part 1. How to Access Dark Mode Setting on iOS 12
iPhone XR, Xs, and Xs Max can benefit from the dark mode since they have OLED panels instead of LCDs. These panels will turn off the parts that are showing true blacks on the phone display.
If you are an iPhone user and do not know how to access the Dark Mode setting, tap on the "Settings" icon, then to "General", to "Accessibility", tap on the "Display Accommodations" icon and choose to invert colors. After that, toggle on the "Smart Invert" that is displayed on the menu.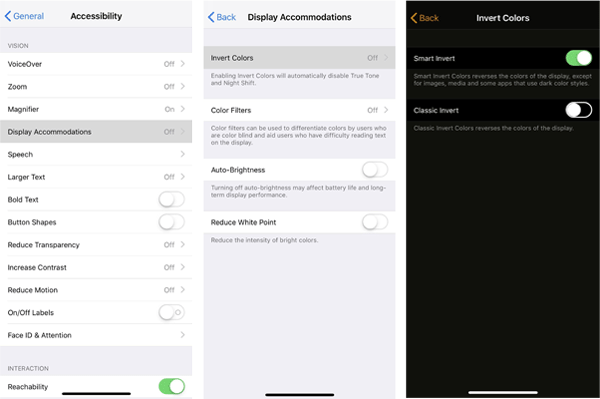 You May Like: How to Upgrade iPhone to iOS 12
Part 2. How to Turn On/Off Dark Mode on iOS 12
If you have tried using the iOS 12 Dark Mode, there is a possibility that you have liked it. This means that you need to know how to turn it on and off. Setting up an "Accessibility" shortcut is one of the easiest ways of setting the Dark mode on and off.
There are two different ways of creating this shortcut. First, you can use the triple-click Home button shortcut if your iPhone has a Home button. Alternatively, you can use the triple-click side button shortcut if you are using iPhone X and any other newer version and the third alternative is that you can add the "Accessibility" shortcuts icon to the Control Center.
* Using the Settings shortcut
Whether you decide to create the triple-click shortcut or the Control Center shortcut, you need to open in "Settings", "General", "Accessibility" and then "Accessibility" shortcut. Clicking on the "Smart Invert colors" allows you to activate this setting.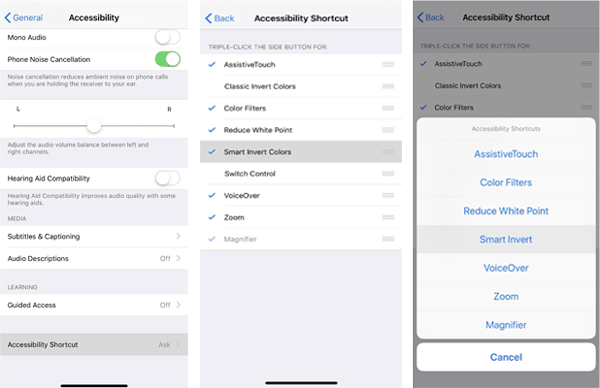 * Using the Control Panel shortcut
In case you have created a shortcut from the device's Control Center, you need to know how to use the shortcut. Go to "Settings", "Control Center", "Customize Controls" and then add the Accessibility shortcuts control to the include list. To bring up the menu to a position where you can toggle the mode on and off, you can either long-press or 3D touch on the icon that is already in the Control Center.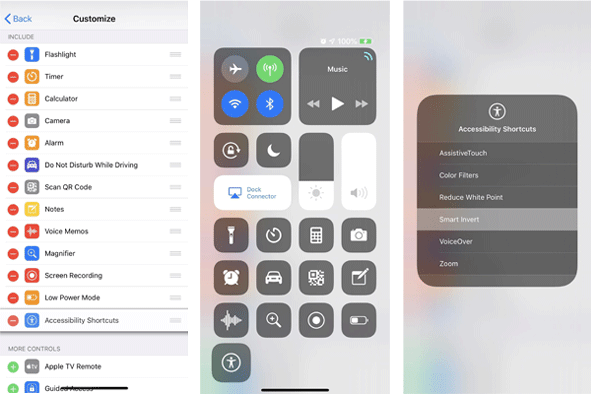 Part 3. 18 Best iOS Apps with Dark Mode on iOS 12
Last year, Apple redesigned the App store with a concentration on curation from human editors. Every day, Apple editors created lists of the best applications in specific categories. Recently, they created a list of the best Apps with dark mode option on iOS 12. It would be correct to say that iOS 12 does not include a system-level dark mode. However, the applications that include this mode have gained a lot of popularity.
The following are some of these Apps:
* Wikipedia
* Reeder 3
* Bear
* GoodTask 3: To Do List
* Reddit
* Trending News
* Instapaper
* Halide Camera
* Just Press Record
* Twitterrific
* Overcast
* Polar Photo Editor
* Drafts 5
* Calzy 3
* Apollo for Reddit
* Feedly
* Anybuffer
* Fiery Feeds
* RSS Reader
* Grocery
* Speedtest by Ookla
Part 4. How to Effectively Manage Data on iOS 12 for iPhone
Besides the much better performance contained in iOS 12, the software incorporates several exceptional new features. The new features help users handle their iDevices much more comfortably. Here is how you can efficiently manage your data on the new upgraded iOS 12.
1. Backup, restore and manage data on iOS 12
Want to import files from PC to your iDevices? Want to backup data from iPod, iPad, iPhone to your PC? Want to restore backed up data to your iOS devices? Want to possess entire control over the data in your iOS device? If so, Coolmuster iOS Assistant can help you accomplish these tasks. This app is the best when it comes to managing your iOS gadgets. The good thing about the app is that it is easy to use, compatible with most operating systems in the market, and can also transfer huge files.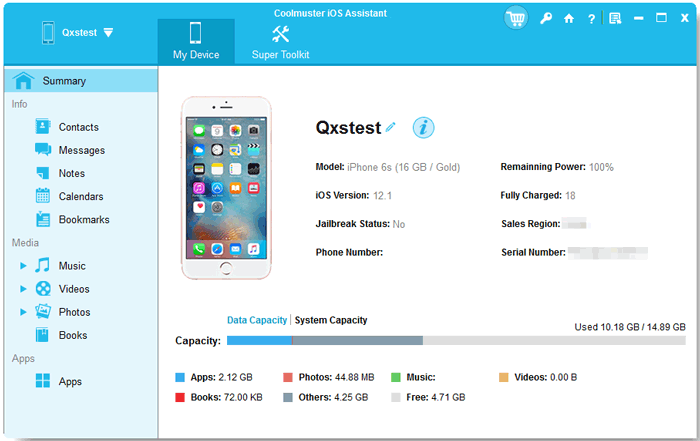 2. Transfer data from/to iPhone with iOS 12
If you have no idea how to transfer data from your old iPhone to a new iPhone, worry no more. Coolmuster Mobile Transfer application is a tool that assists user transfer data from one device to another iPhone without damage. The app is also compatible with Android devices, and you can thus transfer old data from your Android smartphone to iOS 12 with ease.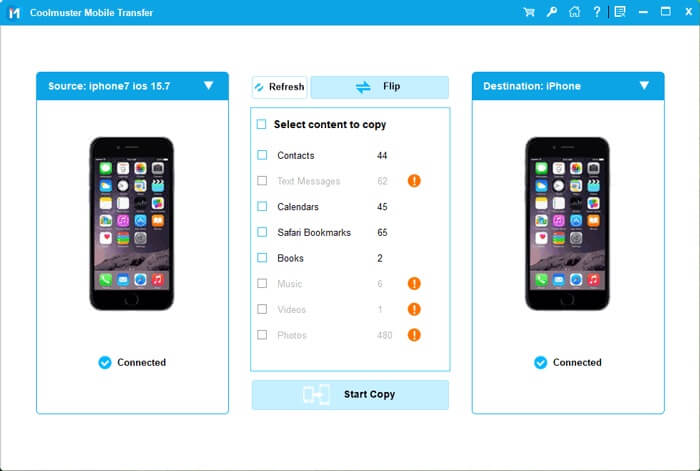 3. Recover lost or deleted data from iPhone with iOS 12
Presently, it is common for most iPhone users to lose or delete data. With this, every user would like to have a solution that helps track lost data or retrieve deleted data. The Coolmuster Data Recovery software for iPod, iPhone, and iPad will help you recover your lost data from iPhone, iPod or even iPad with a few clicks. Additionally, you can use it on most OS platforms in the market.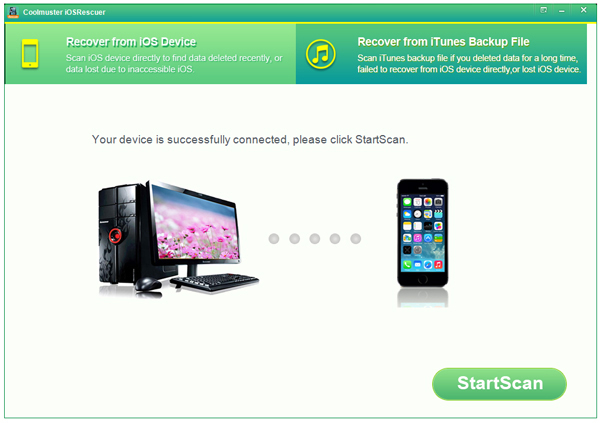 4. Permanently delete data on iPhone with iOS 12
To protect the sensitive data in your iPhone from leakage in case of theft or loss, Coolmuster iOS Eraser can achieve your entire requisite to wholly and permanently erase all data on the iPhone. The software wipes the entire system settings, deleted files, private info, and much more info on your iDevice with zero probability of retrieval.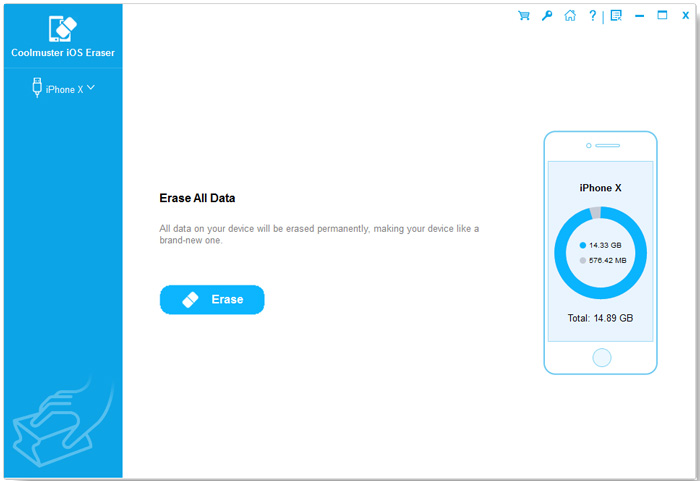 Related Articles:
How Can I Delete Photos from iPhone But Not iCloud? [Solved]
How to Export Purchased/Non-purchased Books from iPhone to PC/Mac
iPhone Won't Sync with iTunes after Upgrading to iOS 12, How to Fix It?
How to Fix Siri Not Working after iOS 12 Update
How to Easily Delete iOS Update on iPhone/iPad
Add a comment