iTunes Report A Problem: How to Get Support for iTunes or App Store Products
What is "Report a Problem"?
"Report a Problem" to Apple support generally means informing them of any problems you could be experiencing with the App Store or iTunes items you purchased within 90 days. There are many issue topics that Apple offers that one could be experiencing which include:
* Unauthorized purchases: these are all the products that you could have been billed out for but weren't within your purchases.
* Missing purchases: this is the purchases one could have made but couldn't find them in their library or were unable to download.
* Unusable purchases: these are ranked as products that don't download, install, open correctly or fail to work after the purchase is made.
* Misrepresented purchases: these are products that fail to live up to their descriptions from the app store.
When the buyer reports the problem, Apple gets back to them and offer the support they require. Some of the assistance that the buyer may get includes technical and troubleshooting which is guaranteed of smoothing the software errors. In some cases, iTunes and App Store refund to the customer for any unauthorized or accidental purchases.
Part 1. How to Report A Problem to Apple?
Mainly one can report a problem to Apple from three different ways that include: from the invoice, website or iTunes. The three options are well explained below.
(1) Reporting a Problem from iTunes
iTunes on a Mac or PC can be used in viewing all the purchases one has done which will assist in reporting a problem to Apple. To do this, please keep reading.
- You can go to the iTunes menu-bar, then click "Account" followed with "View My Account". You will be needed to enter your Apple ID password and this way you can see all the information about your account.
- If you click to the "Purchase History" heading followed by "See All", you can see all the purchases made from your ID. However, you are only able to view purchases made just from the last 90 days from iTunes by the default setting.
- These items have the option of "More" next to each whereby you can click to view more details of the purchase such as device, seller, date and there you have a link where you can report a problem.
- By clicking on the "Report a Problem" link, you will be directed to the relevant page on Apple's website where you get to choose the category and description of the issue.

(2) Reporting a Problem from the Website
To report a problem from Website for any of your recent purchases, please:
- Go to reportaproblem.apple.com.
- You will be needed to sign in using your proper Apple user ID.
- In the account, you can access a list of all every iTunes or App Store items bought within the last 90 days.
- You are provided with a "Report a Problem" button to every purchase where you can describe the nature of your problem to the Apple. Category needs to be selected before submitting your issue.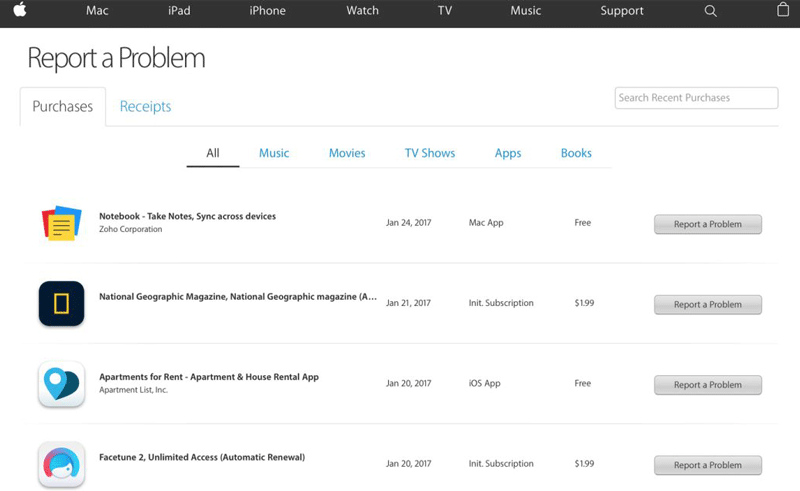 (3) Report a Problem from the Invoice
When you purchase with iTunes or App Store, you get an invoice that is sent to the Apple ID email address. It arrives a few days after the purchase of the item and has details of the purchase. It also provides a link (https://reportaproblem.apple.com/) whereby you can write your issue to Apple if the need arises. The link often is the most comfortable means to report a problem not unless you cannot locate the invoice. When you click to the link, it loads to your Apple's website where you can choose the category and description of the purchase issue.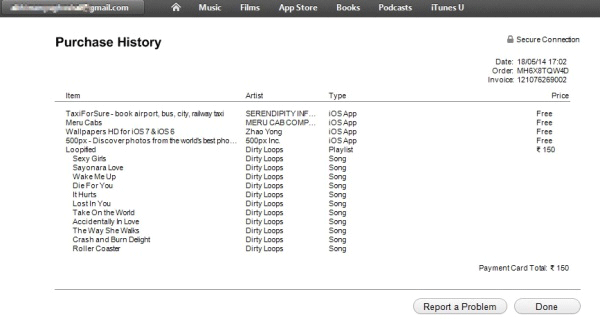 Part 2. What to Do if Your Purchase is Older than 90 Days?
By default, Apple's support is supposed to last for the first 90 days of the purchase. However, there are still many people who have purchase issues that date back further than the given period. Although it cannot be guaranteed that such cases would receive support, there are still a few things one can try.
(1) Contact Apple Support Directly
Sometimes you may have cases where you cannot reach the App developer directly or Apple, and you may need to contact Apple support directly. Sometimes you may not get specific assistance for third-party apps, but you should at least get basic troubleshooting directions which may be helpful in fixing errors.

(2) Contact the App Developer Directly
If you are lucky to have purchased an item from a good App Developer, they will be concerned about the problems with their apps. Sometimes you may be unlucky to find that some are no longer active but still should be able to reach out to them for necessary assistance. App Developers can offer you a quick fix to your purchase issue or promise a fix in their next app update. You can get details of how to get support from App developers of Apple.
Part 3. How to Transfer Purchased/Non-purchased Files to iPhone?
Due to copyright issue, iTunes only support to transfer purchased files, but not those non-purchased files. After purchasing products from iTunes or App store, it is supposed to be no problem to transfer purchased files with Apple's iTunes. What if there are some files that are not purchased but you need to transfer? The Coolmuster iOS Assistant must be your best choice to transfer both purchased and non-purchased files.
Download the right version on your computer and get started now.
So how does the Coolmuster iOS Assistant work?
Tip: Please install the latest iTunes on your computer for successful connection.
Step 1. Run the Coolmuster iOS Assistant on the Computer
When you download the right version of Coolmuster iOS Assistant, open it and see the interface. Connect your iPhone through USB. The software detects your iPhone which prompts a pop-up window on your computer. Click the Trust option on the iPhone followed by "Continue" option to proceed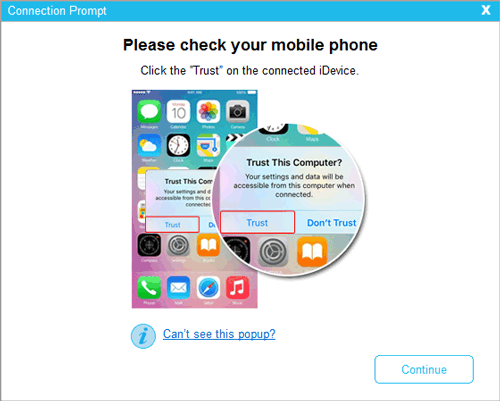 When your iPhone is successfully detected by the program, you might get the interface as below: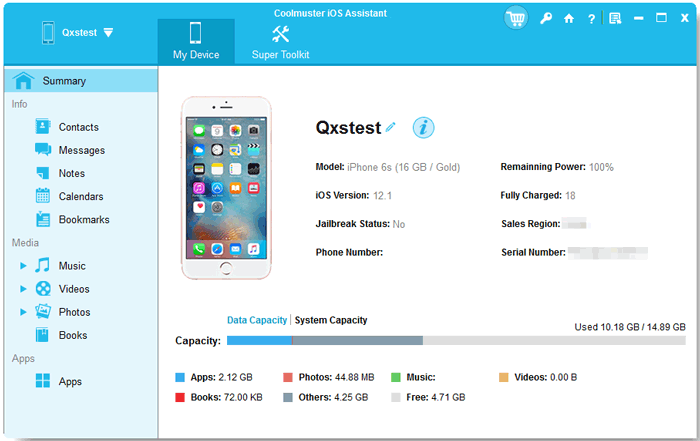 Step 2. Import Files from Computer/iTunes to iPhone
(1) Import files from computer to iPhone:
> Go to the file tab (Books/Bookmarks/contacts/calendars/etc.);
> Click the "Import" button and navigate to those files you want to transfer to your iPhone;
> Click "OK" to transfer the files.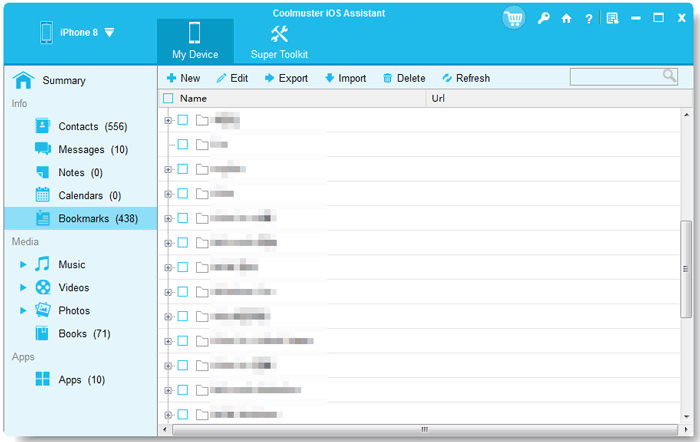 (2) Import files from iTunes backup to iPhone:
> Go to "Super Toolkit" > "iTunes Backup & Restore" > "Restore" on the main interface;
> Choose your device and a backup file from the list;
> Click "OK" to restore iTunes backup to iPhone immediately.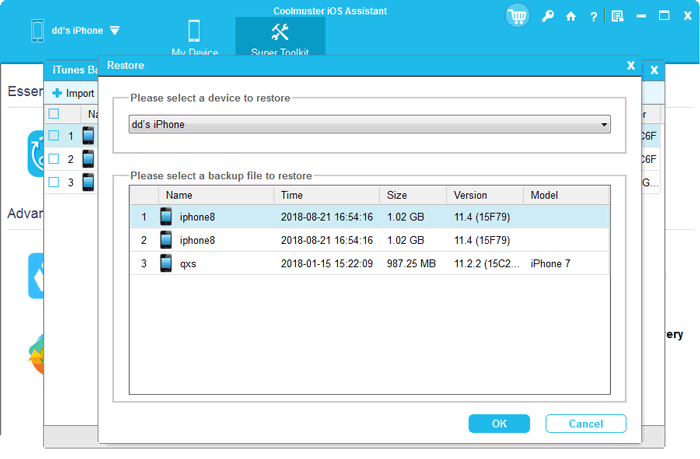 Want to have a try? Go ahead! Of course, if you have any problem for Coolmuster iOS Assistant on installation, connection, use and other technical problems, you are welcome to contact the Support team via email at support@coolmuster.com. You will get a reply within two business days.
Related Articles:
[Solved] How to Move Purchased & Non-Purchased Podcasts from iPhone to Computer
How to Export Purchased/Non-purchased Books from iPhone to PC/Mac
2 Methods Show You How to Transfer Photos from iPhoto to iPhone
How to Export Photos from Computer to iPhone
How to Download iCloud Photos to iPhone Xs/Xs Max? [Solved]
Add a comment