How to Change Apple ID for iPhone, iPad or iPod touch?
Apple ID is the personal account for iPhone/iPad/iPod/Mac and other Apple users to access Apple services, such as App Store, iTunes Store, iCloud, iMessage, FaceTime and etc. You can log into all Apple services with one single Apple ID and Passcode. To change an Apple ID, you can modify the email address or password associated with the Apple ID. This article will show you how to change Apple ID in case you need to know.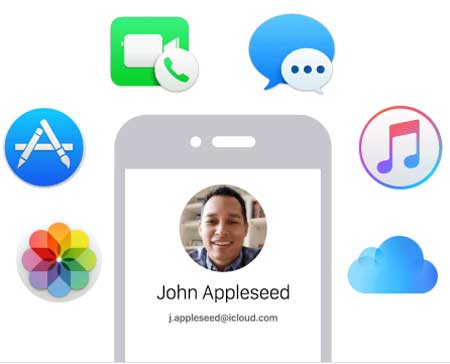 Part 2. How to Modify Apple ID on iPhone or iPad
Part 1. Why Change Apple ID?
There are several common reasons that makes users want to transform the Apple ID for their iPhone, iPad, iPod, Mac and etc. Let's see what they are.
- You want to change the email address of Apple ID because the old email address is inactive or not commonly used.
- You want to create a new Apple ID but your iDevice keeps telling you that "Email address is already in use as an Apple ID."
- You forget the Apple ID password.
- You don't remember your Apple ID (email address).
- You just want to use a new Apple ID to make a fresh start.
See Also:
Using One Apple ID to Manage iOS Devices
Part 2. How to Modify Apple ID on iPhone or iPad
As mentioned, you can use one single Apple ID to access all Apple services, so you can change Apple ID on any one Apple device and then you can access any other Apple device with new Apple ID. Besides, in order to alter Apple ID, please make sure your device has a good network connection while the process.
Here is how to update Apple ID:
Step 1. Unlock your iPhone or iPad and go to "Settings" section, then find out and tap "iTunes & App Store".
Step 2. Then you might see your current Apple ID on the next screen. Then tap your Apple ID to bring out "Sign out" option. Tap "Sign out" button and your device will ask you to enter your password of Apple ID again.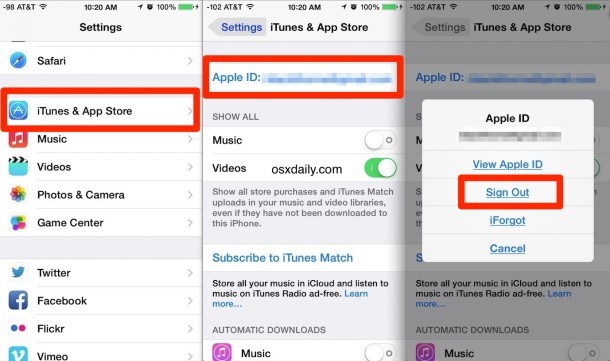 Step 3. Under the "iTunes & App Store" screen on iPhone or iPad running iOS 10.3, please tap "Name, Phone Numbers, Email" option, then tap "Edit" option besides "REACHABLE AT".
Step 4. Swipe left on the current Apple ID to bring out the "Delete" button on the right side of Apple ID.
On some devices, instead of swiping left, you need to tap "-" icon next to the email address to delete the Apple ID. And if your Apple ID ends with @mac.com, @me.com, or @iCloud.com, you can not swipe left.
Step 5. After deleting the Apple ID, it will pops up a window saying "Choose another address to use as your Apple ID", just tap "Continue" if you are sure.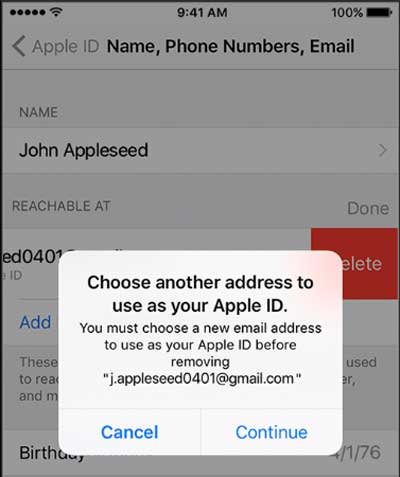 Step 6. Then tap "Add Email or Phone Number" option to enter a new email address for the new Apple ID.
Step 7. Click "Next" button, then a email containing the verification codes will be sent to your new email address.
Step 8. Open the email and copy the verification code and paste it on your iPhone to verify your identity with Apple.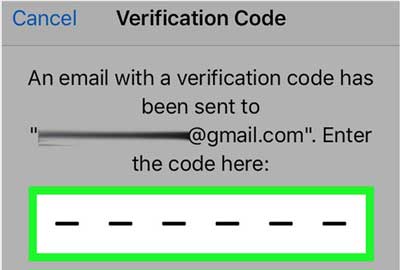 Step 9. After that, you have changed your Apple ID successfully. You can sign in with your new Apple ID.
Related Articles:
How to Remove Apple ID from iPhone without Password
How to Manage iPhone without iTunes?
How to Recover Lost Data from iPhone
Add a comment