How to Clean iPod touch iTunes Radio Caches?
Look into the storage memory in your iPod touch, you must find that except photos, videos, music and apps, there are still other more unconspicuous files taking up your iPod's memory. These "other" files are usually iTunes radio caches, the product of a combination of local caches from all your apps, any type of browsers you use, your email files, reading list, saved games, app-specific documents and other superfluous files. If there aren't a lot of these files in your storage space, you can keep these files on your mobile device almost indefinitely. But if these files accumulate for too long, then you will often experience decreased functionality and responsiveness. To clean iTunes radio caches from iPod touch, people have their own ways. Some of they choose to use data cleaning app on iPod touch.
However, the best way to manage and delete iTunes radio caches on an iPod touch is using a third party desktop software that you use in conjunction with a laptop computer rather than directly on your mobile to prevent the app to occupy your iPod's memory again. Coolmuster iOS Cleaner or iOS Cleaner for Mac is just such kind iOS cleaning software that can be installed on both Windows and Mac computers. With just one click after you connect your iOS device to the computer, you can wipe all your junk data files such as iTunes radio caches, app caches, app cookies, app temp files, app crash logs, downloaded temp files, photo caches, user storage files, etc. that often make up that pesky "other" category on your available storage gauge on your iPod touch, iPhone and iPad.
Coolmuster iOS Cleaner digs searches and scans the totality of your iPod touch and quickly locates out these iTunes radio cache files and finally erases them permanently. To delete iPod iTunes radio caches with iOS Cleaner, download the software for free from the following button onto any PC or Mac desktop. Then make sure your iPod touch is connected to your computer via USB cable. Then, all you need to do is:
Easy Approach to Remove iTunes Radio Caches on iPod touch
Step 1 - Launch iOS Cleaner to get ready
After downloading and installing iOS Cleaner for Mac, it will automatically detect the iPod touch you connected to the computer. In the main interface of the program, choose the option marked "Quick Clean", which will lead you to the first step started for cleaning iTunes radio caches on your iPod touch.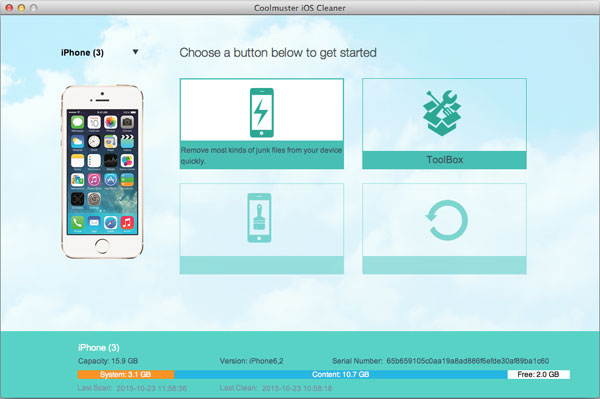 Step 2 - Choose iTunes radio caches to delete
After entering the Quick Clean, all junk files that can be deleted are displayed, including app caches, app cookies, app temp files, app crash logs, downloaded temp files, photo caches, user storage files and more. Remain the items you want to delete checked, and then click "Start Scan" to go to the next step.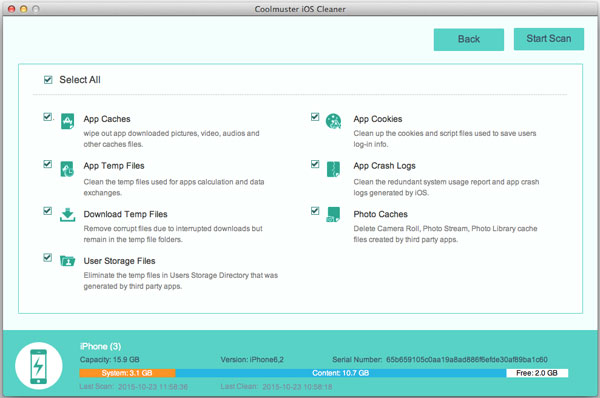 Step 3 - Start to clean iPod iTunes radio caches
When iOS Cleaner finishes scanning the items you have checked, you can preview and select the iTunes radio caches you want, then, click "Clean" to start clearing those files on your iPod touch.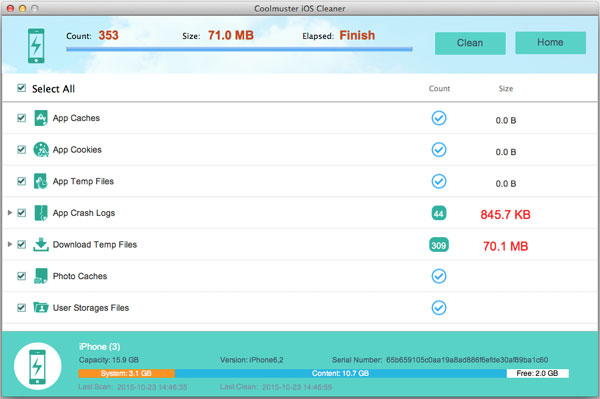 If you appreciate the Coolmuster iOS Cleaner a little bit, please share it with more friends.
Related Articles:
How to Delete Download Temp Files from iPad