How to Delete App Caches from iPad Permanently?
Every app installed in a smart device occupies certain percentage of RAM in order to accomplish its functions. There are apps which are RAM hungry such as games and productivity tools while there are others that utilize minimal RAM. There are apps even when they are not displayed on the screen, they are still running in the background. This could affect how your device functions as well as the RAM. And the more apps you are running on your iPad, the more app caches would be created. Some big apps, such as Instagram, Spotify and Vine take up over 500MB of space for cached data, which has seriously killed the storage space on your device.
In order to improve your iPad running speed, not only you need to delete some unnecessary apps, but also app caches. Worse still, most of the users don't engage in deleting cached space. Now, it's time to change your ideas to free up your device. And Coolmuster's new product - Coolmuster iOS Cleaner or iOS Cleaner for Mac can accurately detect the location of all the app caches and wipe them out permanently with one click. In addition to app caches, you can also use iOS Cleaner to delete app temp files, app cookies, app crash logs, download temp files, photos caches and user storage files from not only iPad Pro, iPad Air, iPad mini, iPad 4, The new iPad, iPad 2, etc., but also iPhone and iPod touch.
So go ahead to delete all of the app caches from your iPad by using the Coolmuster iOS Cleaner. The program comes with both Windows and Mac versions, and here we will set Mac version as example to show the detailed steps to operate it. If you are using a Windows PC, you can choose to download the Windows version as below.
Safe Way to Wipe out App Caches from iPad Pro/Air/4/mini
Step 1 - Open iOS Cleaner on your Mac
Get the Mac version of iOS Cleaner downloaded and installed on your Mac, run it and then connect your iPad to the Mac via Apple provided USB cable. Once the connection is enabled, iOS Cleaner for Mac will automatically detect it and show you its main interface like the picture below. You can continue by choosing the Quick Clean mode.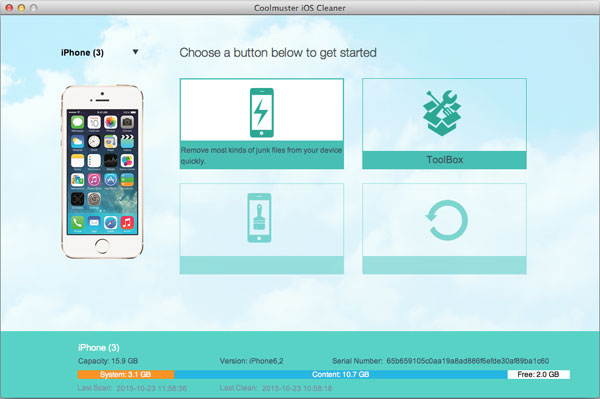 Step 2 - Scan app caches for deleting
In the Quick Clean mode, all deletable files are listed here. Just choose the "App Caches" option and click "Start Scan" to let the iOS Cleaner for Mac scan out all the app caches on your iPad.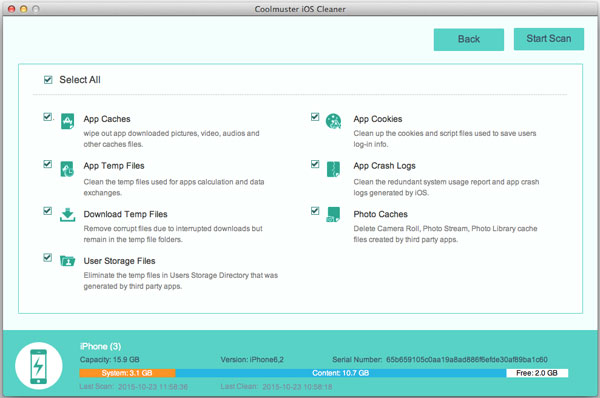 Step 3 - Start to delete app caches from iPad
All existing app caches on your iPad will be scanned out and displayed here. Now, you can check them carefully and select those you want to delete. Finally, give a click on the "Clean" to kick off the app caches deleting on your iPad.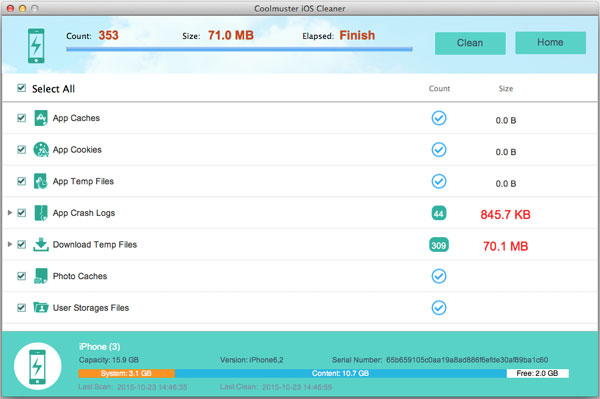 Deleting app caches from your iPad by using Coolmuster iOS Cleaner for Mac is secure, which will not effect the normal use of your iPad apps. Therefore, free download the professional iOS cleaning tool to try it out now!
Related Articles:
How to Clear Photo Caches on iPhone