How to Delete Files, System Options and Apps on iPhone?
Sometimes people have their iPhones for long periods of time. In some cases, they will download all kinds of files, system options and apps for a wide diversity of situations and purposes. Therefore, the space that the person has available can easily be eaten up quickly overtime.
Space problems can cause multiple problems including causing the performance of the operating system to begin to run slowly or the person may need more space to store additional apps. There is another essential reason for deleting files, apps and system options off an iPhone, and this is for the purposes of selling or transferring the device from one owner to another. Because people want to protect their information, the deletion process must be done before changing hands.
What Do You Need to Delete iPhone Contents?
To make this job easier, iPhone users can use the Data Eraser for iOS (Windows/Mac) to take care of these security and confidentiality issues. The primary function of this tool is to wipe the device 100% clean so that the new owner will not have access to the previous owners' information. Before using Data Eraser for iOS, most owners want to know a little bit more about what it can do and how to use it. So, here's 4 of its main features that this auto iOS Eraser provides:
* Simple deletion feature to delete all personal data like text messages, contacts, photos, videos, music files, notes, personal account info, passwords, and emails from your iPad, iPhone and iPod permanently;
* Overwrite feature that prevents sophisticated tools from recovering sensitive info;
* Provides 3 different erasing levels for users to choose: Level one - only erase iPhone, iPad, and iPod data. Saves time. Level two - erase data and leaves no trace since it is overwritten with random info. Level three - most secure by overwritten 3 times to prevent recovery;
* Standalone tool and supports all Windows and Mac platforms.
The makers of this iOS Eraser has made it easy for the owners of the iPhone to take care of these and other similar issues. One of the main goals that the developers of this software eraser had in mind is to make the procedure as simple as 1, 2, 3. This means anyone who has an iPhone has the ability to erase the data without having to depend on a lot of added assistance.
Tutorial on Erasing Files, System Options & Apps from iPhone
Step 1. Install iOS Eraser on the computer
The first step is to download and install the Data Eraser for iOS on the computer. After the installation process, you can launch it and connect your iPhone to the computer via a USB cable.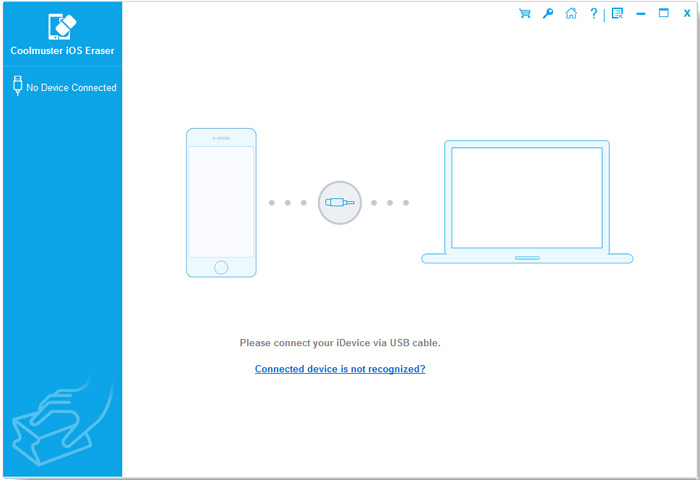 Step 2. Select a suitable erasing option
Wait for the new window to pop-up before selecting the action that you want to take. The user can perform one of the three functions: Erase Private Data, Erase Deleted Files and Erase All Data. You can choose "Erase All Data" to move to the next step.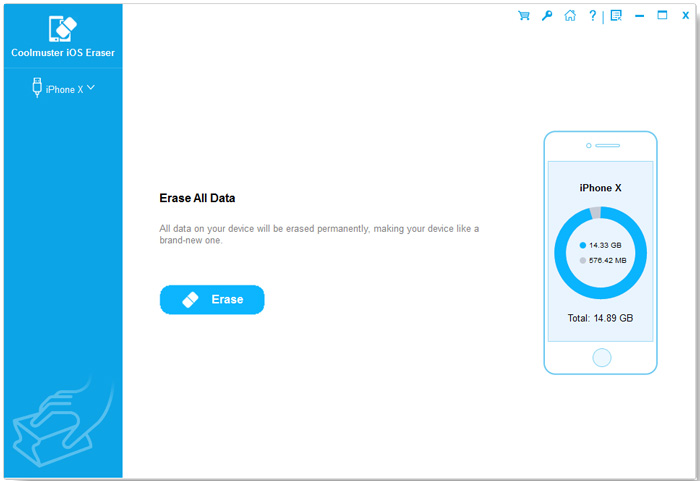 Step 3. Delete iPhone files, system options and apps
After you choose the option of "Erase All Data", all data on your iPhone will show here one by one. Just preview and select the data you want to clear from your iPhone and then click the button marked "Erase Now" to start.
Note: Before you clear your iPhone data to free up space, we kindly suggest you backup iPhone data on computer beforehand.
Related Articles:
How to Delete Multiple Notes on iPhone