All-in-One Solution to Delete Photos from An iPad
Tablets like other smart devices have become useful in the everyday life of the user. Thanks to amazing features like HD cameras and apps, users are able to capture every sweet moments that unfold before them. Tablets allow users to download photo management apps which can be used to add captions, backgrounds and even create scrap books. Through the life time of a device, the user will have captured thousands of photos where majority will be stored on the device. Regardless of having these precious images, there are moments when one needs to delete photos from their tablet. For example, when you need to increase storage space on your iPad in order to improve performance of it.
If you want to delete photos from iPad securely, then you need to start using the Coolmuster iOS Cleaner or iOS Cleaner for Mac. It is a Windows and Mac OS compatible application that is designed to erase personal information from iOS devices such as the iPad, iPhone and iPod. iOS Cleaner is designed with auto detecting and scan function. This feature is very useful as it allows the user to find personal data and information such as text messages, contacts, videos, music, apps, account information, history, passwords and emails. Thanks to the stand alone application, the user does not need to use any other third party program with the Coolmuster iOS eraser in order to complete various tasks.
The following is the step by step guide on how to delete photos and pictures from iPad Air, iPad Pro, iPad mini, iPad 4, the New iPad, iPad 2 within 1 click, by using the Coolmuster iOS Cleaner.
Guide on How to Delete Photos/Pictures from iPad Air/Pro/4/mini
Step 1. Select Quick Clean mode
Select "Quick Clean" on the application and you will view junk files required to be erased. If you want to clean only a few files, toggle the switch beside each category. To scan the device, click on "Start Scan" and the application will complete the process. The user has the option of skipping or stopping the scan.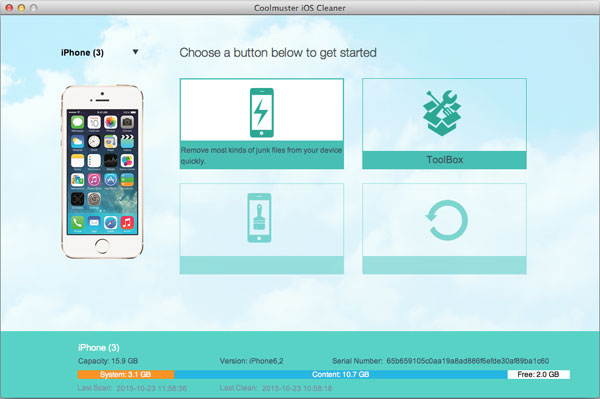 Step 2. Preview junk files for photos
After scanning is complete, the application will list junk files ready to be removed. If you want to select individual files in a particular category, just double click on a category such as "Photos" and you can view individual files. Check or uncheck files to prevent the application from deleting them.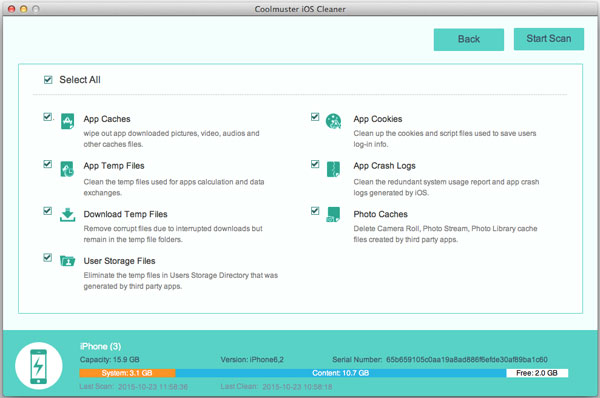 Step 3. Clean and check results
Click on Start Clean and let the application complete the action. Once cleaning is done, the application will display how many photos have been removed and storage space reclaimed.
Related Articles:
Clear Google Search History on iPad