How to Delete Multiple Songs on iOS 9/10/11 at One Time?
You may find that your iOS device runs iOS 9/10/11 isn't as fast as the first day you bought it. You suspect that's because you have stored a mass of media tiles and they must take up a lot of memory space. You could go through all your movies and video files and examine each one to see what you want to keep and what you want to delete to free up memory space.
But this could take up a lot of time having to go through all those files. Maybe you want to switch to a new phone and wish to erase all those old personal audio files before passing your old phone onto someone else. However, Apple only allows you to delete one song at a time, which means you have to repeat the same operation 1,000 times if you have 1,000 songs to delete.
What you want is an easy way to delete all music files on your iOS 9/10/11 at one time. To adopt this way, you can have a try with a professional iOS data erasing tool which is specially designed for iPhone, iPad and iPod - iOS Music Eraser (Mac/Windows).
What to Know about iOS Music Eraser:
It ensures that not only are your music files deleted from your phone, but all traces of these music files are permanently erased with no danger on these files ever being recovered by sneaky identity thieves and other criminals who want to use your personal data on your old phone for their own gain. And its user interface is elegant and simple enough for anyone to use. As a comprehensive iOS eraser, it empowers you to delete songs, text messages, contacts, videos, photos, personal account info, passwords, and emails from iOS 9/10/11 quickly and easily.
Before using iOS Music Eraser, make sure you have backed up all you important data that you don't want to lose in a safe place so you still have the ability to retrieve them as the erasing job performed by the program is permanent. To use iOS Eraser to delete songs on iOS 9/10/11, first download the app from the following download button for free on your Windows or Mac computer, connect your iOS device that is running iOS 9 to this computer via a USB cable. Then all you have to do is:
Easy Way to Delete Songs/Audio Files on iOS 9/10/11 At Once
Step 1. Connect iOS device to computer after running the Eraser
To get started, launch iOS Music Eraser on your computer by double-clicking the installed .exe file. Use a USB cable to connect your iOS 9 device, namely iPhone, iPad or iPod to the computer. Then, the program will instantly scan your device and display an icon representing it in the program window with four different options are shown on the starting window.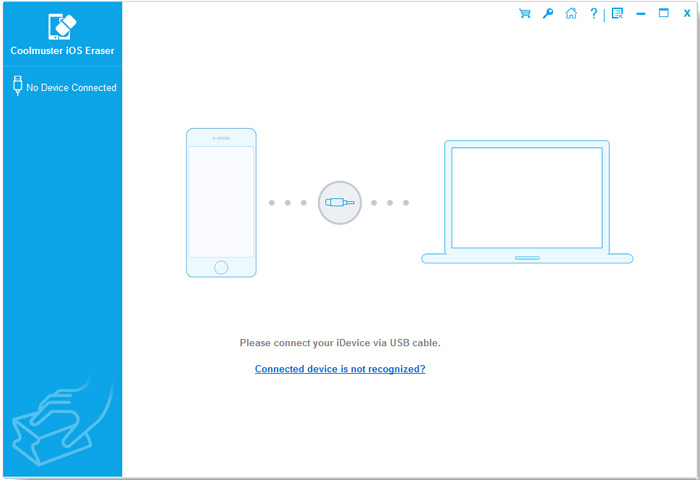 Step 2. Choose erasing option
Click the icon labeled "Erase Private Data". iOS Eraser will then scan your iOS 11/10/9 device for all the files you have saved on it and displays these files in categories, both exiting and deleted ones. Just navigate to the "Music" category, open it and preview to choose the songs that you want to delete.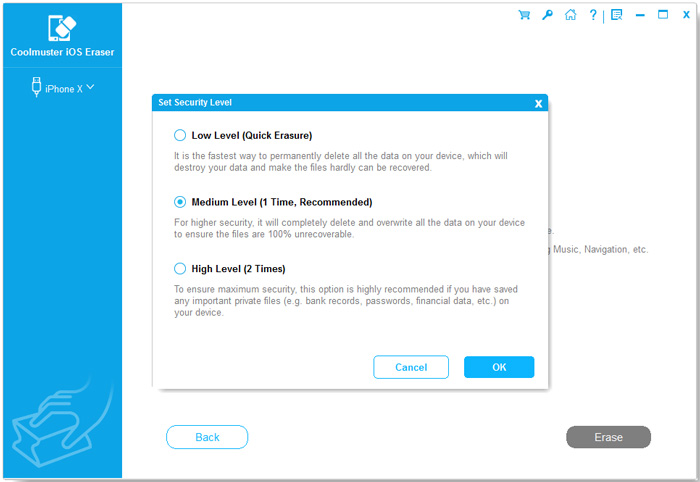 Note: Currently this program does not support to delete music files separately, you can switch to "Erase All Data" mode to delete all iPhone data, including songs. But please remember to backup your iOS device aforehand.
Step 3. Delete songs on iOS 9/10/11
After you select all the songs on your iOS device that you want to delete, you can then click the "Erase Now" button to delete them off at one time. Make sure your device is connected to your computer all the time.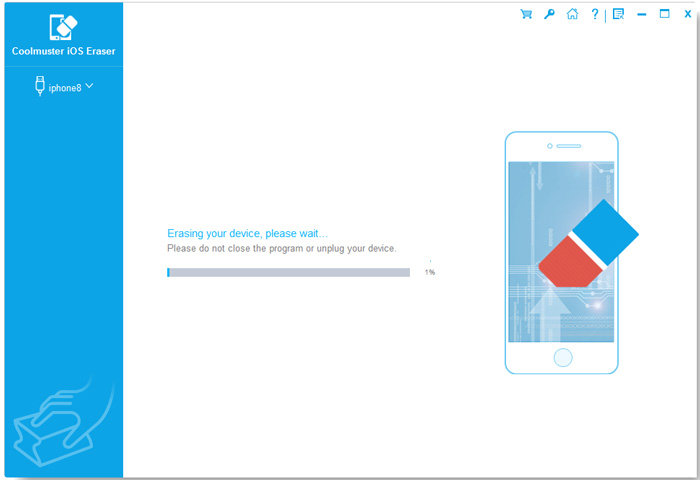 Well done! You have successfully removed all music files on iOS 9/10/11 to free up space.