How to Delete Videos/Movies from iPhone in Batch?
We all love to download movies onto our smartphones or take loads of home videos of our friends and family. It's the best way to truly take advantage of all the wonders our pocket computer provides us. But after a while, you may notice that your phone isn't as fast as it once was and that it doesn't have the same responsive smoothness it used to. This is because video files take up a lot of memory space. Not only can too many video files leave you little space to download more apps and more audio/video files, this abundance of data can make your smartphone CPU work harder just to perform basic tasks.
To free up your iPhone space, you decide to delete these videos from your iPhone. Well, deleting a few videos is simple. But what if you need to delete a mass of iPhone videos and movies? You have to open Video app on your iPhone, find the videos and slip your finger from left to right until the red Delete button appears, and then you can delete it off. Don't you feel annoying to repeat the action again and again? This is where iOS Video Eraser (Windows/Mac) comes in handy.
What is iOS Video Eraser?
This is third party software that excels in delete all kinds of data from your iPhone X/8 Plus/8/7 Plus/7/6S/6 Plus/5S/5 quickly and easily. This is an app you can download to any desktop or laptop PC computer and it will scan your iPhone data and displays and categorizes it in a way that makes deleting videos in batch simple and painless.
Not only that, it can delete most kinds of smartphone data, including text messages, contacts, photos, videos, music files, notes, personal account info, passwords, and emails. Even better, it can prevent any data you delete from being recovered by data retrieval apps that can undelete personal files you don't want in the hands of the next perfect stranger who gets you old iPhone.
In the following part, we will explain how to remove iPhone videos in batch. You should download this iOS data erasing tool on your computer and then follow with the easy steps in the below.
Step by Step to Remove Videos from iPhone X/8 Plus/8/7 Plus/7/6 Permanently
Step 1. Connect your iPhone to the computer
Launch iOS Video Eraser with your iPhone connected. It will instantly scan your iPhone and display an icon representing it in the program window and four different function icons are shown here.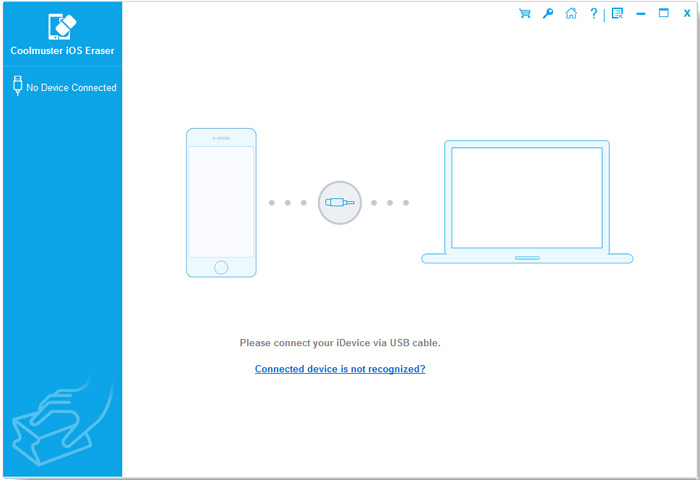 Step 2. Choose erasing option
Click the icon labeled "Erase Private Data". iOS Eraser will then scan your iPhone for all the files you have saved on it and displays these files in categories, from texts to audio files to video files.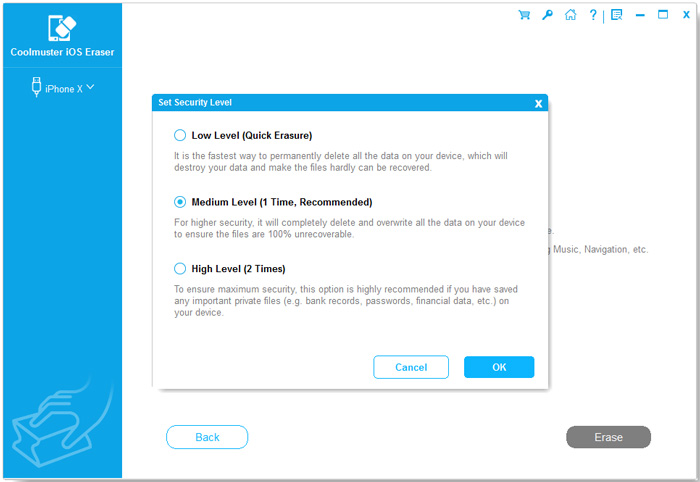 Note: Currently this erasing tool does not support to delete music files separately, you can switch to "Erase All Data" mode to delete all iPhone data, including videos. But please remember to backup your iOS device aforehand.
Step 3. Delete videos from iPhone now
Click on the category for videos and click all the video files you want to erase, then click the button marked "Erase Now" to delete the selected data. You will be asked to confirm this decision, just type "delete" to confirm your action. Once you do, iOS Eraser will delete all your video files in batch and you will see the "Successfully Erased" window that signals you are done.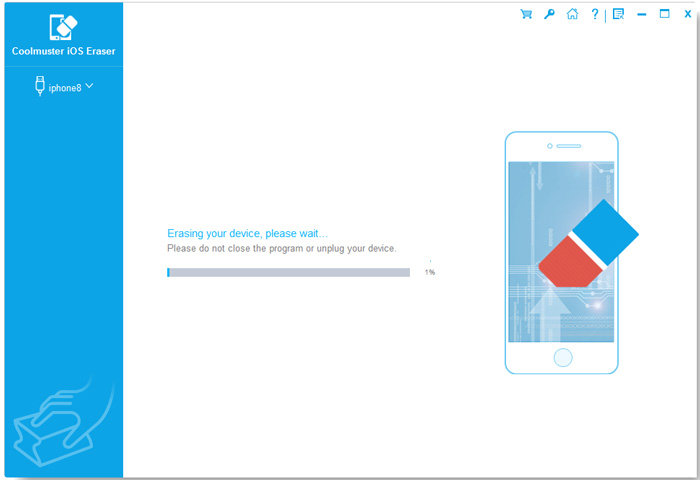 Related Articles:
How to Put iPad in Recovery Mode